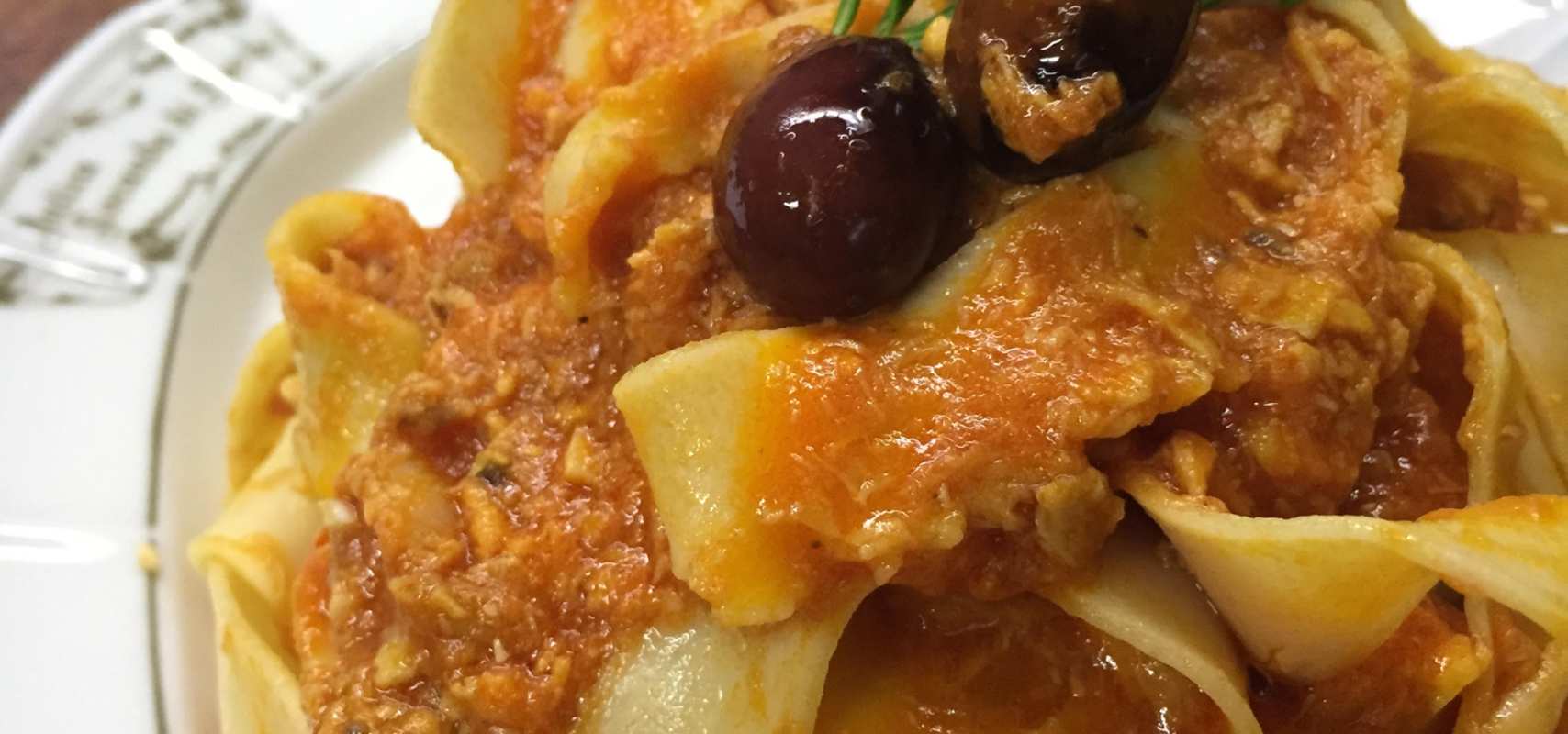 Photo ©Aurelio Barattini, Antica Locanda di Sesto
First courses
Pappardelle pasta "on the hare"
The name pappardelle comes from the verb pappare (which means "to gobble up"). Pappardelle are wide strips of pasta measuring 2 cm wide, which are popular throughout Tuscany and prove a perfect match with meat sauces as they can fully absorb all the sauce on the surface.
Pappardelle with hare sauce (or as they say in Florence "on the hare") is one of the most traditional recipes in Tuscany.
For the pasta:
150 g 00 flour
150 g semolina flour
3 egg yolks
1 whole egg
a pinch of salt
For the hare ragu:
1 hare
1 onion
1 stalk celery
1 carrot
Parsley
olive oil
4 peeled tomatoes*
1 glass red wine
wine vinegar
salt and pepper
extra virgin olive oil
Marinate the hare for about 24 hours in water and wine vinegar. Drain the meat.
Chop the onion, celery, carrot and parsley and sauté in oil with the hare cut in small pieces.
Lightly brown the meat for a few minutes.
Then add the wine and tomatoes and cook over low heat for about 2 hours. When the meat is cooked, bone it and put it back into the sauce*
Mix the flour together, add the eggs and knead until smooth and even. Allow to rest for 30 minutes or so, then roll it with a rolling pin or with a pasta machine to a thin layer. Cut it into strips 10 cm long and 2 cm wide. Bring salted water to the boil and boil the pappardelle for 2/3 minutes, then serve in warm plates with the hare sauce.
*Some say that the original recipe contained no tomato, using animal's blood instead. In fact this recipe was particularly loved by the Etruscans and they couldn't have included tomatoes for obvious reasons. This may be true for the old recipe, but today you can use tomato, although make sure that it doesn't become hare in tomato sauce.
Why is this recipe called on the hare and not with hare?
From the latin "de" that denotes an argument, it's a linguistic detail and it means that it's such an important topic it can't be reduced to a simple recipe, THE hare here underlines a symphony of taste and not just an ingredient.

(1) recipe source Le Ricette della Tradizione Toscana - Consorzio Vino Chianti
You might also be interested in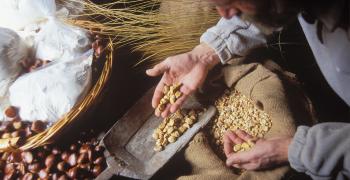 Learn more
Food and Wine
Olive oil, wine, truffle and other culinary delights make up the excellence of Tuscan gastronomy.
continue...