First courses
Linguine with two flavors
Shrimp, rocket salad, pecorino cheese, lard and spices: these are the ingredients of Linguine with two flavors, a traditional dish from Carrara.
400 grams of linguine
200 grams of fresh shrimp
A bunch of rocket salad
2 cloves of garlic
40 grams of grated pecorino cheese
Basil
1 glass of wine
80 grams of lard
3 tablespoons extra-virgin olive oil
Salt and pepper to taste
Wash the shrimp.
Put water, five basil leaves, half the wine and a pinch of salt and pepper into a sauce pan and bring to a boil.
Add in the shrimp and cook for three minutes.
Chop the lard and garlic, and then sauté in oil.
Add shrimp, additional salt and pepper and remaining wine.
Mix the rocket salad with left-over garlic and set aside.
Meanwhile, boil the linguine in salted water. Cook until al dente and then drain. Top the linguine with the shrimp and lard sauce. Add the rocket salad sauce, season with pecorino and serve.

Article by the Municipality of Carrara
You might also be interested in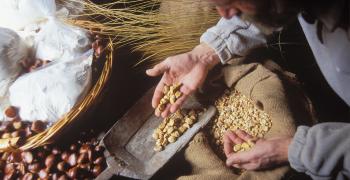 Learn more
Food and Wine
Olive oil, wine, truffle and other culinary delights make up the excellence of Tuscan gastronomy.
continue...