First courses
'Frantoiana' soup
Perhaps less famous than the'ribollita', this soup is seasoned with oil produced in the hills surrounding Lucca. Mountain herbs enhance its unique flavor.
1 kg of dried beans
60 grams of sliced, rolled lard (2 slices; 1 to 2 cm thick)
Mountain herbs of your choice (such as borage or chives)
100 grams leafy parsley
2 medium-sized leeks
200 grams pumpkin
3 potatoes
2 white cabbages
3 bunches of 'braschetta' or black cabbage
3 bunches of thyme
3 carrots
5 celery stalks
1 red onion
3 cloves of garlic
22 hot peppers
3 cups extra-virgin olive oil
Fennel seeds to taste
5 or 6 cubes of stale bread per person
Salt and pepper
Chop all the vegetables into large chunks and place in a pan; simmer with oil and chopped herbs. When the vegetables have lost much of their water, add in the pre-cooked beans. Add water to taste depending on how thick you wish the soup to be. Allow the vegetables to cook completely and then transfer the soup into a bowl, filled with large croutons made with toasted, stale bread. Wait for the bread to soften and absorb the broth. Serve the soup hot in a crock pot. Season with a little extra-virgin olive oil and pepper to taste. Leftovers are a great treat—even cold.
You might also be interested in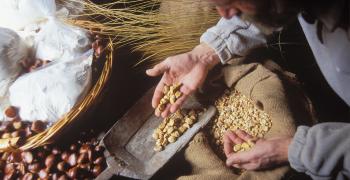 Learn more
Food and Wine
Olive oil, wine, truffle and other culinary delights make up the excellence of Tuscan gastronomy.
continue...