First courses
Crespelle alla Fiorentina Recipe
Thanks to Catherine de Medici, spinach, found in many florentine vegetable gardens in the Renaissance, unites with the french bechamelle. Just like Catherine with Henry II. A perfect wedding between France and Italy that gave us Crespelle alla Fiorentina.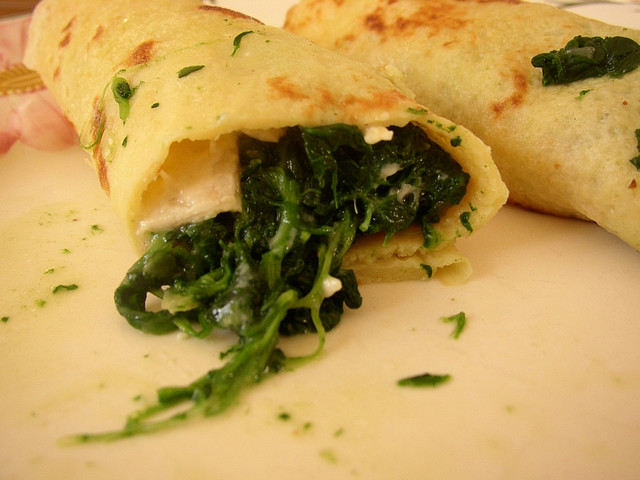 Crespelle from the italian crespo means crinkly and pleated from this the word crèpes in french. When this mix bakes it curls in the pan and this gave crèpes their name. Then came the white sauce named after the Marquis Louis de Bechamel. The crèpes are filled with fresh spinach (in season in Tuscany at the moment) and ricotta cheese rolled, covered in bechamelle and very little tomato sauce (you'll get the italian flag effect) and then into the oven where the white sauce will make its nice crust!
150g flour
3 eggs
one and a half cups of milk
75g of butter and a pinch of salt
For the filling
500g spinach
300g ricotta
1 egg
Parmigiano cheese
nutmeg
salt and pepper
For the bechamelle
50g flour
50 butter
half a litre of milk
nutmeg (you will also need 4 spoonfulls of tomato sauce - dab over the white bechamelle)
Boil the spinach in salted water, then drain and finely chop.
Add the ricotta, the egg, 3 or 4 spoons of grated Parmigiano, some nutmeg and salt and pepper.
To one side, prepare the crepes by mixing the eggs, flour, milk and melted butter.
Then prepare the 'besciamella' (the white sauce). To do this, melt the butter in a pan, add the flour and then the milk slowly, mixing continuously so as to avoid lumps. Season and add a little nutmeg and leave to simmer on a low heat till the mixture has reached the right consistency.
Butter a small baking tray.
Fill the pancakes with the spinach and ricotta mix and roll them up into long tubes, like cannoli.
Place them in the tray, cover with bechamelle sauce and a little tomato sauce if you have in to hand and cook in a medium oven for 15/20 minutes.