Desserts
Carnival recipe for fried Cenci
In Tuscany, they are known as cenci (rags) but this is a typical recipe throughout Italy. It's a Carnival sweet treat with many names such as chiacchiere, crostoli, frappe and bugie.
It's a simple dough made with flour, eggs, butter, and sugar, enhanced with lemon or orange zest and a few tablespoons of a liqueur such as vinsanto, marsala, sambuca, brandy, or even grappa. The dough is then thinly rolled and fried until light and crispy.
Cenci are served sprinkled with sugar or drizzled with honey.
240 g plain flour
20 g butter, melted
20 g sugar
2 eggs
1 teaspoon baking powder
1 orange, zest grated
1 lemon, zest grated
1 pinch salt
2 tablespoons vinsanto, or vodka, grappa, brandy...
About 1l of vegetable oil for deep frying
More sugar to sprinkle the cenci, once fried
Put the flour onto a wooden pastry board or onto a large working surface, make a well in the center and add all the other ingredients into the well.
Using your hands, knead the mixture as if making homemade pasta. Knead for at least for 10 minutes, until the dough becomes very stretchy and smooth and it no longer sticks to your hands. Let the dough rest for about 30 minutes, wrapped in a kitchen towel.
Roll out the dough using a rolling pin or a pasta machine to make long and paper-thin sheets of pastry, about 1 or 2 mm thick. Cut the sheets of pastry into sheets using a knife or a cutting-wheel.
Deep fry the cenci in a large pan with hot frying oil. Fry the cenci in batches for about 30 seconds per side, checking them often and turning them using frying tongs.
Carefully remove the cenci from the oil and drain them for a few minutes on a dish lined with kitchen paper, then dust them with sugar.
You might also be interested in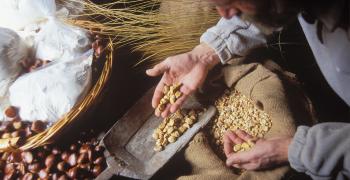 Learn more
Food and Wine
Olive oil, wine, truffle and other culinary delights make up the excellence of Tuscan gastronomy.
continue...