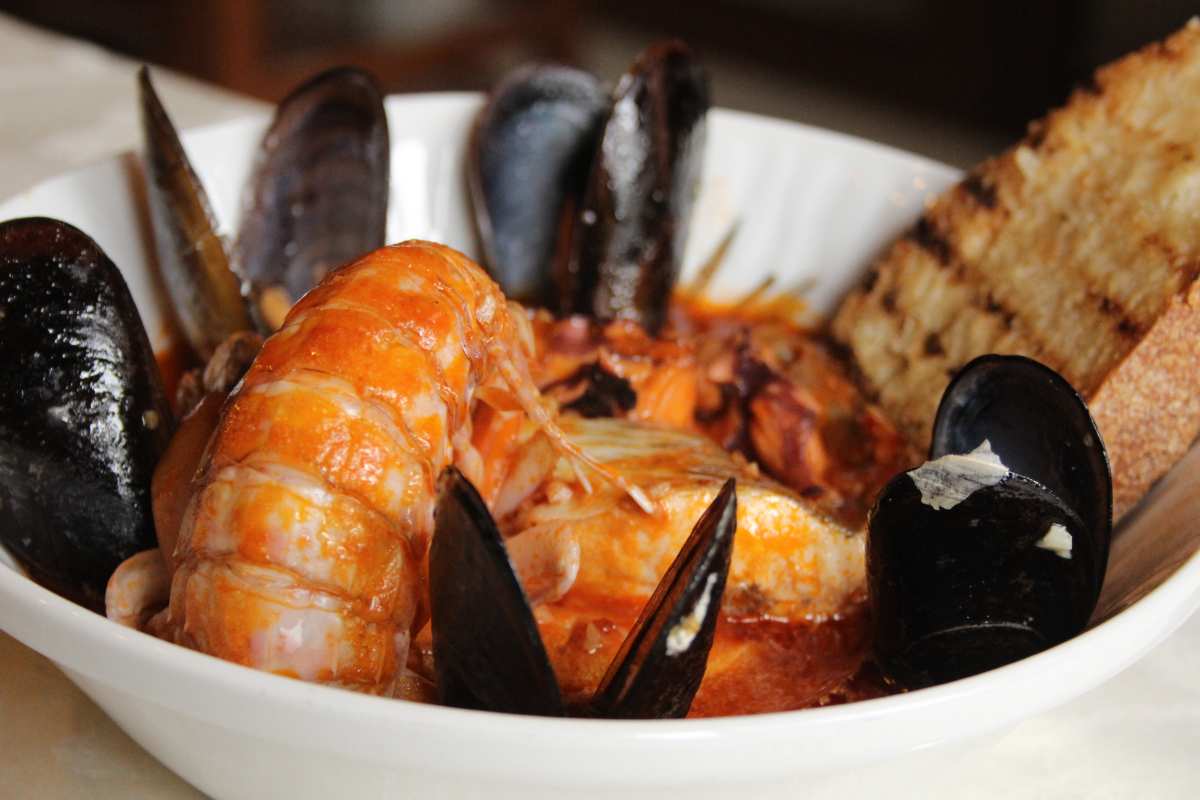 Main courses
Cacciucco alla Viareggina seafood soup recipe
Between the sea and the white marble mountains of the Apuan Alps you find Viareggio, with its long, sandy coast, Liberty architecture and vibrant people. The large avenue that runs along the beachfront is the main setting of one of the most important carnival festivals in Italy.
Throughout the month of February, tourists from all over Italy come to admire the most famous allegorical floats in the world. It's also a good time to discover this hidden part of Tuscany, maybe tasting something warm and hearty such as the local seafood soup or Cacciucco alla Viareggina.
Cacciucco, perhaps comes from the Turkish world "kuciuck", which means minute, small, and indicates precisely a dish in which ingredients are made into small pieces. Cacciucco is a popular seafood soup from the coast of Livorno and Viareggio, but each town has its own recipe.
It has been said that the really original one comes from Livorno. Authentic Cacciucco Livornese is very thick and dark. Its consistency is like a stew: it's made from many kinds of fish and molluscs, but not with refined seafood. Forming the base of the dish is a mixture of garlic, pepper and sage. The soup from Livorno contains octopus and cuttlefish, some mantis shrimp and different kinds of small and medium size low value or trash fish.
Cacciucco alla Viareggina is lighter and has a red broth. It doesn't contain sage and is always flavoured with a generous amount of shellfish and seafood, which gives it a slightly sweet aftertaste. But which one is better? For this important task after being in Livorno, this time I took the train directly to Viareggio. It was a very cold Tuesday and it was like the town was sleeping in February's cold rain. We met chef Luca Lucchesi near the beach, at Antica Osteria Da Luca.
He was very busy with his pots, suppliers' orders and calls "My restaurant is always open from lunch and dinners", but he was also very happy to share his story. "Did you know that with this soup I won a prize beating famous chefs from the Adriatic coast in 2007?" He arranged all the ingredients for our cacciucco and showed us this fabulous recipe: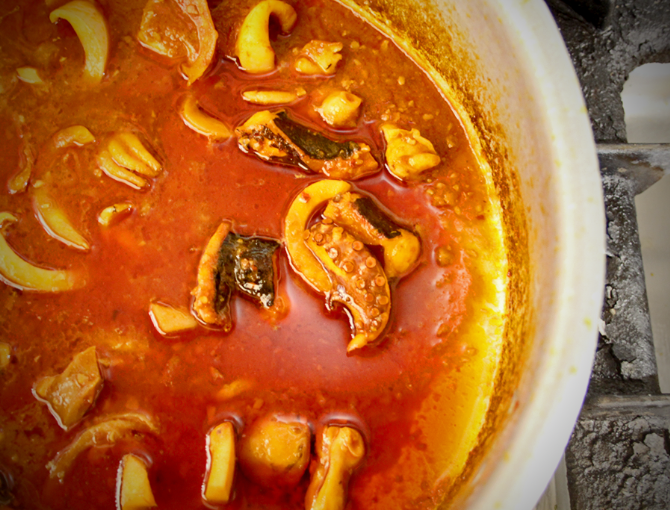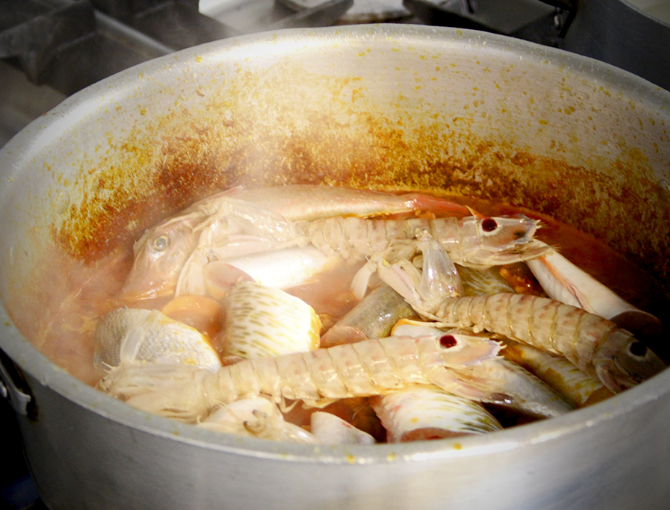 For the fish stock:
1 celery
1 carrot
1 bay leaf
Some fish heads
For the fish stew:
A head of garlic, chopped
Chilli pepper
Extra virgin olive oil
500 g octopus
500 g cuttlefish
1,200 g of low value or trash fish
White wine
2 tablespoons tomato paste
At least 4 mussels per person
1 mantis shrimp per person
Clean all the different kinds of fish
Boil the celery, the carrot, the bay leaves and the fish heads in a large pot in order to obtain a salty broth
Sauté the garlic and the chilli in a large pan with extra virgin olive oil
Then add the octopus and the squid, previously cleaned and cut
Sprinkle with the white wine and after few minutes add the tomato paste, a ladleful of broth and cook for half an hour
Add the fish previously cut in medium chunks. and the mantis shrimp to the pan, cover and cook for about 10 minutes
Once cooked, add more broth to the cacciucco to obtain the desired consistency
Meanwhile, cook the mussels by steaming them over medium heat until the shells open.
Once opened, sauté them with some chopped garlic and extra virgin olive oil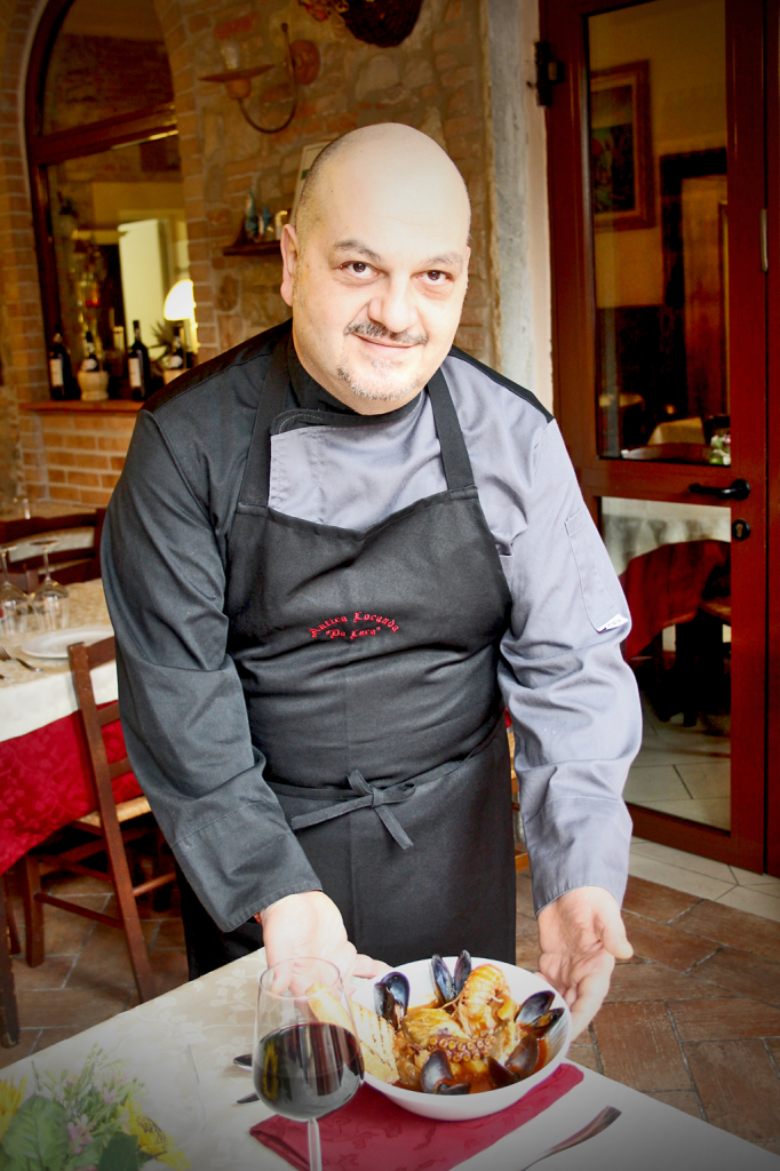 Serve your cacciucco soup with the mussels and a slice of rubbed garlic bread. Match with a glass of Chianti.
You might also be interested in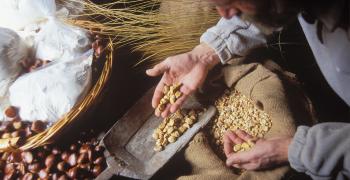 Learn more
Food and Wine
Olive oil, wine, truffle and other culinary delights make up the excellence of Tuscan gastronomy.
continue...