Main courses
Stewed gosling
Stewed gosling was traditionally eaten after the wheat harvest had been completed. Large, long tables would be laid out in the barn and the farm workers would receive this dinner as thanks for all their hard work. Traditionally it was cooked for many people, a gosling would be fattened all year long in preparation.
A gosling cut into pieces
Celery, carrot, parsley, garlic and onion
Tomato sauce
Minced beef (preferably veal) – the quantity depends on the quantity of gosling, the minced beef should be about one quarter
1 glass of red wine
Salt and pepper
Extra virgin olive oil
Finely chop and fry the celery, carrot, onion, garlic and parsley and as they start to colour, add all the meat.
Season and brown for approx. 1 hour.
Once the meat has taken on a nice golden colour, add the wine and evaporate it on a high flame.
Then add the tomato sauce and some hot water. Leave to boil gently for approx. 2 hours.
It's possible to use this as a pasta sauce or simply eat it on tasted bread.


Source: APT di Prato
You might also be interested in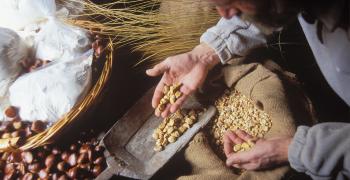 Learn more
Food and Wine
Olive oil, wine, truffle and other culinary delights make up the excellence of Tuscan gastronomy.
continue...