Main courses
Florentine Tripe
Tripe is one of the most typically traditional dishes of Florence. This recipe calls for boiled tripe which is readily available in butcher shops in Tuscany. If only raw tripe is available it must be scrubbed very carefully and boiled beforehand.
1,5kg boiled tripe
500g ripe or tinned tomatoes
1 onion
1 carrot
1 stalk celery
parmesan cheese
extra-virgin olive oil
salt and pepper
Chop the onion, carrot and celery and sauté on a low flame. Cut the boiled tripe into short strips, add to the pan and allow to flavour for 5 minutes.
Peel the tomatoes, remove the seeds and dice them (or simply add the tinned tomatoes) and cook on a slow flame until the sauce has thickened.
Serve with a sprinkling of parmesan cheese and/or extra-virgin olive oil.



Source: www.firenzeturismo.it
You might also be interested in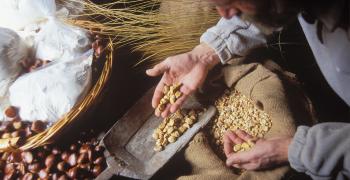 Learn more
Food and Wine
Olive oil, wine, truffle and other culinary delights make up the excellence of Tuscan gastronomy.
continue...