Val di Merse Taste Trail
Hermitages, castles, parish churches and unique flavours
The Val di Merse Taste Trail covers the south-western part of the province of Siena, passing through the heart of Tuscany and the Maremma coast. The territory, touching the valleys of three rivers – the Merse, Cecina and Elsa, on the slopes of the Metalliferous Hills – is an oasis of silent forests home to traces of history and art: hermitages, hidden parish churches, convents and castles that conserve the ruins of the towns of Chiusdino, Monticiano, Murlo and Sovicille.
The wealth of this corner of nature and the variety of the landscape are worthy of awareness and appreciation, especially since they are not what is envisioned when we think of the Siena area.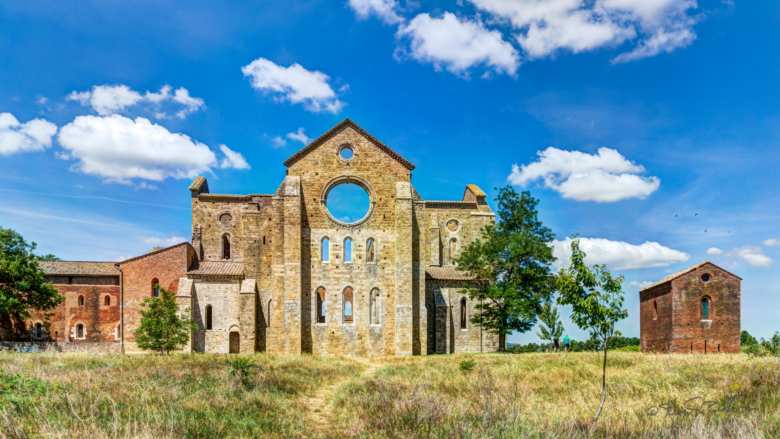 The ideal itinerary for discovering the beauty of the Val di Merse Taste Trail crosses through each of the four municipalities in this area.
The route begins in Sovicille to visit the Etruscan tombs, medieval villages, Romanesque churches and castles found in this rural area. The territory offers visitors the chance to discover places at a slow pace surrounded by an extraordinary setting that has conserved the variety of landscape typical of Tuscany: olive groves interrupted only by vineyards and forests of oak, chestnut, cypress and hornbeam trees. This is the perfect environment for rearing the cinta senese in the wild, a native pig breed that has existed since at least the Middle Ages and depicted by Ambrogio Lorenzetti in his fresco Effects of Good Government in the Country inside the town hall in Siena.
In Chiusdino, we can find a symbol of Tuscany: the Abby of San Galgano, a magical and evocative building that attracts dozens of tourists every day, enthralled by the story of the "sword in the stone" in the nearby Montesiepi Hermitage.
The Church of Sant'Agostino in Monticiano, another stop on our itinerary, conserves exquisite decorations and frescoes attributed to Guidoccio Cozzarelli and followers of the Sienese school of Sassetta and Taddeo di Bartolo.
Murlo, with its ancient past narrated through the Etruscan settlements, is the end of our itinerary. Make sure to visit the Etruscan Museum, while hiking enthusiasts can hop on the old mining railway, now a trail.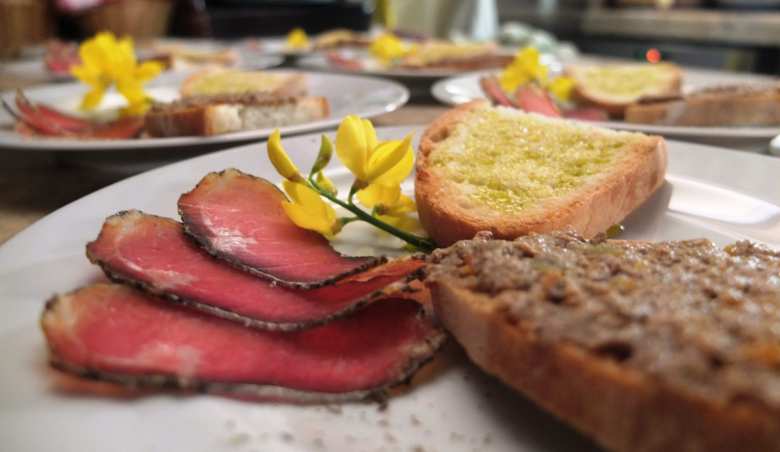 Amongst the typical products found in the area, the most renowned are the cold cuts, which vaunt a sublime and delicate flavour, made with cinta senese. The oak and chestnut forest bestow aromatic mushrooms and chestnuts that are used to make flour that is in turn used in various recipes. Sheep rearing, a strong industry in the area for decades, adds to the meat and milk production and is used to make Pecorino Toscano DOP. The products that have represented the area since Antiquity are wine, like the Chianti Colli Senesi DOCG and DOCG Riserva, Vin Santo DOCG, which are aged according to the rules stipulated by the Chianti Consortium, and extra-virgin olive oil, made by a number of local companies under the appellation Terre di Siena DOP.
You might also be interested in