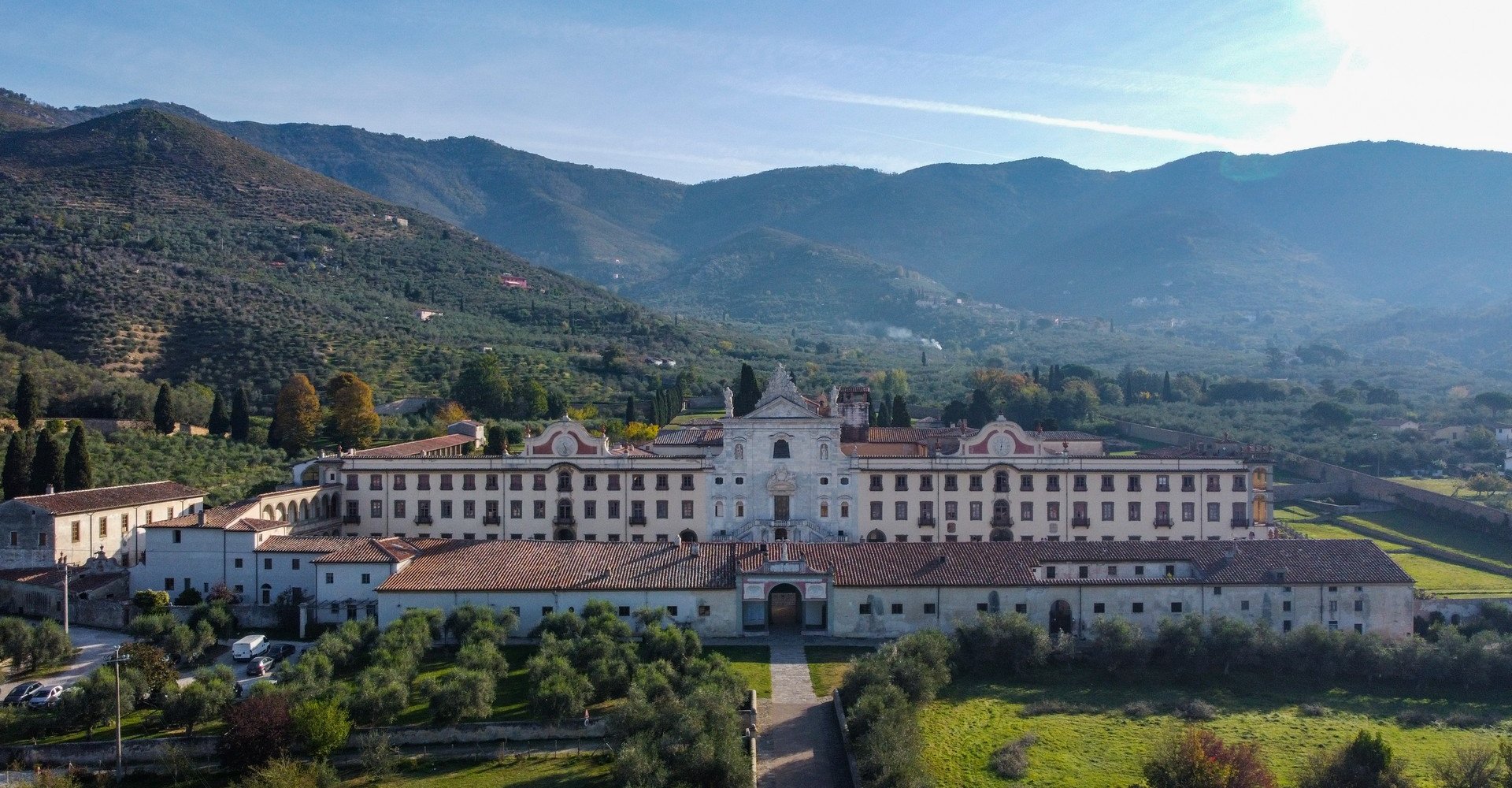 An almost totally flat bike route that will take us to Lucca and the hidden gems around Mount Pisano
The itinerary begins in front of the San Giuliano thermal establishment and heads north, proceeding clockwise.
After about 2.5 kilometers, in Orzignano, the road turns into a beaten earth path that runs along the Demaniale Canal. After a kilometer, we cross Via De Gasperi and take the Puccini Bicycle and Pedestrian Path in a northerly direction, skirting the Serchio River. Shortly after, we pass an ancient hydraulic work for water regulation, the so-called Vinciane Gates of Rigoli.
We leave the Serchio River at the height of the small village of Ripafratta, topped by the Fortress of the same name. We continue along minor roads edging the slopes of Mount Pisano, until we cross the bridge over the Ozzeri canal (km 17). After the bridge, we take an immediate right and follow the embankment's summit dirt road for about a kilometer, when the dirt road leaves the canal and underpasses the Provincial Road, heading toward the majestic Nottolini Aqueduct. Having reached the imposing hydraulic work, commissioned by Marie Louise of Bourbon in 1822 and built by the architect Lorenzo Nottolini, we turn left, following the trail alongside it, which will quickly take us to the city of Lucca. The trail continues by making the iconic loop of its Renaissance walls, but of course Lucca deserves a thorough tour of the historic center and its sights, as well as a well-deserved culinary stop.
We resume the itinerary by retracing the Nottolini aqueduct in the opposite direction, but this time we continue straight following it throughout its length, until we return to the slopes of Mount Pisano. We take a left, skirting the mountain and crossing the beautiful Compitese territory and the Camellia Village. The route begins to bend in a southerly direction and, after a few ups and downs, we reach the beautiful medieval village of Vicopisano, which is certainly worth a stop to visit its historic center.
We are already back in the municipality of Pisa, and indeed, shortly after, the route meets the Arno and begins to head west, passing through the villages of Uliveto Terme, Caprona, with its imposing lookout tower, and Calci, where a visit to the splendid Monumental Charterhouse is a must.
It's back in the saddle for the last few kilometers to San Giuliano Terme.
Itinerary by Montepisano DMC.
Explore
Discover something of interest near this itinerary
[]