Get to know Gucci in Florence
Explore the top fashion house's museum-restaurant in piazza della Signoria
World-renowned for its bold prints and colors, cheeky humor and clout with A-list stars, the Gucci fashion house has its roots in Florence, birth city to founder Guccio Gucci and the breeding ground for the brand, which grew from one small leather goods boutique in the 1920s into a global household name.
The Gucci legacy and local identity got their due recognition when a dedicated museum opened in 2011, inside the centuries-old Palazzo della Mercanzia in the Florentine "living room" of piazza della Signoria. In early 2018, the space shook things up and started anew, reopening with a new identity and an inventive, modern setup: the Gucci Garden on the ground floor and the Gucci Garden Galleria, laid out across another two levels.
Stepping in from piazza della Signoria, you'll immediately be transported into the "Technicolor" vision of creative director Alessandro Michele, who conceived this space in all of its facets. This first level is the "Garden", a fusion of a concept shop and a chic hangout, a benchmark for hip retail-restaurant hybrids: there's the Gucci Osteria, run by three-Michelin star chef Massimo Bottura alongside a rainbow range of goods sold in the boutique-gift shop. Some are unique to Florence, and are not just ready-to-wear clothing items, either.
Upstairs, however, is where fashion history buffs and culture lovers will have a field day. Overseen by scholar, critic and fashion curator Maria Luisa Frisa, this portion of the space highlights treasures from the archives—think retired advertising campaigns and retro knick-knacks—as well as more contemporary elements of the Gucci image and "voice." Social media's tight link to today's fashion world, for example, is on full display in the first room, "Guccification", although it may not be obvious at first. Some garments are decorated with misspelled or re-interpreted renderings of the Gucci name ("Guccy" and "Guccify") taken from hashtags hunted down by Alessandro Michele on Instagram.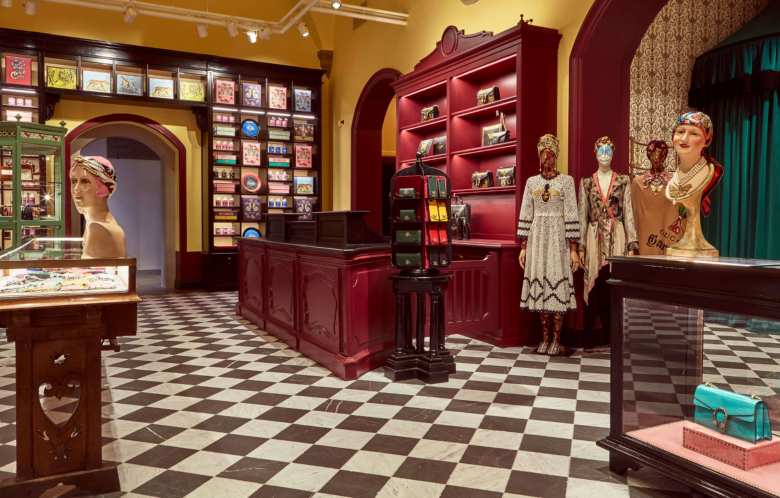 The next room, "Paraphernalia," is more like Gucci 101, a look at the iconic images and symbols that have set the tone for the fashion titan through the years. What follows is a tribute to the traditional high-flying Gucci customer in the "Cosmoroama" room: floor-to-ceiling shelves are lined with luggage, briefcases and other historic luxe accessories for life on-the-go.
Up on the next level is where things really get "wild"—literally. "De Rerum Natura" is a nature and natural history museum-inspired pair of rooms drawing from the label's love of flora and fauna. Zebra-print coats, idyllic wallpaper with flowers and birds, and snakeskin outerwear will stoke your "wild child" sensibilities.
Finally, the visit ends on a historic note in the "Ephemera" room, a retracing of the house's roots and evolution through the years, shown through videos and other multimedia memorabilia. And since the Gucci house has never been one for understatement, there's even a red velvet-covered cinema hall.

A fashion house has to keep things fresh with each new season and runway show. The remodeled museum embraces this same spirit: the plan for the space is for its collections and exhibits to rotate over time.
You might also be interested in

pan_tool
Learn more
Craft
Tuscany is one of the Italian regions better known for its excellent craftsmanship.
continue...