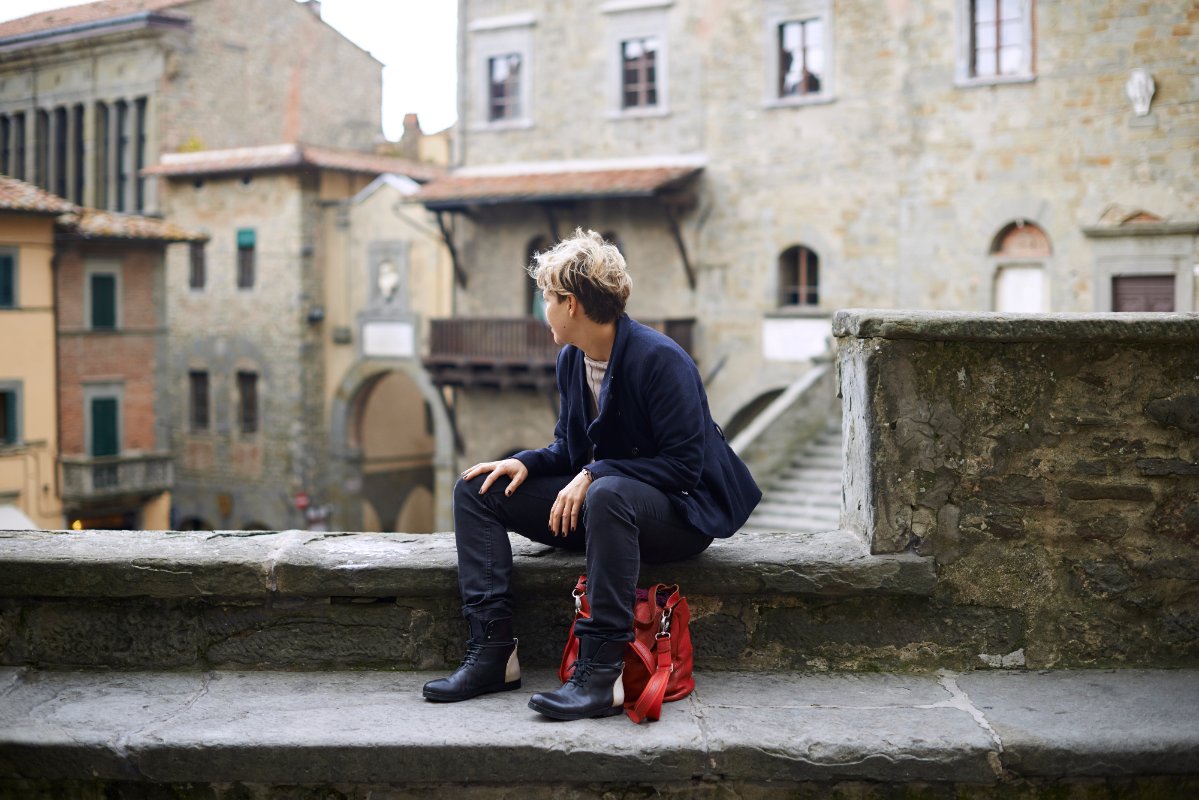 A look into the Invisible with De Chirico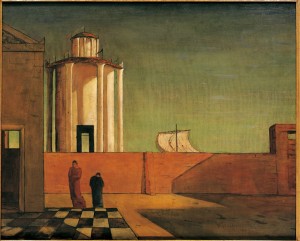 The exhibit De Chirico, Max Ernst, Magritte, Balthus: A Look into the Invisible at Palazzo Strozzi (Florence, Feb. 26 to July 18 2010) is both a learning experience and one that inspires reflection. Focusing on Giorgio de Chirico, it considers the vast influence he had on 20th-century art, the period in which artists discovered how to paint internal emotional expression. The exhibit opens with De Chirico's enigmas, the origins of metaphysical painting. Working somewhat chronologically, we then discover his recurring visual motifs such as the mannequin, the bird, the tower, the empty piazza. We see these themes taken up by Carlo Carrà (a creepy copyist) and Max Ernst (who gets it and makes it his own), and an expansion of the concept by the smooth René Magritte. And we meet a few artists of whom I've never heard, including Alberto Savinio - Giorgio's brother.
It seems to me that there are three different approaches you could take to viewing this exhibition, perhaps even during return visits.
Thanks to the excellent bilingual didactic text that accompanies EVERY work in the exhibition (!!), you can delve into the full learning experience and, if you're like me, you'll come out knowing a lot more than when you went in.
You could follow the children's didactic route, proposed on separate panels throughout the show and with an accompanying family and kids' book "Spaces and Dreams" by James Bradburne. There is nothing juvenile about this content. In some cases I liked it better than the "adult" part. If you do have kids with you, consider booking the "Metaphysical Suitcase" (photo) in advance to enhance your experience with games, questions, and activities.
You could go by sensation; shunning your eyes from the educational text, you could try to understand the emotional impact of these works, or psychoanalyse the paintings with the help of a little Nietzche (the 22 year old painter claims that "I am the only man who understands Nietzche - all my works prove that.")
Rather than take you virtually through the rooms of the exhibit, let me pick a few works that are representative of some of the themes that the exhibit makes clear were recurring in De Chirico's work and important to his followers.
Being in Florence and the weight of Italian art
De Chirico declares that he experienced his first metaphysical moment while in Piazza Santa Croce in Florence (where I'm holding a Slow Art event in April; maybe if you sign up you'll also have a revelation). This resulted in his painting his first "enigma" - "Enigma of the arrival and of the afternoon" that is the poster piece for this exhibition. Clearly there is little in this landscape that recalls the real space of the piazza, deserted in its mid-afternoon light, windless except for the billowed sail of a ship beyond the wall (the nearest water for sailing is Pisa).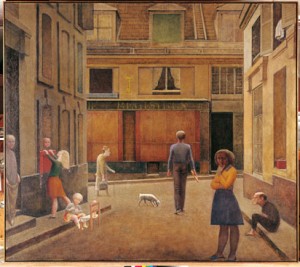 But there is a lot that recalls Italian art, a weight that probably all Italian artists have felt since the Renaissance (even though De Chirico was not Italian by birth - he was born in Greece to parents of Italian descent). The round temple with a portico recalls Raphael's 1503 Marriage of the Virgin, as the exhibition's catalogue points out. The checkerboard ground and the play of shadows refers to the Renaissance's games with perspective. But I think perhaps there is also a specific reference to Piero della Francesca here, to his Flagellation of Christ (Urbino, Palazzo Ducale) that also plays with the placement of figures in a space/non-space. De Chirico was unquestionably influenced by painting of this period; his Portrait of his Mother of 1911 (in the first section of this exhibit) takes up a pose and the black outlines of Botticelli. And Piero della Francesca was a clear influence also on the later follower, Balthus, who imitates the geometrical fuzzy-headed figures typical of Piero in his "Le Passage du Commerce-Saint-Andre" of 1952-4 (in particular see the girl on the right with the yellow shirt).
The mannequin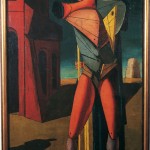 The mannequin with the oval head is a recurring theme in De Chirico. The head has the seams of a tailor's mannequin, but otherwise it's blank; it has no eyes, no mouth... Don't you find this creepy? The body has been reduced to a combination of geometric forms that show the influence of Cubism, and maybe also of Futurism (less in this painting than in some of the sketches exhibited). This figure was symbolic for De Chirico, as were the fish, the empty piazza, the tower, the balls and racket, the arrow, the waving flag. These are the themes he explores mainly before 1925, first in pencil, then in paint. They were appreciated by contemporary critics, although Apollinaire said his colours were "too gloomy" and "autumnal"!
The importance of self: Carrà and Ernst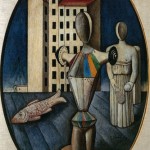 The psychological depth of De Chirico's vision reflects the artist's reading of Nietzche but is also influenced by Freudian and Jungian analysis. While Jung believed in a collective unconscious, Freud believed that you had to know the patient to interpret his dreams through symbols. If you look at the work of the Italian follower Carolo Carrà, perhaps you'll start siding with Freud (just this once, okay?). Carrà's Apparitions reproduce De Chirico's mannequin, fish, grecian woman with tennis racket, and empty building, but with none of the psychological depth of the "original". What's symbolic for me might be totally personal - although we will have some shared associations - so if you use my symbols, they won't make much sense. Max Ernst, on the other hand, seems to have grasped the theory behind metaphysical art, and his works in this exhibit show technical advances as well as interesting explorations in content.
Conditioned associations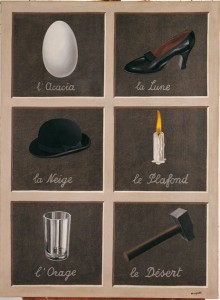 Magritte loved playing with our sense of programmed perception; his famous "ceci n'est pas une pipe" is just one of his works in which he seeks to disassociate word and image in order to provoke us, to make us reconsider our processes of word-association and to become more imaginative. His The Key to Dreams continues this game and includes many of the symbolic items that recur in the artist's work. It makes me wonder if he saw - or if we should seek - connections between the words and images, if that's the kind of creativity he wanted, or if that's too logical... like the candle labelled "le plafond" (the ceiling), does that refer to the blackened soot on the ceiling that will result from its burning? Does the bowler hat stop "la neige" from falling on your head? Or is it nonsensical, like many of our dreams. As usual, Palazzo Strozzi comes through with the whole package, offering collateral activities including a drama workshop (I am planning on attending the adults one on April 22!), special kids workshops, a stroller tour, and late-night openings. And, Strozzi is so 2.0! When the exhibit closes for the night, the website displays an interactive twitter feed with "Calling all Dreamers". You can email your dreams through the site, or tweet them, and see them on the screen accompanied by trance-like music. Finally, the catalogue edited by Paolo Baldacci, available in English or Italian, is a good investment for anyone wishing to delve deeper into the artists and their works. I particularly got a kick out of the scholarly squabble over dates and documents recounted by co-curator Gerd Roos - an article that I cannot imagine has much appeal for everyone, but that reprints some of the essential primary documents in which we can read De Chirico's own words about his influences and metaphysical experiences. It's a good thing you don't have to like the guy to like his art, as he brags about how deep his paintings are and how he is the only person who can ever fully understand Nietzche. But you have to take into account his undergraduate enthusiasm and obsession and appreciate how he did truly digest this complex matter and turn it into one of the most important, personal expressions of the last century. Here is a video from Seeten in which you can admire the exhibition layout and see some of the paintings. [youtube]http://www.youtube.com/watch?v=8i3qHAu-atA[/youtube] And here are some excerpts of my favourite letter by Giorgio De Chirico to his friend Fritz Gartz on Jan 26 1910 (from the translation by Roos in the catalogue, page 45).
Dear friend! What I have done here in Italy is not great or deep (in the old sense of the word) but terrible. This summer I painted pictures that are the deepest that exist anywhere. I have to explain things a little because surely no one has said anything like that to you before in your life. ...Do you know who the deepest poet is? Probably you will promptly say Dante, Goethe and other people. Those are all misunderstandings - the deepes poet is Friedrich Nietzche. When I told you about my paintings, that they are deep, you undoubtedly thought of huge compositions with lots of naked people who are trying to overcome something, like the ones painted by the stupidest artist: Michelangelo. No, dear friend, they are quite different things. Depth, as I've understood it and as Nietzche understood it, lies somewhere entirely different than where it has been sought so far. My paintings are small... but each is an enigma, each contains poetry, an atmosphere, a promise that you couldn't find in other paintings. It is a terrible joy for me to have painted them. When I exhibit them it will be like a revelation for the whole world.
Exhibition information
See Palazzo Strozzi website: www.palazzostrozzi.org Tickets are 10 euros (adult) but check the list of potential discounts as there are many. Consider the joint ticket with the contemporary show at the Strozzina in the same building (currently on Gerhard Richter) or the 20 euro Palazzo Ticket which gives you access to ALL shows at the Palazzo Strozzi until Feb 2011.
You might also be interested in