location_cityHistorical Buildings
The Gualchiere of Remole
This tower building that looks like a fortress sits on the Arno River near the residential area, Sieci. It was an industrial building that was involved in woolmaking in the Medieval period.
The Gualchiere of Remole, due to its pre-industrial purpose of wool making, sits on the river Arno whose waters helped power the shearing and tucking activities of wool production as well as the machinery which beat and pressed the wool. After which, the still moist wool cloths were transported to Florence, by river, to be finished into fabric or garments. The entire hydraulic system with dam, floodgates and a marina to pick up cloths has remained almost unchanged.
Wool processing and commercialization were activities that in the fourteenth century made Florence a great and powerful city. The Gualchiere were owned by the Albizi, Rucellai and Valori families until 1541, when the Remole buildings were acquired by the Arte della Lana guild which managed them until 1728.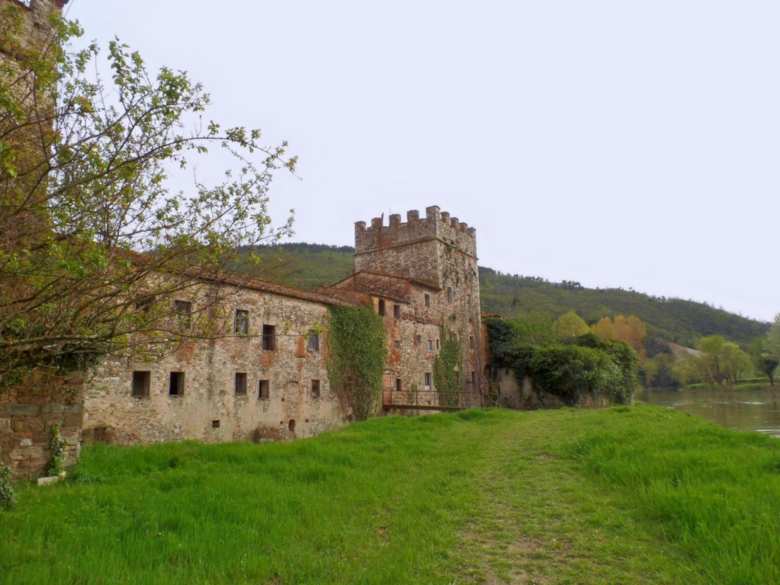 The Arte della Lana, one of the seven greater trade guilds, a prestigious city guild and wealth-generating source, is tightly linked to the promotion of Florence's cultural and monumental heritage.
Pietro Leopoldo di Lorena abolished these trades and consequently the Gualchiere of Remole were included among the Santa Maria del Fiore's goods.
Another transfer of ownership, this time to the Chamber of Commerce, occurred in Napoleonic age. Today, they're owned by the Municipality of Florence.
Although in need of restoration, the Gualchiere of Remole are very interesting to visit even if only from the outside. It's a great example of a fortified medieval building but the parts that interact with the water can be viewed only by approaching from the river. The walls used to enclose a small village that was inhabited until the seventies; there was even an elementary school. Today, the only inhabitant is a sculptor, Pietro Gensini, who with his atelier keeps this extraordinary place alive.
Social & Web
Find out what they say about us, and tell us about your Tuscany!
Bagno a Ripoli
Between Florence and Chianti's hills, parish churches that hold hidden treasures, vineyards and farmhouses
The area of Bagno a Ripoli, between the city of Florence and Chianti, is surrounded by majestic Medici Villas and beautiful, sheltered churches that conserve 15th-century and Renaissance masterpieces. Here, the landscape is dotted with cypresses, farmhouses, vineyards and olive groves, tabernacles and cellars; the area is brought to life by authentic production that believes in tradition.
Morekeyboard_backspace