location_cityHistorical Buildings
The Medici Villa di Castello and its Gardens in Florence
The villa, one of the Medici's oldest properties, is the home of the Accademia della Crusca
The Medici Villa di Castello in the hills of Florence, called the Villa Reale, is one of the oldest country residences of the Medici family, who acquired it in 1477. The villa takes its name from the "castellum" cistern of the ancient Roman aqueduct that was found here. The villa was Cosimo I's favourite and he had it restored by Tribolo beginning in 1537.
Declared an UNESCO World Heritage Site, the magnificent villa has been the home of the Accademia della Crusca since 1966 and is only open for visits on special occasions.
However, the extraordinary Garden is open to the public, which was designed in 1538 on the commission of Cosimo I and is considered a prototype of the 16th-century Italian garden.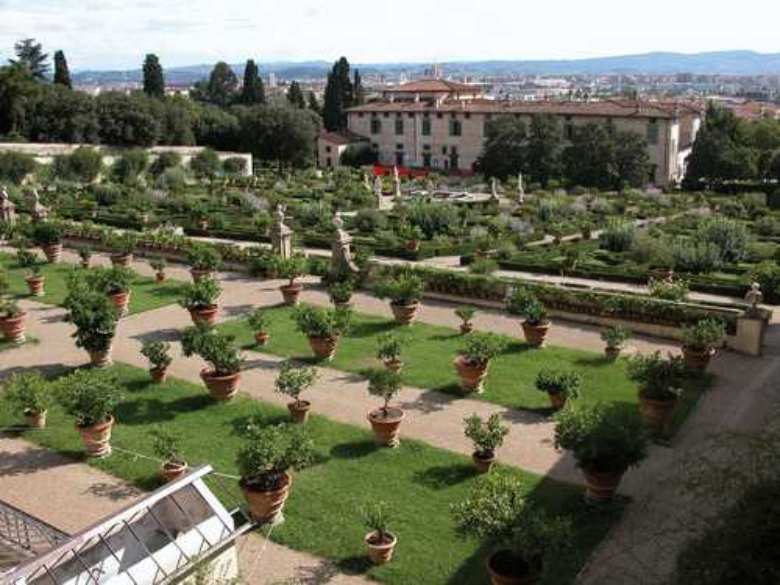 The fountain of Hercules and Antaeus, on the first terrace, is splendid: the work of Tribolo e Pierino da Vinci, it is topped by bronze figures by Bartolomeo Ammannati. The Grotto of the Animals is also outstanding, designed by Tribolo and originally boasting spectacular waterworks; the grotto was meant to celebrate, in its perfect imitation of a natural grotto containing multi-coloured groups of animals, Cosimo's idea of universal harmony.
In the area of the garden known as the Selvatico, characterised by a wood with holly oaks, oaks and cypresses, you can admire the large pond-cistern decorated with Appennino, or January, a bronze sculpture by Ammannati. There is also an extraordinary collection of 500 potted plants on the second terrace, known as the Citrus Garden: this collection contains the citruses gathered by the Medici, also called bizzarrie because they were the subject of plant grafting and cultivation experiments, resulting in rare varieties, scented citrus trees, knurled lemon trees and large pomelos.
Social & Web
Find out what they say about us, and tell us about your Tuscany!
Florence
A stunning city where you will lose yourself in the art, history, fashion and traditions of Tuscany
No one plans a visit to Tuscany without planning a visit to Florence: the city of the lily is a treasure trove of artistic treasures and the centre of a fervent vitality. Aside from its exceptional heritage of art, bearing witness to its centuries of civilisation, Florence can be enjoyed in so many ways: promenading along the enchanting riverbanks at sunset, entering the bohemian alleys of ...
Morekeyboard_backspace