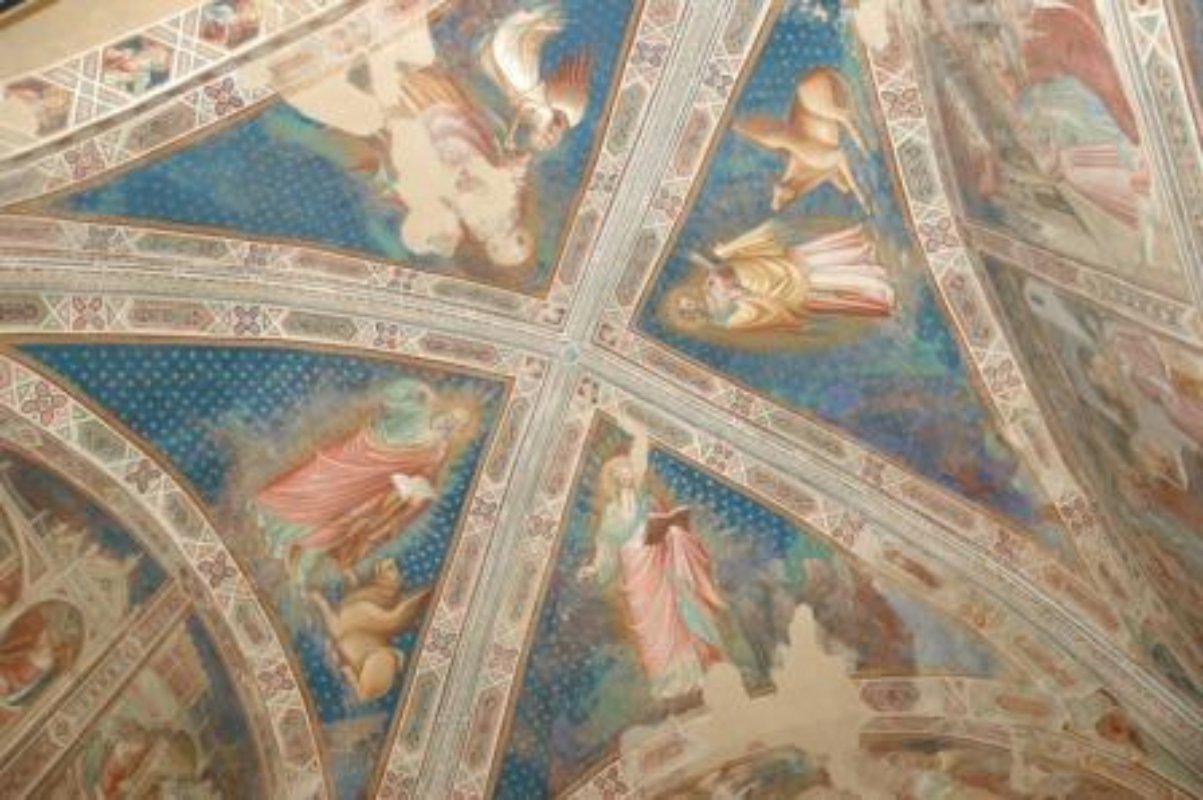 Places of worship
The frescoes in the Oratory of St. Catherine
Recounting of the Saint's life and martyrdom
The Oratory of Santa Caterina delle Ruote is located on the street that runs from Ponte a Ema to Osteria Nuova in Bagno a Ripoli near the cemetary at Ponte a Ema. A small building dating to the 1300s, the Oratory is considered one of the artistic jewels of this area and it underwent a masterful restoration in the mid-1990s reopening to the public in 1998. The simple single-nave limestone oratory was built for Alberto degli Alberti by his sons beginning in 1354 in the typical architectural style of the period.
The interior consists of a single nave ending in a chapel with cross-vaulting. But what sets this oratory apart is the rich display of frescoes which cover the walls and vaults of the oratory. The frescoes are the work of the Master of Barberino, begun around 1360, and somewhat later finished by Spinello Aretino.The frescoes recount the life of St. Catherine of Alexandria as told in the Golden Legend by Jacobus de Voragine. St. Catherine was persecuted by the Emperor Maxentius for her faith. According to the legend the Emperor sent more than 50 of the best orators to convert St. Catherine to paganism, but none had any success. In fact, they ended up converting to Christianity, and were burnt alive by the Emperor. The name of the oratory, Santa Caterina delle Ruote, or Saint Catherine of the Wheels, refers to the saint's torture at the hands of the Emperor on a machine of four barbed wheels. Despite this torture the saint refused to succumb, and you can see her salvation at the hands of angels on the right wall of the oratory. When St. Catherine refused to convert she was imprisoned and starved, but she was fed by the Holy Spirit and cared for by angels. Finally the Emperor condemned her to death, decapitating her, but her body bled milk instead of blood (it is because of this miracle that she is the patron saint of lactating mothers as well as students.) Angels carried her body to Mount Sinai where they buried her.
Bagno a Ripoli
BETWEEN FLORENCE AND THE CHIANTI, IN AN ENDLESS COUNTRYSIDE DOTTED WITH VILLAS, PARISH CHURCHES filled with masterpieces, VINEYARDS AND COUNTRY HOMES
From the "Bigallo," the famous Antico Spedale, to the poetic Nymphaeum by Giambologna, better known as the Fata Morgana Fountain, to the rolling urbanized landscapes. This is the beautiful territory of Bagno a Ripoli, between the city of Florence and the Chianti, where cypress trees and country homes, vineyards and olive groves follow one after another for as far as the eye can see, where ...
Morekeyboard_backspace
You might also be interested in