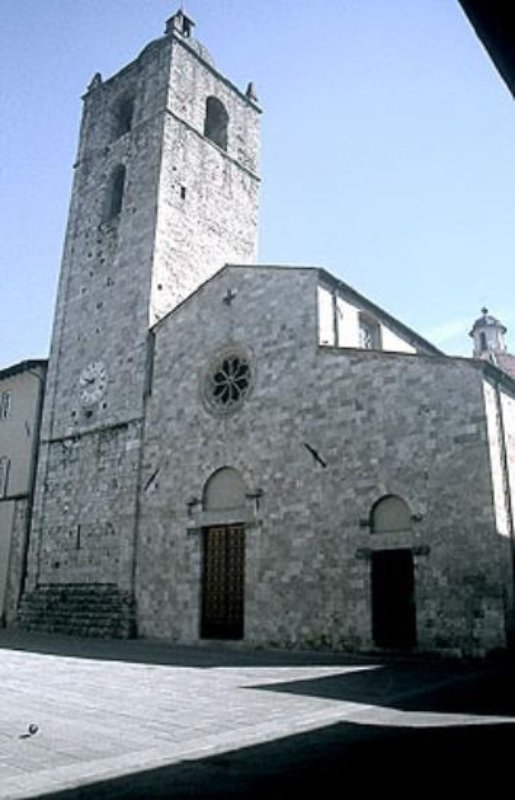 location_cityArchitecture
The Church of Santa Maria Assunta
The town of Camaiore hosts architectural gem
The medieval church of Santa Maria Assunta is mentioned for the first time in a tithe of 1260. It is situated in the historic town centre of Camaiore. In spite of transformations which occurred in modern times, the building can be rightly considered a significant example of XIII century church architecture. Some decorative elements are of particular interest such as the big rose window on the façade and the XVI century fittings preserved inside.
The oldest part of the church is the bell tower, which dates back to the first half of the XII century. In the 1170's, the Latin-cross plan was built, together with the façade hosting two entrances and a central rose window. In 1350, the bell tower was raised, as we know from a stone plate at its base. In 1448, the whole building was enlarged and a dome was constructed at the centre of the presbytery area. The church was heavily damaged during an earthquake in 1536; later, the entire building was covered with thick plaster. In the eighteenth century, the apse, the side chapels and the dome were reconstructed; four large windows were also opened along the nave.
Source: luccapro.sns.it
Camaiore
Near Forte dei Marmi the town offers a low-key version of the beach holiday
Located in the foothills of the Apuan Alps, this small town dates back to Roman times. After founding Lucca, the Romans created a series of small villages at the foot of Mount Prana. One of these villages is the present day Camaiore, which gets its name from the ancient Campus Major—the large plain that connects Lucca and the gates of Luni. ...
Morekeyboard_backspace