Places of worship
San Frediano Church in Lucca
According to tradition, it was Saint Fridianus himself, Bishop of Lucca, who founded the church
The "Basilica" of San Frediano is one of the oldest places of worship in Lucca: according to tradition, Saint Fridianus, bishop of the city from 560 to 588, founded the church, and it was mentioned for the first time in a document from the year 685 as a Lombard-era basilica.
The church is famous for the large mosaic on its façade, dating to the end of the 13th century and an extremely rare ornamentation in the Romanesque style: in Tuscany, the only other façade decorated like this is on the Church of San Miniato al Monte in Florence.
The mosaic depicts Christ the Redeemer ascending to heaven, in a mandorla held by two angels. The figure of the Virgin is missing between the Apostles, which was removed when the modern window was installed. The artwork is in the Byzantine style and is attributed to the Lucca-based school of Berlinghieri.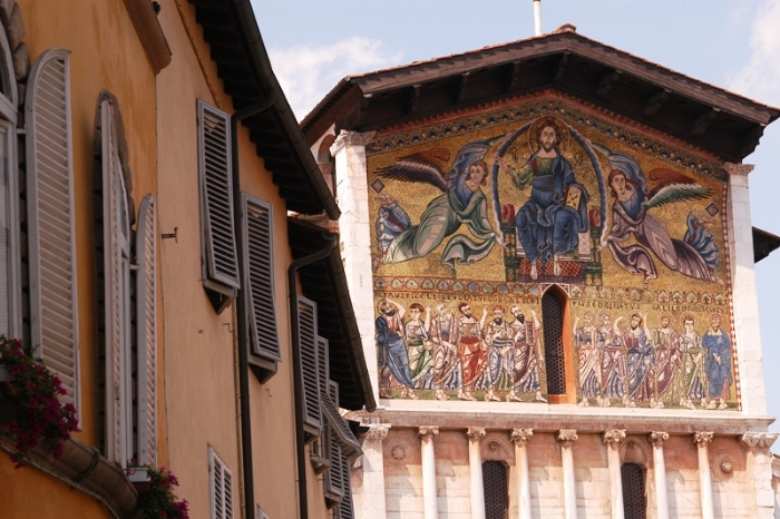 The church's interior is divided into three naves, with two magnificent colonnades bearing identical arches. Among the numerous chapels, the most beautiful are the chapel of Sant'Agostino, with frescoes from the 1500s by the Emilian painter Amico Aspertini and the chapel belonging to the Tenta family, with a reredos and tombstones by Jacopo della Quercia. The 12th-century baptismal font is also exquisite, with reliefs depicting the Stories of Moses, the Apostles and the months of the year.
Info: comune.lucca.it
Lucca
A monumental city bursting with unique treasures, ringed by vast bastions and gigantic walls
Lucca is one of Tuscany's most beloved artistic cities, an unskippable part of any tour of the region. Nicknamed the town of a hundred churches on account of its incredible number of places of worship, it is unique among city-states for having maintained its independence up until 1847. ...
Morekeyboard_backspace