Hamlets, districts and squares
Piazza della Repubblica in Florence
The former Roman city centre and, following the Unification of Italy, the centre of public life in Florence
The Piazza della Repubblica is the centre of Florence. The Colonna dell'Abbondanza – or Column of Abundance – marks the exact geographical centre of the city, the ancient midpoint of the Roman Forum. It also marks the border between three of Florence's four historic neighbourhoods on this side of the Arno, the Santa Croce azzurri, San Giovanni verdi and Santa Maria Novella rossi; the Santo Spirito bianchi are in the Oltrarno.
Part of the current piazza was once used as a market because it was the most important point in the city from a commercial, political and social point of view. Many stories and tales related to Florence originate in this square.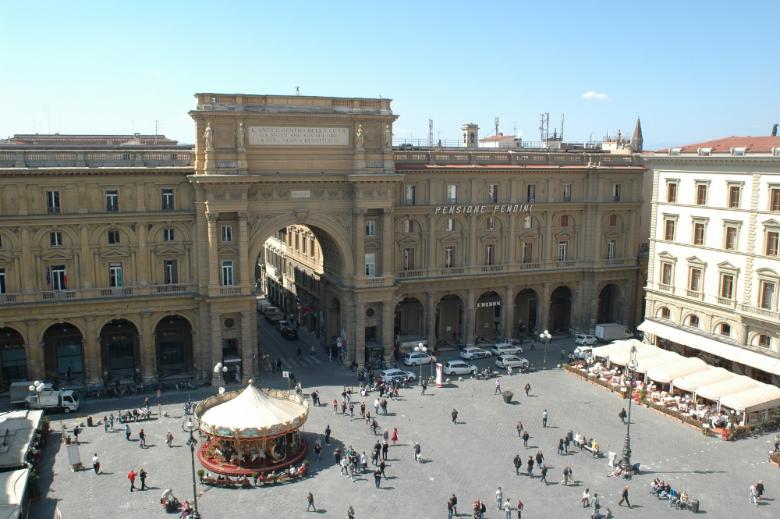 According to one of these stories, in 1245 St. Peter Martyr was trying to preach to a large crowd when the devil, under the guise of an imposing black horse, wanted to disturb onlookers by running wild through the market and crushing them. Realizing the danger, St. Peter raised his arm and made the sign of the cross in the direction of the skittish horse, which suddenly stopped and disappeared. A few centuries later, in memory of this event, Bernardo Vecchietti commissioned Giambologna to create a bronze standard-bearer in the shape of a small devil, placing it at the corner of his palace between via Vecchietti and via Strozzi.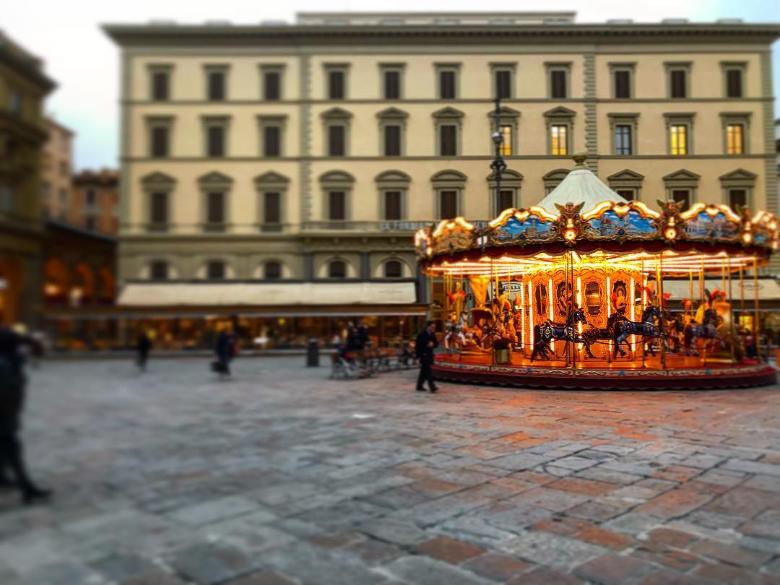 The current appearance of the piazza can be traced back to the urban renovations that transformed the city when Florence was the capital of the Kingdom of Italy.
During this period, known as the Risanamento, older buildings like medieval towers and noble palaces were knocked down and replaced by elegant structures, including the historic Caffè Le Giubbe Rosse, which turned piazza della Repubblica into a sophisticated centre of public life.
Florence
A stunning city where you will lose yourself in the art, history, fashion and traditions of Tuscany
No one plans a visit to Tuscany without planning a visit to Florence: the city of the lily is a treasure trove of artistic treasures and the centre of a fervent vitality. Aside from its exceptional heritage of art, bearing witness to its centuries of civilisation, Florence can be enjoyed in so many ways: promenading along the enchanting riverbanks at sunset, entering the bohemian alleys of ...
Morekeyboard_backspace
You might also be interested in