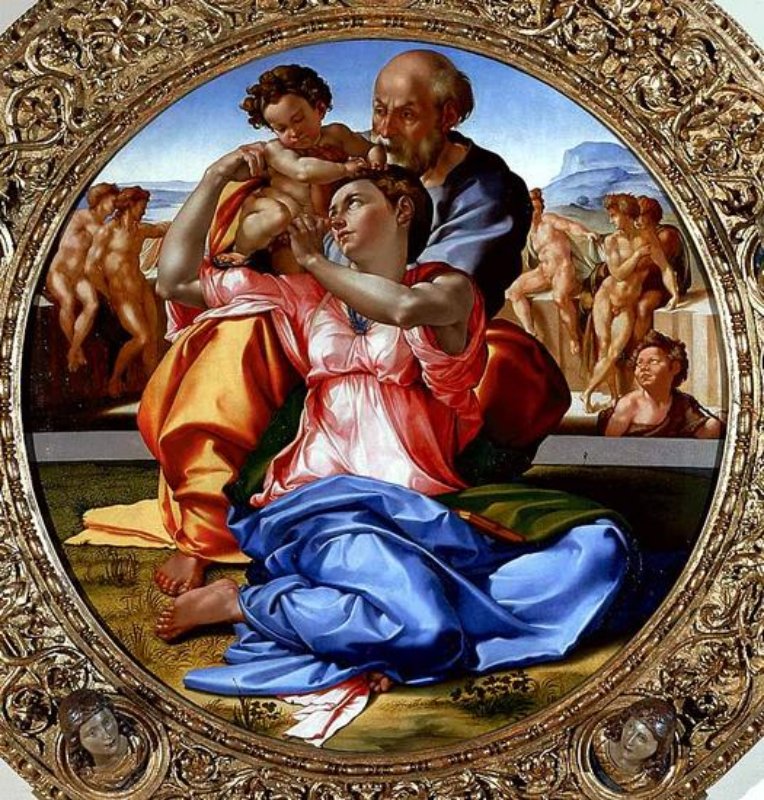 crop_originalArtworks
Michelangelo, Tondo Doni
At the Uffizi in Florence
The Tondo Doni, also known as the Doni Madonna, is oil on wood painting by Michelangelo Buonarroti (1503 to 1504). Today, it is located the Uffizi Gallery in Florence in its original frame, which was also designed by Michelangelo.

The painting was likely commissioned by Antonio Doni, a wealthy weaver, to commemorate his marriage to Maddalena Strozzi of the Strozzi family, a powerful Tuscan family in those years.

The painting is in the form of a tondo, or round frame, which is frequently associated with marriage in the Renaissance. The Doni Tondo features the Holy family: the Baby Jesus, Virgin Mary, Joseph, and John the Baptist. The background contains several ambiguous nude male figures. The inclusion of these nude figures has a variety of interpretations. To many, the Nudes represent humanity in the time of paganism before the establishment of divine law (ante legem), the Virgin Mary and Saint Joseph represent humanity at the time of Judaism, while the Baby Jesus symbolizes humanity that is protected by Divine Grace. John the Baptist represents the period of transition and union of these three time periods. The Virgin Mary has a book on her lap, which means that she is the personification of the Church and symbolizes theological teachings among humanity. The body of the Virgin Mary is very large because physical force was typically linked to moral force in the Renaissance. Michelangelo chose to paint the nudes frontally, while the group of figures in the center is seen from below to show its importance. Because of this, the artist confers monumental status to the Sacred Family, and organizes the figures according to what they represent. There are also similarities between the two groups of figures, like in the shoulders and arms of the Sacred Family that match up to those of the Nudes. The small wall in the background seems to separate the Nudes from the central figures, while it also represents the difference between perspective and meaning of the two figurative groups. The construction of space and volume, the tension and movement of the scene are examples of anti-classical elements.
Florence
An astonishing city of art, fashion and tradition
If you are visiting Tuscany you cannot miss Florence. The Renaissance city is a treasure trove of art with an astonishing contemporary vibe. Beyond the extraordinary artistic heritage, a testimony to its centuries of civilization, the best way to enjoy Florence is to stroll along the riverside avenues at sunset, or to get lost among the city's myriad alleyways of the bohemian Oltrarno or the ...
Morekeyboard_backspace
You might also be interested in