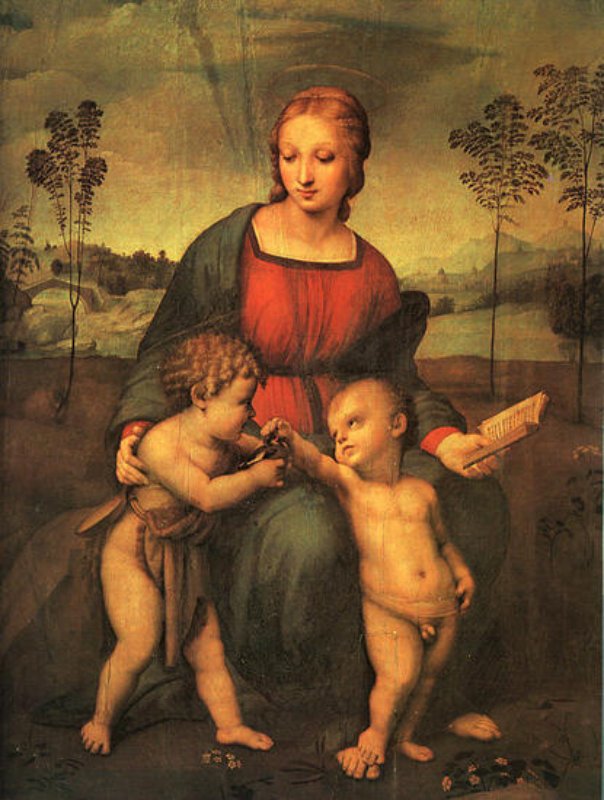 crop_originalArtworks
Madonna of the Goldfinch, Raphael
Now in the Uffizi in Florence
This oil on canvas (107x77cm) was painted by the Italian painter Raphael in 1506, during a sojourn in Florence. The painting was commissioned by Lorenzo Nasi for his wedding. It is part of the permanent collection of the Uffizi Gallery in Florence.

This famous painting depicts the Virgin Mary sitting and reading a book (which identifies her as the Sedes Sapientiae type). In front of her are the Baby Jesus on the right, and John the Baptist on the left, who is holding a goldfinch in his hand. The Virgin Mary stops reading to make a protective and delicate gesture towards the children.

The beauty and lightness of the trees behind the three figures would be copied many, many times by artists in the decades and centuries to follow. In 1547, the artwork splintered into 17 pieces due to the collapse of a ceiling. The painting was put back together, but it still shows signs of the irreversible damage that was done: the bottom left corner was completely re-painted, as was the leg of Baby Jesus. The first restorer was painter Ridolfo del Ghirlandaio. It has been retouched several times since 1547, when successive layers of paint were applied, which ended up completely obscuring the original colors. Another restoration was completed in 2005, and yet another was finished in 2009. The colors are now as bright as ever, and the paint, and composition as a whole have been returned to their original splendor.
Florence
An astonishing city of art, fashion and tradition
If you are visiting Tuscany you cannot miss Florence. The Renaissance city is a treasure trove of art with an astonishing contemporary vibe. Beyond the extraordinary artistic heritage, a testimony to its centuries of civilization, the best way to enjoy Florence is to stroll along the riverside avenues at sunset, or to get lost among the city's myriad alleyways of the bohemian Oltrarno or the ...
Morekeyboard_backspace
You might also be interested in