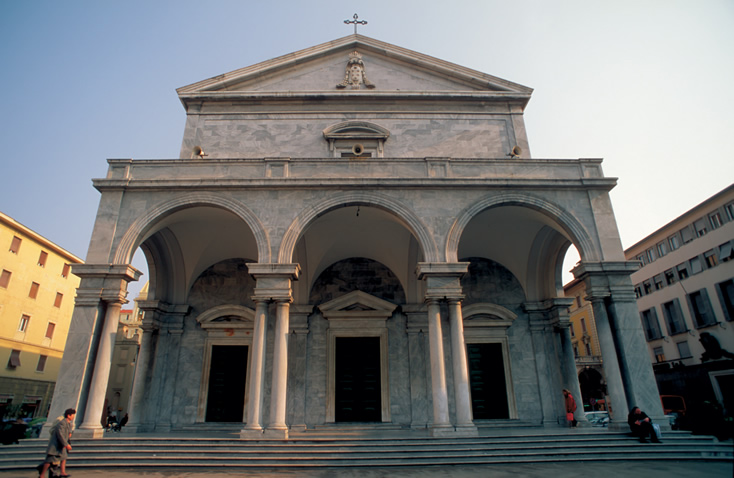 Places of worship
Livorno Cathedral
The Cathedral of San Francesco was almost completely rebuilt after the Second World War
The façade of the Cathedral of San Francesco in Livorno was completely rebuilt after bombings in World War II, with a portico supported by rounded arches, some of which were made by Inigo Jones, the father of English Renaissance architecture. After the war, two additional, smaller porticoes were added to the fronts of the transepts, while the apse, previously modified in the early 1900s (including the installation of a fountain), was transformed with the construction of a large exedra flanked by the rebuilt bell tower.
The interior is arranged in a Latin-cross plan and two side chapels can be found in the transept: to the left is the Chapel of the Holy Sacrament and to the right, the Chapel of the Immaculate Conception. The frescoes in both chapels were lost during the Second World War. The nave was originally covered by a precious wooden rooftop, carved and gilded – made between 1610 and 1614 – which included seven paintings that were saved from the bombings and moved to a much simpler structure that recreates the works' original setting.

Between 1619 and 1623, Jacopo Ligozzi, Domenico Cresti, known as il Passignano, and Jacopo Chimenti, known as "l'Empoli", created three large paintings depicting St. Francis receiving the Virgin's child, the Assumption of the Virgin and the Apotheosis of St. Julia.
In 2006, during events tied to the bicentennial of the Livorno diocese, Fra Angelico's Christ Crowned with Thorns was placed in the cathedral. The same year, a monumental portal was installed in the façade, made by Antonio Vinciguerra and depicting the most important episodes in the city's history.
Livorno
The Mediterannean's very own little Venice, with its historic port.
Founded as a city in 1606 by the Medici family, Livorno became a welcoming oasis for all those who had been religiously, politically or racially persecuted, enriching itself with the resourcefulness and customs of the most diverse foreign nations. Bridges, canals, and historic palaces are reflected in the calm waters, making it feel like a little Venice on the Mediterranean. ...
Morekeyboard_backspace