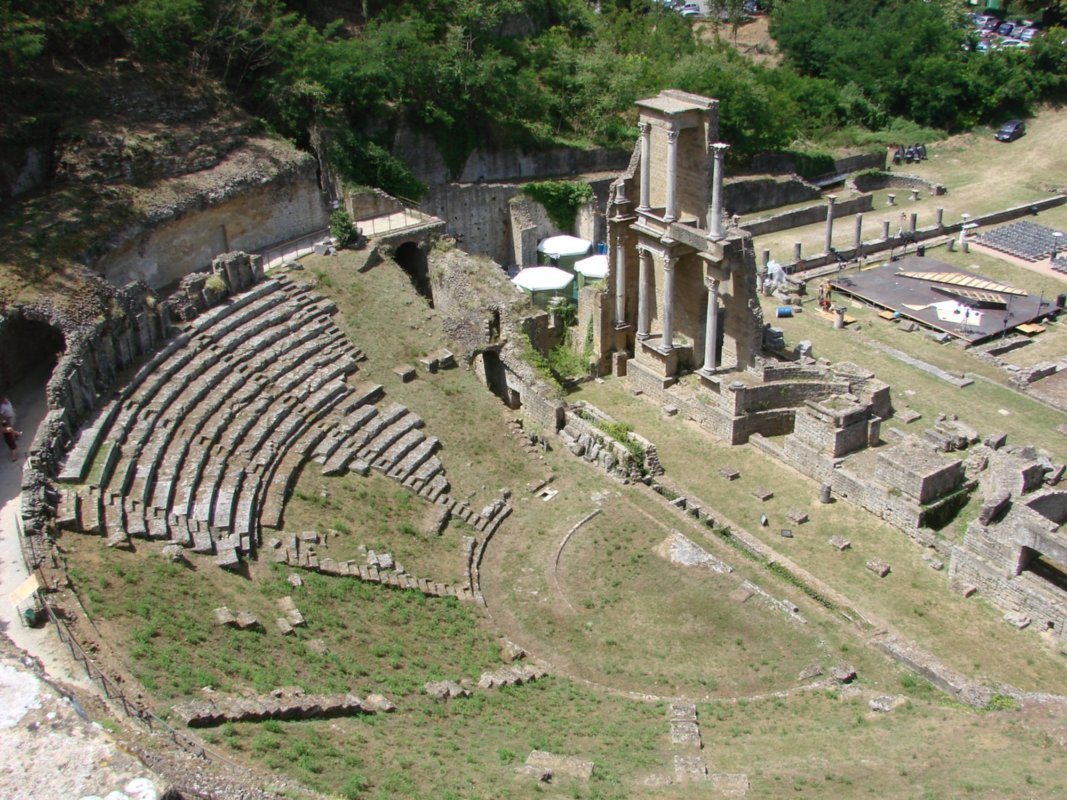 Historical sites
Etruscan Acropolis and Roman Theatre
Reminders of ancient civilizations lie just outside Volterra's medieval walls
Opening hours: Saturdays and holidays 10.00am to 1.00pm and 2.00pm to 4.00pm. Ticket includes the Etruscan Acropolis and Roman Theatre: € 2.00.The Roman Theatre is located in the Vallebuona archaeological area, near Volterra's medieval walls. Systematic excavation began in 1950 under the guidance of Enrico Fiumi. The theatre has been shown to date from the 1st century BC. Still visible are nineteen rows of seats built on a natural slope in the central and lower sectors and the semicircular orchestra which was originally faced with marble. All that is left of the stage are the Pulpitum and a part of the structures and marble columns of the 'frons scenae'. In a later period, when the building was being used for a different purpose, a thermal baths was added in the area of the portico.

The Etruscan Acropolis at Piano di Castello is part of the Enrico Fiumi Archaeological Park. It consists of a complex layering of Etruscan, Roman and medieval structures. The area preserves the remains of a plumbing system which includes the so-called 'piscina augustea' and two temple-like buildings identified as A and B. Building A is a rectangular construction dating from the 2nd century BC whereas Building B dates from the 3rd century AD and looks more like a Tuscan temple with a podium and a colonnade.
Source: APT di Pisa
Volterra
Situated on a tall hill, Volterra is one of the oldest towns in Tuscany
It is an Etruscan settlement with finds that date back to the IX century BC. Worth a visit are: Palazzo dei Priori, the oldest public building in Tuscany and the remains of the large Roman theatre built around the birth of Christ. ...
Morekeyboard_backspace
You might also be interested in