account_balanceMuseums
"Don Luigi Pellegrini" Museum of Ethnography
Artefacts of a rural civilization that's nearly extinct
The "Don Luigi Pellegrini" Museum of Ethnography is located in San Pellegrino in Alpe, in the municipality of Castiglione di Garfagnana, and is housed in the rooms of the Hospice of San Pellegrino, dating to the 12th century and which once served as a refuge for wayfarers passing through the Apennines along one of the main roads that led to northern Italy from the south.
The museum has one of the most important collections of material cultural in central Italy. Its history is intertwined with the life of Don Luigi Pellegrini, a spiritual leader from San Pellegrino and later the parish priest in Chiozza. The idea of the collection came about during restoration works at the Hospice. In 1968, the collection started to be established and was enlarged gradually during the '70s as the rooms in the historic Hospice were renovated. The objects include work tools, home furnishings and furniture coming from throughout the Garfagnana and the Emilia side of the Apennines, but also the Tuscan side as well.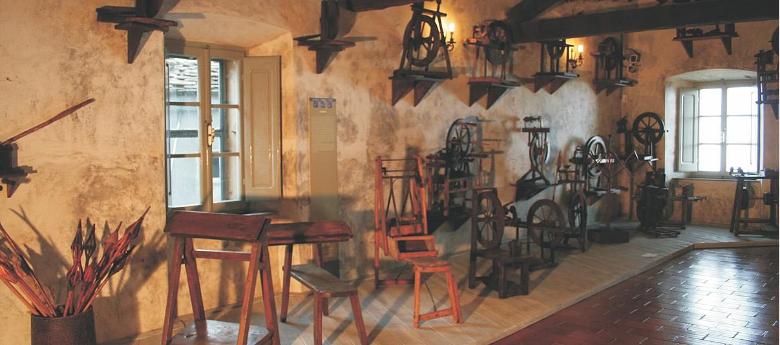 The exhibition route winds through 14 rooms that are organized into different themes: from the reconstruction of the spaces inside rural homes (the kitchen, cellars, bedrooms) to production cycles (planning, spinning and weaving, dairy making).
A considerable number of tools attest to farm work, with reference to various moments in farming activity (ploughing, harvesting, production and conservation of products), as well as craftsmanship, which includes reconstructions of a workshop, blacksmith's shop, carpenter's shop and a candle plant.
Castiglione di Garfagnana
A walled village that holds its thousand-year history intact
While the history of Castiglione di Garfagnana has always been linked to its military camp, the town actually dates to Roman times when a primitive Castrum was installed here, which developed in the Longobard and Frankish eras. ...
Morekeyboard_backspace
You might also be interested in