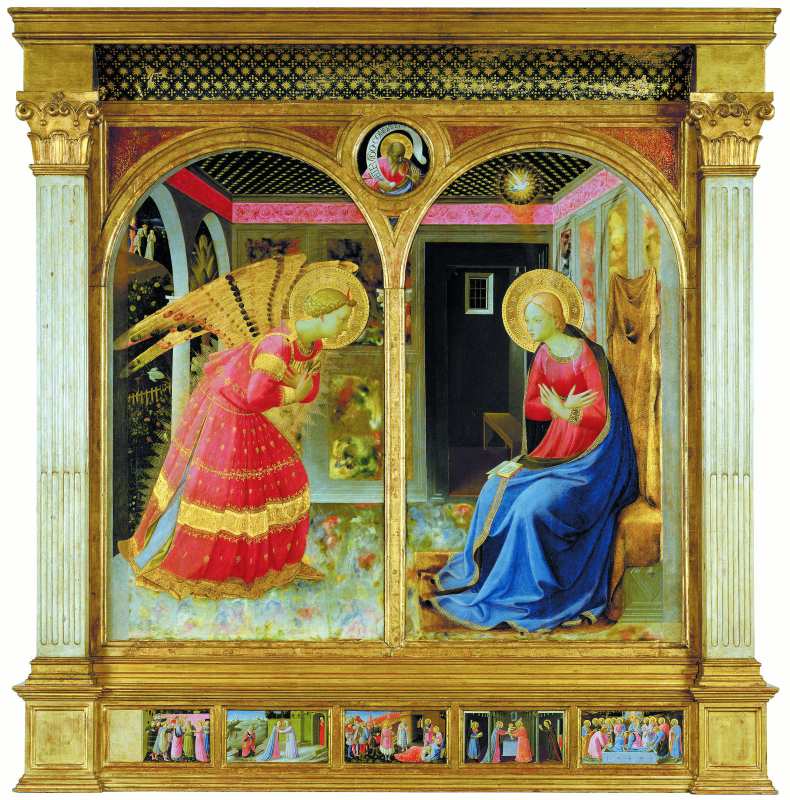 Places of worship
Basilica di Santa Maria delle Grazie Museum
The Annunciation by Beato Angelico is displayed in San Giovanni Valdarno
The Basilica di Santa Maria delle Grazie Museum is situated in San Giovanni Valdarno, next to the basilica, and displays numerous paintings from churches and monasteries in the town and in the local area.
The collection consists in a large number of fifteenth-century Florentine paintings with works by Giovanni di Ser Giovanni, known as Lo Scheggia, Masaccio's brother; Mariotto di Cristofano, his brother-in-law; Giovanni di Piamonte, Piero della Francesca's student; Domenico di Michelino; Iacopo del Sellaio; and most importantly Beato Angelico's masterpiece, the Annunciation.
The museum also houses some seventeenth-century paintings, including Giovanni da San Giovanni's Beheading of the Baptist. In the new display, which dates to 2005, previously unseen materials were given space, such as precious silverware and a prized collection of religious vestments, books and a fresco by Giovanni da San Giovanni.
Info: museidelvaldarno.it
San Giovanni Valdarno
A village in the Arezzo area with a wealth of artistic heritage
San Giovanni Valdarno is one of the main towns in the Arezzo region and is located halfway between Arezzo and Florence. Surrounded by hills and mountains, San Giovanni Valdarno has maintained its medieval appearance, with the typical urban shape of the so-called "new lands": at the centre is a large piazza, and all around are shaded porticoes defining the streets. ...
Morekeyboard_backspace