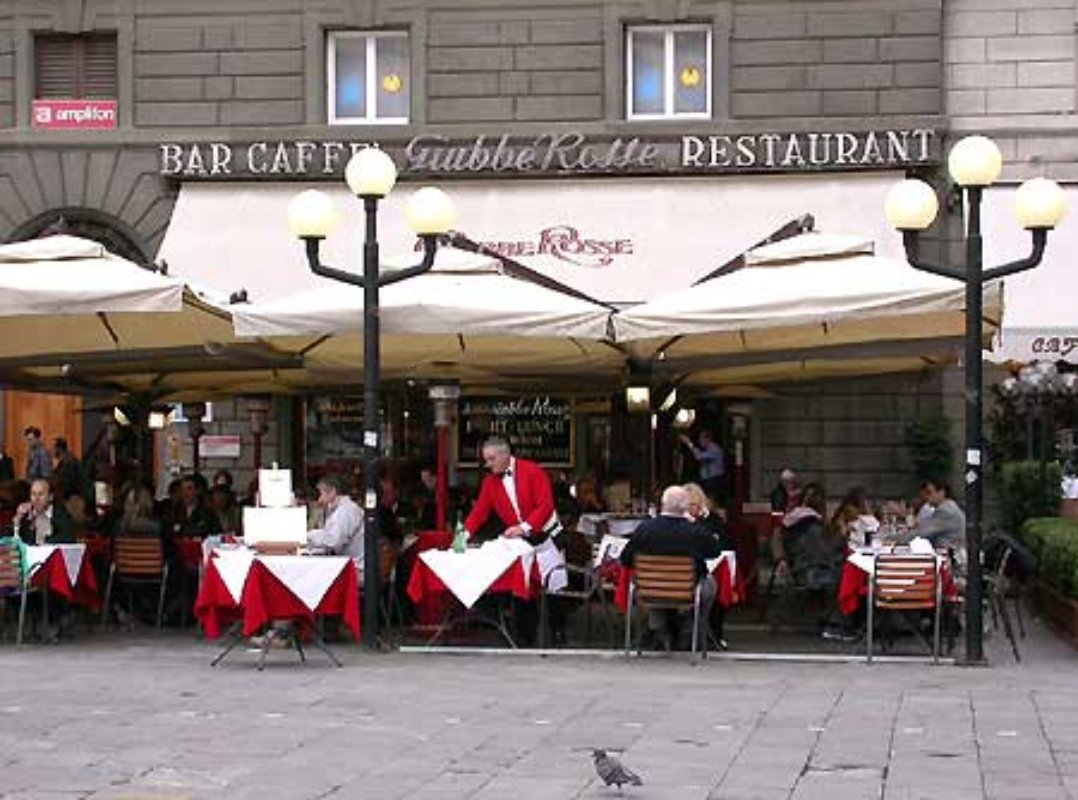 shopping_cartShopping
Alla Giubbe Rosse, birra e ... ispirazioni
Il locale di Piazza della Repubblica a Firenze, culla dei movimenti culturali del Novecento
Quando i fratelli Reininghaus inaugurarono la loro birreria nell'allora Piazza Vittorio Emanuele di Firenze (oggi Piazza della Repubblica), mai avrebbero pensato di aprire un locale da cui avrebbe preso le mosse uno dei movimenti culturali più importanti del Novecento: è qui infatti che si dettero convegno e elaborarono le loro idee i giovani della "colonna fiorentina" del futuristi, destinati a diventare un punto di riferimento per tutto il movimento artistico. E' il 20 febbraio 1909 quando il francese "Le Figarò", pubblica il Manifesto del Futurismo a firma di Tommaso Marinetti, che Ardengo Soffici dalla pagine del fiorentino "La Voce" non esita a definire farneticante. Il quartier generale dei giovani che si raccolgono intorno al giornale pubblicato da Attilio Valecchi è proprio alle "Giubbe Rosse", nella cosiddetta terza sala, spazio riservato agli intellettuali. Come quelli del "Savini di Milano" capeggiati da Marinetti, questi giovani scrutano e commentano le nuove tendenze artistiche, con uno spirito e un approccio che non si discosta molto da quello dei coetanei milanesi. Infatti, dopo le iniziali incomprensioni, che sfociano in una memorabile rissa alla stazione di Firenze il 30 giugno 1911, con il famoso schiaffo rifilato da Boccioni ad Ardengo Soffici, tra i due gruppi nasce un sodalizio artistico destinato ad influenzare la cultura europea della seconda decade del Novecento. Ardengo Soffici, insieme all'amico Papini ha maturato la propria esperienza editoriale già sulle pagine del "Leonardo" (1903-1907), che aveva sede sempre alle Giubbe Rosse. Dopo "La Voce", Soffici, Papini, Tavolato, Pallazzeschi, Reghini, Vannicola decidono di dar vita a "Lacerba" (gennaio 1913), giornale che aderisce ufficialmente al movimento futurista. Comincia il periodo incendiario dei futuristi fiorentini, che avrà il suo culmine nella "serata futurista" del 12 dicembre del 1913 al Teatro Verdi. Le Giubbe Rosse sono divenute ormai un luogo simbolo per il movimento: ci va Dino Campana che a Firenze pubblica i suoi Canti Orfici; è da qui che partono gli appelli all'intervento dell'Italia in guerra, "unica igiene del mondo". Dal fronte della Grande Guerra ritorneranno feriti Rosai, Soffici e Marinetti. Bellini Boccioni e Tommei rimangono uccisi. "Il Lacerba" chiude all'inizio del '15. Nel dopoguerra comincia una seconda fase della vita culturale delle Giubbe Rosse. Dopo le convulsioni degli anni Venti, le sparatorie e le manifestazioni in piazza Vittorio Veneto, il caffé comincia a riempirsi di nuovo di pittori e artisti. Ai tavolini delle Giubbe Rosse si siedono e discutono Ottone Rosai, Eugenio Montale, Elio Vittorini, Carlo Bo, Alessandro Parronchi, Mario Luzi, Curzio Malaparte, i più bei nomi della pittura e della letteratura fiorentina tra le due guerre. Durante la seconda guerra le Giubbe Rosse diventano il Circolo ufficiali delle forza armate americane. Oggi il locale ha ripreso a fare cultura, con mostre, iniziative e convegni che vedono la partecipazione di grandi intellettuali.
Florence
An astonishing city of art, fashion and tradition
If you are visiting Tuscany you cannot miss Florence. The Renaissance city is a treasure trove of art with an astonishing contemporary vibe. Beyond the extraordinary artistic heritage, a testimony to its centuries of civilization, the best way to enjoy Florence is to stroll along the riverside avenues at sunset, or to get lost among the city's myriad alleyways of the bohemian Oltrarno or the ...
Morekeyboard_backspace
You might also be interested in