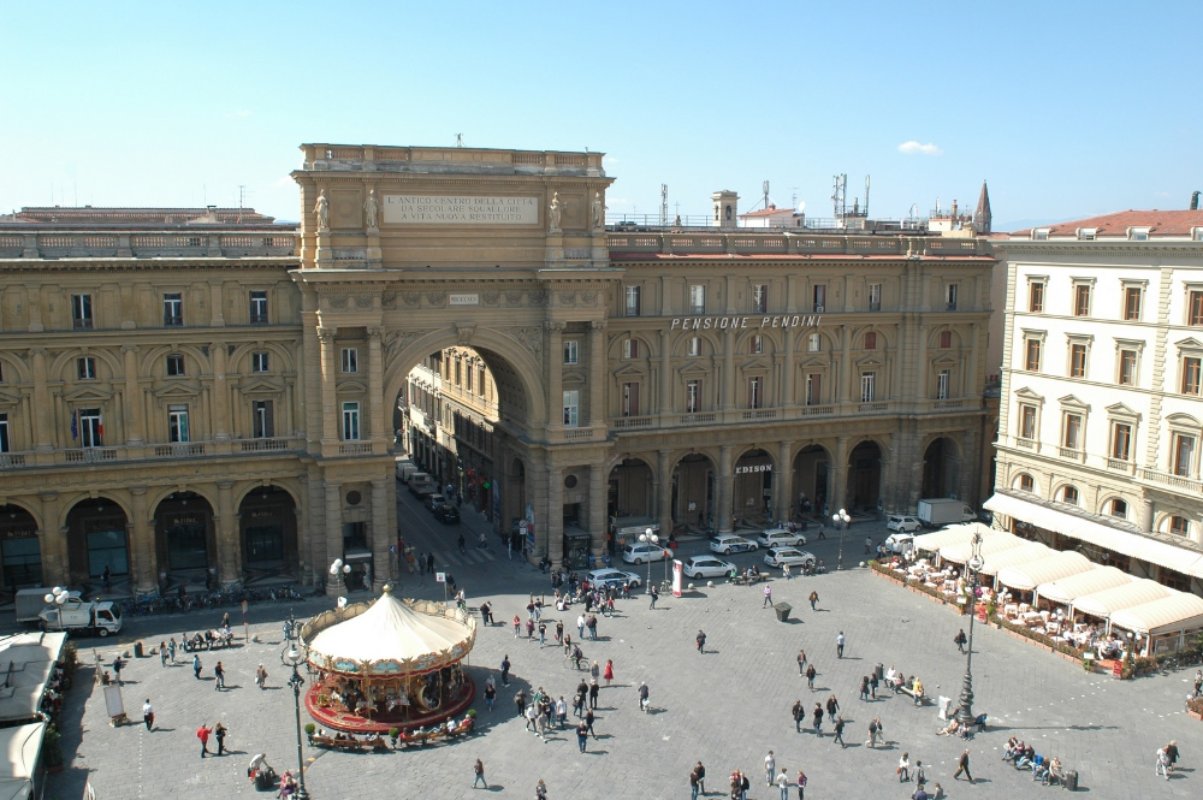 shopping_cartShopping
At the 'Giubbe Rosse'
Café in Piazza della Repubblica, cradle to cultural movements of the 1900s
When the Reininghaus brothers inaugurated their tavern in what was once Piazza Vittorio Emanuele in Florence (now Piazza della Repubblica), they never could have imagined that they were founding an establishment which would host the development of some of the most important cultural movements of the 1900s. It was there that the Florentine 'colony' of Futurist artists met to discuss their revolutionary ideas. At the beginning of the twentieth century, new artistic trends took Europe by storm and young intellectuals in Florence gathered together at the Giubbe Rosse café to create Ardengo Soffici's publication known as 'La Voce'. In the café's so-called 'terza sala', the city's intellectuals shared ideas and commented on new artistic tendencies, just like their counterparts in Milan. After initial misunderstandings that gave way to a historic brawl in 1911, two conflicting groups of intellectuals formed a noteworthy brand of artistic solidarity.

The creative talents that gathered together in this venue were destined to deeply influence European culture in the 1920s. Ardengo Soffici and Papini published 'Leonardo' (1903-1907) and the publication had its editorial 'office' at Le Giubbe Rosse. After 'La Voce', Soffici, Papini, Tavolato, Pallazzeschi, Reghini and Vannicola decided to create 'Lacerba', a journal which officially represented the Futurist movement. So began a prolific period for Florentine Futurists, which reached its climax on December 12, 1913 with 'Futurist Night' at Teatro Verdi. By this time, Le Giubbe Rosse had become a symbolic venue. Dino Campana published his 'Canti Orfici' in Florence. Rosai, Soffici and Marinetti, returned their after their time at the front during the Great War.

After the war, Le Giubbe Rosse saw the development of its second cultural phase. After the convulsions of the twenties and various shootings and protests in piazza Vittorio Veneto, the caffè began to become crowded with painters and artists once more. Ottone Rosai, Eugenio Montale, Elio Vittorini, Carlo Bo, Alessandro Parronchi, Mario Luzi, Curzio Malaparte—all the great names in Florentine literature from this period—met at its tables. During World War II, the café became the meeting place for officials from the American army. Today, Le Giubbe Rosse continues to be a cultural venue, promoting shows and conventions that bring together top intellectuals.

Florence
An astonishing city of art, fashion and tradition
If you are visiting Tuscany you cannot miss Florence. The Renaissance city is a treasure trove of art with an astonishing contemporary vibe. Beyond the extraordinary artistic heritage, a testimony to its centuries of civilization, the best way to enjoy Florence is to stroll along the riverside avenues at sunset, or to get lost among the city's myriad alleyways of the bohemian Oltrarno or the ...
Morekeyboard_backspace
You might also be interested in