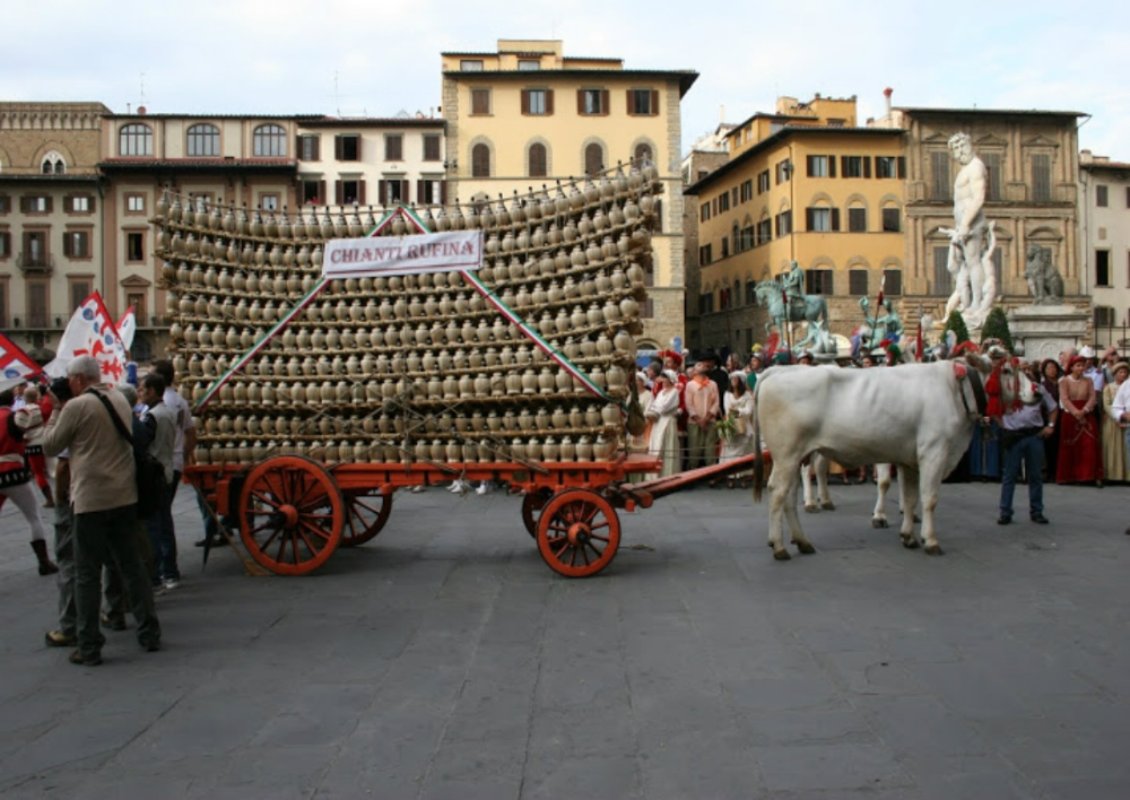 Rufina has always been a land of wine, ever since Cosimo III de' Medici officially named it one of Tuscany's four best areas for the production of fine wines. The ideal climate and excellent location have also contributed to the achievement of the DOCG Chianti Rufina designation.
On the last weekend of September, to mark the arrival of autumn, Rufina pays homage to this excellence of its with the Bacco Artigiano event.
The whole village comes together for grand celebrations that include the reenactment of the ancient tradition of the Carro Matto, a large agricultural vehicle that, with skill and care, was loaded with new wine and brought to the center of Florence.
A firm pyramid of 1,500 skillfully arranged flasks is built on the cart, in which the ruby red of these vines ripples; early in the morning the cart, drawn by mighty Chianina oxen, sets off toward the center of the city, escorted by a procession of ladies and noblemen, as in a sacred procession. The barroccio is driven up to the parvis of Florence Cathedral and welcomed, as it once was, by the Florentine people, who witness the blessing of the delicious drink and toast the gift of the contado with joy. In the past, the vehicle was then driven to Piazza della Signoria, where with open arms it was awaited by the Gonfaloniere of the Republic, to toast once again the city and its lands.
In Rufina, the tradition of the Carro Matto, still very much felt, is accompanied by the celebrations of Bacco Artigiano, an entire weekend of events, exhibitions, workshops and concerts to celebrate the food and wine excellence of the area. Among the places covered by the event is Villa di Poggio Reale, where the Museum of Vine and Wine is based.
Social & Web
Find out what they say about us, and tell us about your Tuscany!
Rufina
Near to Florence is the village known for its food and wine excellence and its history
While admiring Rufina's landscape, you'll find your gaze following the rows of vines down the hill. Olive trees also feature, and there are only fields and more fields to interrupt the stunning views, with that magic that creates wheat, changing colors from week to week. ...
Morekeyboard_backspace