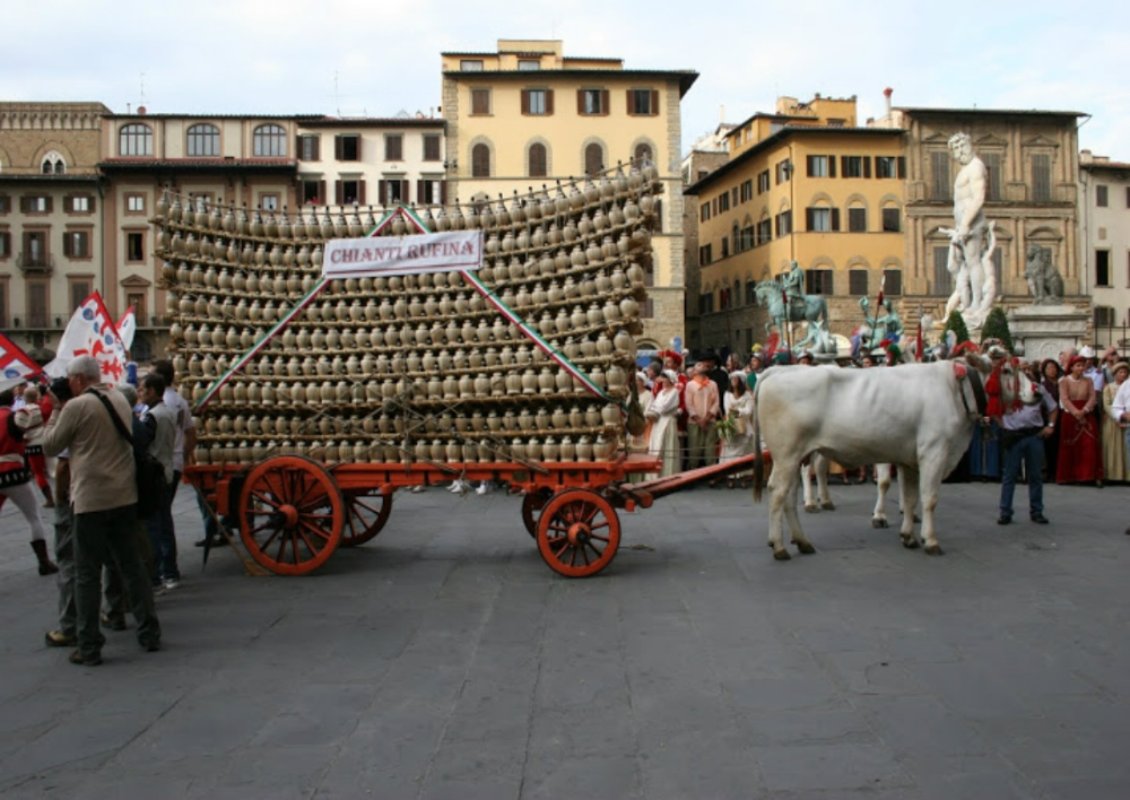 Rufina has always been a wine territory par excellence, since the days when Cosimo III de' Medici officially named it one of the best four Tuscan zones for producing prestigious wines. Over time, its ideal climate and positioning helped the product obtain the DOCG Chianti Rufina designation.
On the last weekend of September, Rufina pays tribute to this area delicacy with the Bacco Artigiano festival. To usher in autumn, the entire town gets together for large-scale festivities and celebrates by (impeccably) re-enacting a centuries-old tradition. During the days of the Florentine Republic, farmers of the area wore themselves out setting up the immense Carro Matto ("Crazy Wagon"), an agricultural means of transport of huge dimensions. With mastery and precision, it would then be filled up with new wine to depart toward Florence.
Today, this ritual is relived, with some slight tweaks implemented to make things go smoother: on the float, a sturdy pyramid made of 1500 well-organized wicker wine bottles ("fiaschi") is set up. Inside them the ruby-red wines of these vineyards slush around and, charging ahead valiantly, the group walks toward the city center. As in a sacred procession, the court of women and nobles follows the float, while leading the pack are some imposing Chianina oxen; with their robust bodies they haul the barouche all the way to the parvis of the Duomo of San Giovanni. Anxiously awaiting them, just as in old times, is the Florentine population; groups get to witness a blessing of the special beverage and then raise a joyful toast to the countryside. In the past, the vehicle would then move to piazza della Signoria, where the Gonfaloniere of the Republic would welcome it with open arms, and once again there'd be an excuse to toast to the city and its surrounding lands.
In Rufina, the tradition of the "Crazy Wagon" is still deeply beloved; along with it, for an entire weekend, there are numerous side events that celebrate the wine and food delicacies of the region, as well as exhibitions, workshops and concerts. The extraordinary location where it takes place is Villa di Poggio Reale, where the Museo della Vite e del Vino (Museum of Wine and Vineyards) has its headquarters.
The 2022 edition is held from September 29 to October 2.
The "Crazy Wagon": Saturday, October 1, 5 pm, Piazza Duomo in Florence.
Social & Web
Find out what they say about us, and tell us about your Tuscany!
Rufina
Near to Florence is the village known for its food and wine excellence and its history
While admiring Rufina's landscape, you'll find your gaze following the rows of vines down the hill. Olive trees also feature, and there are only fields and more fields to interrupt the stunning views, with that magic that creates wheat, changing colors from week to week. ...
Morekeyboard_backspace