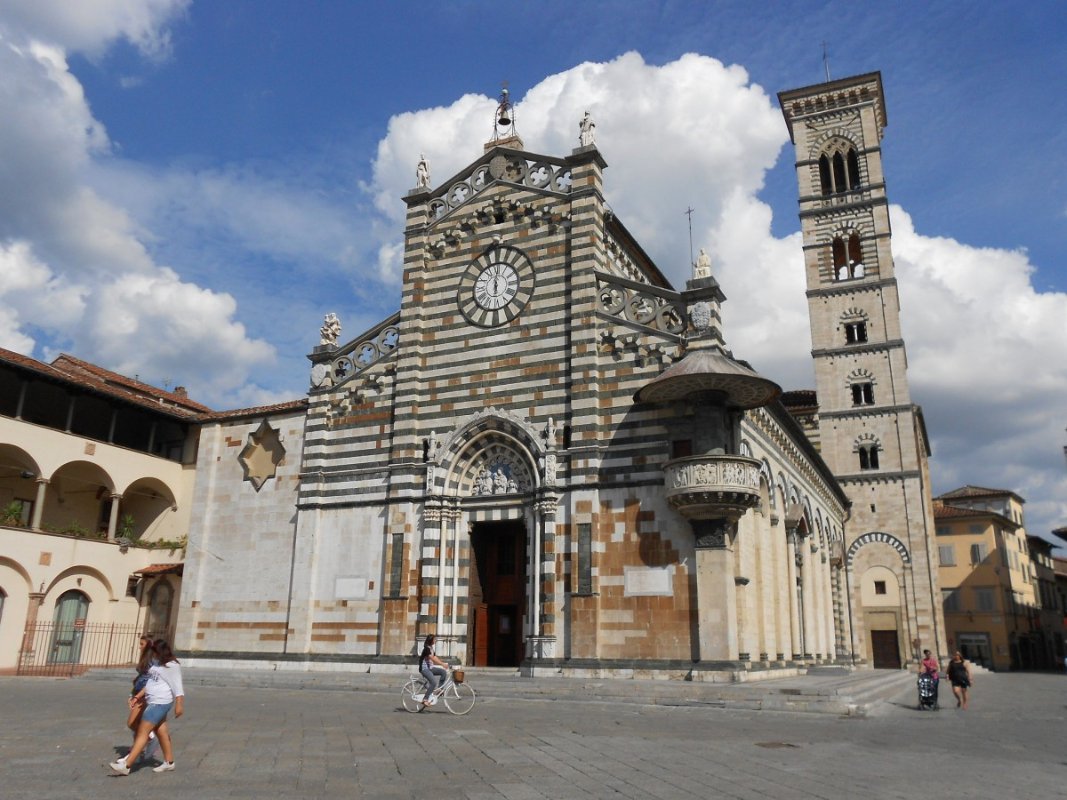 A tour of Prato, the second largest city of Tuscany
Prato is the capital of the province of the same name and it is situated in the north-eastern part of Tuscany, to the west of Florence. It is currently the second largest city of Tuscany in terms of population and the third largest in central Italy. The city and surrounding areas offer interesting artistic itineraries due to the city's long and important history. This is witnessed by several monuments and historical points of interest present in the area. In this post, we will discover the Prato city center, characterized by its defense walls, which are vestiges of the ancient urban settlement. The itinerary includes 10 stages in which visitors can explore the city's main historical and artistic monuments. Let's go!
1) Piazza del Comune
Piazza del Comune is the original nucleus of Prato, a crossroad of two Medieval streets. It hosts the 13th-century Palazzo Comunale and the medieval Palazzo Pretorio, which is characterized by red bricks and is the home of the civic museum that will open again on March 22nd after a long period of closure due to restoration. In the middle of the square, there is a statue of Prato's famous merchant, Francesco Datini. You'll also see a fountain: it's copy of the Fontana del Bacchino (Little Bacchus), the original of which is inside the Palazzo Comunale.
2) Piazza del Duomo
Piazza del Duomo is just few steps from Piazza del Comune. The main attraction here is the Cathedral of Santo Stefano, a jewel of Romanesque Gothic architecture, which featuresAndrea della Robbia's sculptured relief doorway and Donatello's pulpit. Inside, you'll find frescoes by Paolo Uccello, Filippo Lippi and Agnolo Gaddi. On September 8, each year, this is where the Display of the Sacred Belt of the Madonna takes place. It is one of the main celebrations in Prato.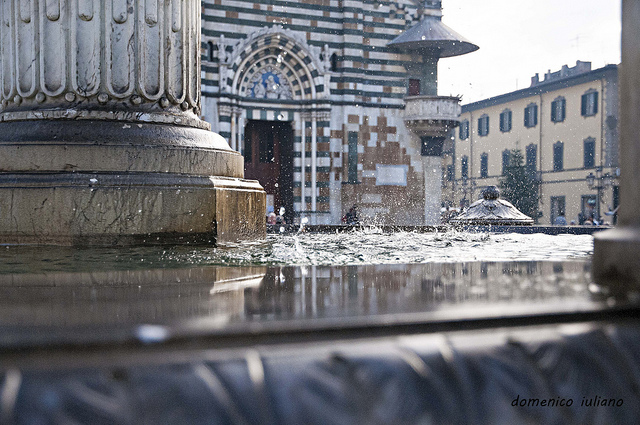 3) San Domenico church
San Domenico church is easy to reach from Piazza del Duomo, by take Via Convenevole. San Domenico is a refined Gothic structure in stone and brick. Passing through the cloister, you'll see the Museo di Pittura Murale.
4) Palazzo Datini
Palazzo Datini is another point of interest because because it is a rare example of a medieval frescoed residence. It was built in 1383 for the merchant Francesco Datini, and, in 1409, housed Pope Alexander V.
5) Piazza San Francesco
In Piazza San Francesco stands the church of the same name, which features a beautiful green and white marble façade. It houses a funerary monument of Geminiano Inghirami and frescoes by Niccolò Gerini in the Migliorati Chapel.
6) Piazza delle Carceri
Piazza delle Carceri is the home of the Emperor's Castle, erected by Frederick II and built between 1237 and 1247 by Riccardo da Lentini. Here, you'll also find the Basilica of S. Maria delle Carceri, which was commissioned by Lorenzo de' Medici to Giuliano da San Gallo. It features works by Andrea della Robbia, Bernardo Buontalenti and stained glass windows by Domenico Ghirlandaio.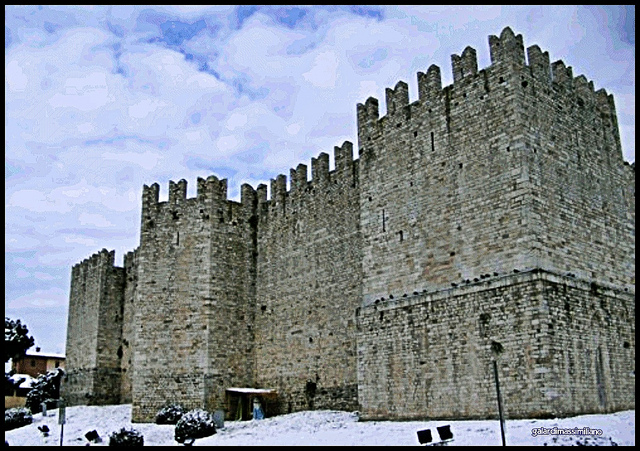 7) The Cassero Medievale
The Cassero Medievale is a medieval bridge house that has a super-elevated fortified walk, accessible from Viale Piave, just in front of the Eastern Gate of the Emperor's Castle. Nearby, you'll find the Museo del Tessuto, the only museum of its kind in Italy.
8) Piazza San Marco
In Piazza San Marco, there is the "Square Form with Cut", a white marble sculpture by Henry Moore, which was donated to the City of Prato in 1974.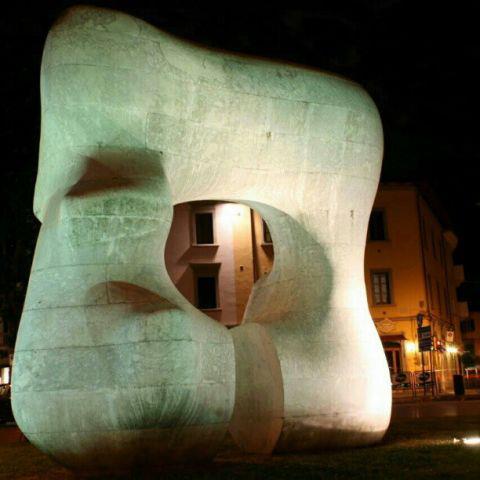 9) Centro per l'arte Contemporanea Luigi Pecci
Outside the walls, there is a main attraction you cannot miss: the Centro per l'arte Contemporanea Luigi Pecci, located in Viale della Repubblica. It is not just an exhibition space but alsoa place for international research on contemporary art and textile technology.
10) Prato Centrale railway station
The Prato Centrale railway station is, itself, an important landmark. Built under Italian Fascism, it is a noteworthy example of the architectural and decorative elements of that period.
Tip
Prato is a great place to stay, save some euros and enjoy the calmer atmosphere. You can decide to stay here for a few days, and make day trips to Florence and Pisa.