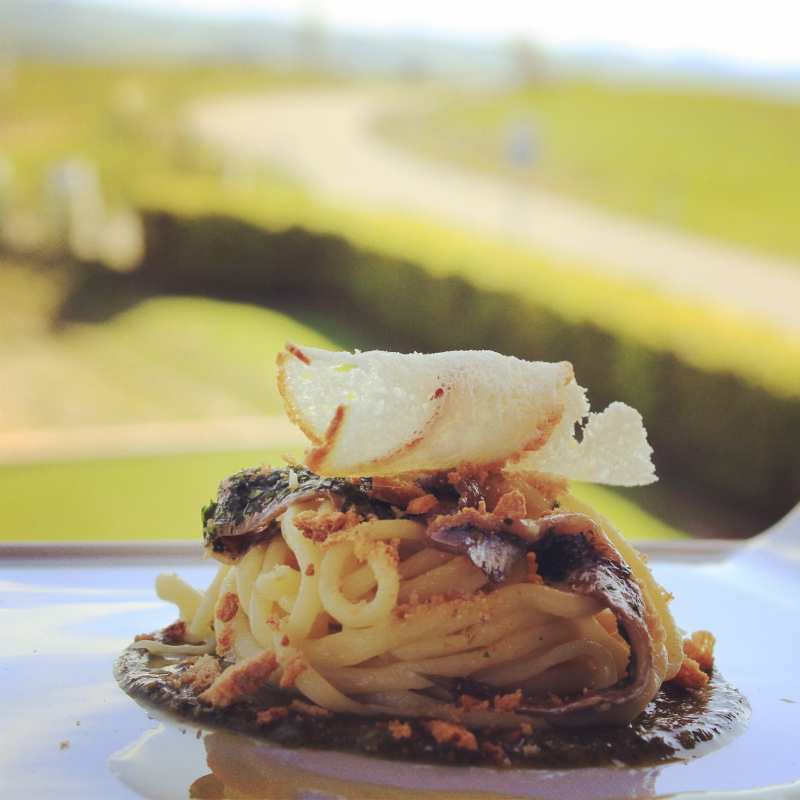 First courses
Pici with tarragon pesto, bread crumbs and anchovies
If you think that the only possible Italian pesto is made with basil, you're wrong. Sienese cuisine is enjoyed for the intense flavors gifted by herbs, such as tarragon (Artemisia dracunculus). In fact, in Siena you can find "pesto senese" made from "dragoncello", the Italian name for tarragon, which is usually picked and combined with pine nuts, olive oil and some butter. Tarragon pesto is usually used to dress pasta, especially pici, the local handmade spaghetti.
It is said that this herb was imported into Italy by Charlemagne in 774 and then grown in the garden of the Abbey of St. Antimo, near Montalcino. The fresh leaves have a pungent flavor, halfway between salt and pepper, a sort of flavor enhancer, so it's useful for those who cannot eat salt for health reasons.
For this photo shoot we decided to visit Filippo Saporito and Ombretta Giovannini at La Leggenda dei Frati restaurant where you can find great regional dishes like this.
For the anchovies
anchovies in salt
vinegar
extra virgin olive oil
parsley
For the pici
600 g of wheat flour 00
400 g of durum wheat
3 eggs
100 g of extra-virgin olive oil
280 ml of water
For the bread crumbs
stale bread
garlic
thyme
extra-virgin olive oil
For the pesto
75 g of tarragon
225 g extra-virgin olive oil
40 g pine nuts
50 g butter
2 ice cubes
Remove the salt from the anchovies with water and vinegar. Carefully remove the bones and store them in a bowl with olive oil and chopped parsley.
Mix the pici ingredients and let stand for 1 hour. Shape into small cylinders and roll the dough with the palm of your hand and stretch it outward at the same time. Once you have finished your pici, cover with some semolina, so that it does not stick to the others.
Saute the garlic in a cast iron pan with olive oil and thyme, add the bread crumbs and toast lightly.
Prepare your pesto by blending all the ingredients on the list and add two ice cubes to preserve the tarragon green color.
Now boil some salted water, add your pici and cook them for about 5 minutes (when they rise to the surface, they are ready).
Put some pesto in a dish, then add the pici and sprinkle with bread crumbs. Finish by adding a couple of anchovy fillets.
This dish goes well with a glass of white wine as Vernaccia di San Gimignano.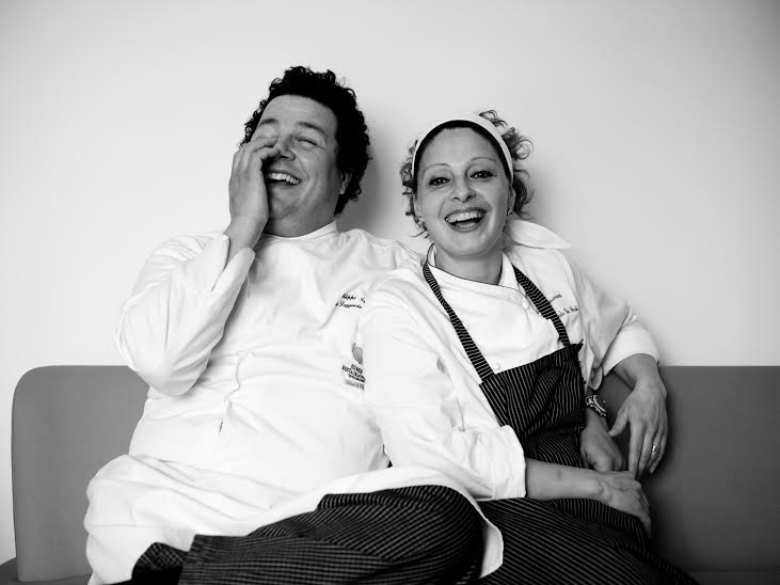 Ombretta Giovannini and Filippo Saporito are husband and wife but also the main chefs at La Leggenda dei Frati restaurant since 2002. Their cuisine is refined and simple at the same time and their dishes contain only seasonal and local ingredients.
You might also be interested in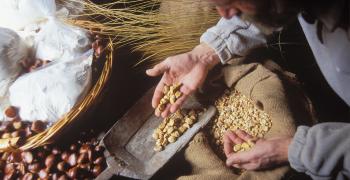 Learn more
Food and Wine
Olive oil, wine, truffle and other culinary delights make up the excellence of Tuscan gastronomy.
continue...