First courses
Pappardelle pasta with duck
A favorite dish for Christmas lunch in Tuscany.
350g pappardelle pasta
1 duck
1 duck liver
1 handful of parsley
1 celery stalk
1 carrot
1 onion
some sage leaves
some basil leaves
500g tomatoes without seeds
5 tablespoons of olive oil
30g butter
1 glass of dry white wine
50g chopped Parma ham (prosciutto crudo)
50g grated pecorino cheese
1 cup of hot meat broth
salt and pepper



After having cleaned and gutted the duck, put the liver to one side and then cut the rest into small pieces. Wash the pieces well.
Chop the onion, celery, carrot, parsley, sage, basil and Parma ham and fry gently. Then add the duck pieces, stirring occasionally. Pour a little of the wine over them. Once the duck is golden, add the chopped tomatoes, chopped liver and season.
Leave to cook over a low flame, occasionally adding a little of the hot broth. When the duck is cooked, take it out of the pan and put to one side, making sure you keep it warm.
Skim the fat from the sauce and put it through a sieve. Then put it back in the casserole pan.
Cook the pappardelle according to the packet instructions, making sure they are only al dente. When cooked, drain and put in a large bowl. Pour the duck sauce over the pasta and add knobs of butter and the grated pecorino.
Mix well, place the pieces of cooked duck on top of the pasta and serve immediately!
You might also be interested in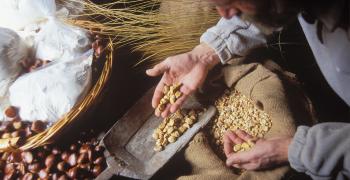 Learn more
Food and Wine
Olive oil, wine, truffle and other culinary delights make up the excellence of Tuscan gastronomy.
continue...