Desserts
Pan co' Santi Bread Recipe
You are in Siena in the month of November you will find almost everywhere a cake called "Pan co' Santi". The translation could be "Bread with Saints" and its name is due to All Saint's Day, the 1st of November, the festive day in occasion of which it is prepared. In Tuscan dialect the saints are walnuts and raisins that you can find inside this fluffy and sweet bread. People from Siena use to serve "Pan co' Santi" with new wine or "vin santo", a sweet fortified wine typical from Tuscany.
Find out here how to bake your own "Pan co' Santi". It is very simple to realize, but you need to be patient and wait a bit for rising.
600 grams of bread flour (3 cups)
25 grams of brewer's yeast (2 tbs)
150 grams of chopped walnuts (2/3 cup)
100 grams of raisins (1/2 cup)
6 tablespoons of sugar
5 tablespoons of olive oil
½ teaspoon of ground black pepper
a pinch of salt
300 ml of warm water (1 cup)
1 egg yolk for the crust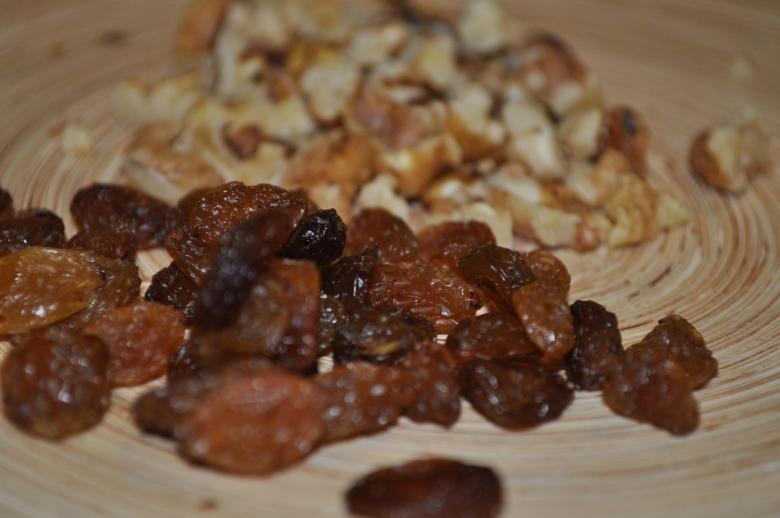 The first thing to do is to make what in Italy is called "lievitino": you just need to melt the yeast together with 100 ml of warm water and wait until it makes bubbles, about 10 minutes. Then you have to add 100 grams of flour to it and mix together. Now wait other 30 minutes for the dough to rise.
In a big bowl mix together the remaining flour, sugar, olive oil, salt, pepper and water. You can mix it using a wooden spoon until you have a wet and sticky dough. Now you can add the mix of flour and yeast and mix again.
You can toast walnuts in a pan and let it cool before add it to the mix. Adding raisins and walnuts, you are putting the "saints" into your bread. Find something to do now because you have to put the covered dough in a warm place (I put it in the preheated oven at 30° C or 90° F) and wait two hours for rising.
When the first rise is complete, using your floured hands, separate the dough in four pieces and make it round. Place the dough balls on a pan with flour or oven paper. Make a cross with a knife on the balls and wait until the dough is almost doubled.
Before putting the dough balls into the oven (preheated at 200°/220° C or 400°/430° F) brush them with the egg yolk. This will make a brown and crunchy crust during the baking. Let the bread cook for 20 minutes until it reach a deep chestnut color but not burn it! Get it out of the oven and let it cool. The morning after is better than the day before!
This is a guest post by Marzia of whitedarkmilkchocolate an authentic sienese of the contrada del Drago.
You might also be interested in