Main courses
Kale with sausages
Until recently, every family in Tuscany had a vegetable garden or some sort. They were always well looked after and bursting with seasonal vegetables. All the different types of cabbage would usually be present, especially kale or, 'cavolo nero' ('black cabbage'). This type of cabbage is typical to Tuscany and almost represents Tuscan people with it's simplicity and strong flavour.
1kg kale
4 sausages
2 cloves of garlic
Extra virgin olive oil
Broth
Salt and pepper


Boil the finely chopped and well washed kale.
Pierce the sausages with a fork and fry in a pan with a little olive oil.
Once they are well browned, take out of the pan and add the garlic until it is golden.
Then add the boiled, chopped kale and some of the broth until it takes on the flavour in the pan.
Finally, add the sausages and cook together briefly.
You might also be interested in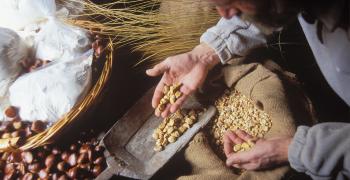 Learn more
Food and Wine
Olive oil, wine, truffle and other culinary delights make up the excellence of Tuscan gastronomy.
continue...