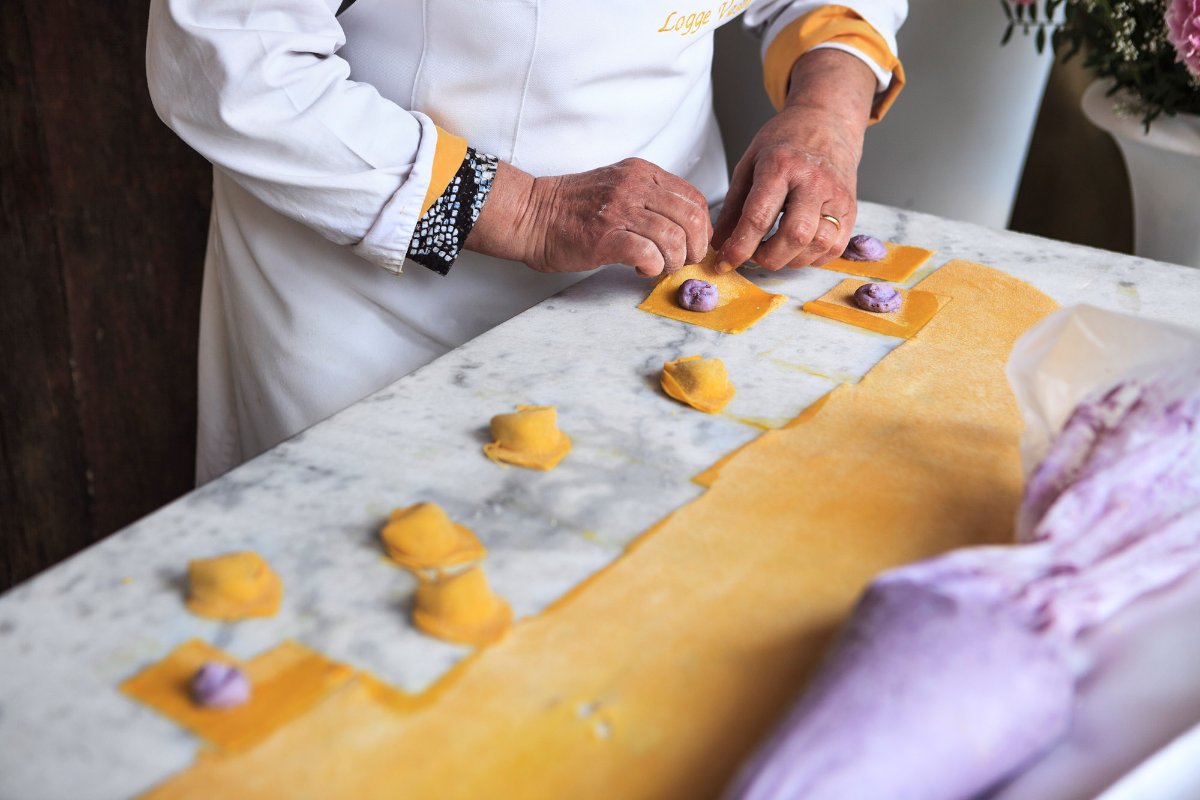 ??????
Grilled Chianina beef: tagliata recipe
The Val di Chiana (or Valdichiana) is the plain that spans the southern part of Tuscany between Siena, Arezzo and the Umbria region. It's a largest valle occupying more than 2000 square kilometres of cultivated lands in the foothills of Cortona, the old city that dominates it from on high.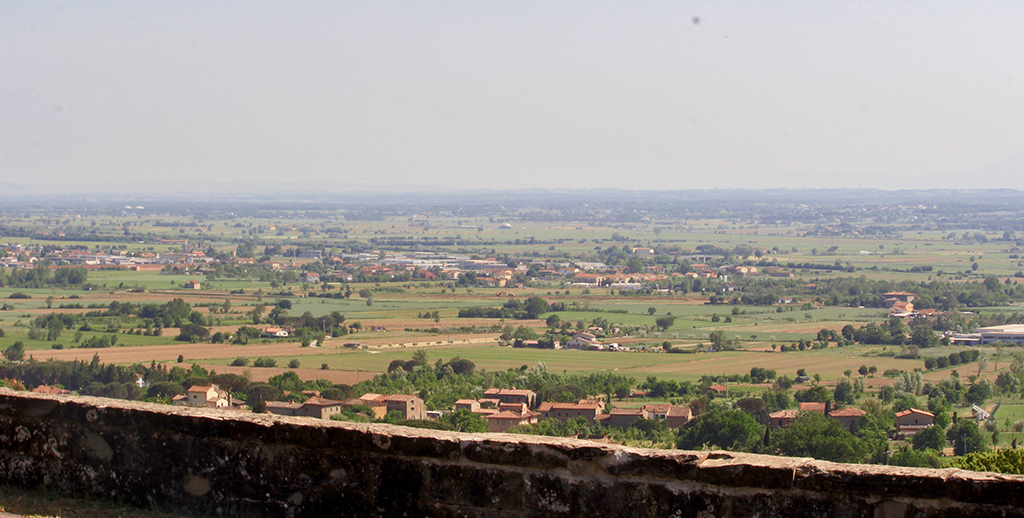 The Valdichiana was the granary of Etruria (the region of the Etruscans) and is still the main area where the most prized breed of cattle is raised, the Chianina, which is derived directly from the pre-historical "bos primigenius" (the one depicted in prehistoric caves). It's recognizable by the porcelain-white coats and its large size: in fact, the Chianina is the largest (and heaviest) breed of cattle in the world (the record for the largest bovine animal is held by the famous Chianina bull "Donetto" who at 8 years old reached 1,750 kg!).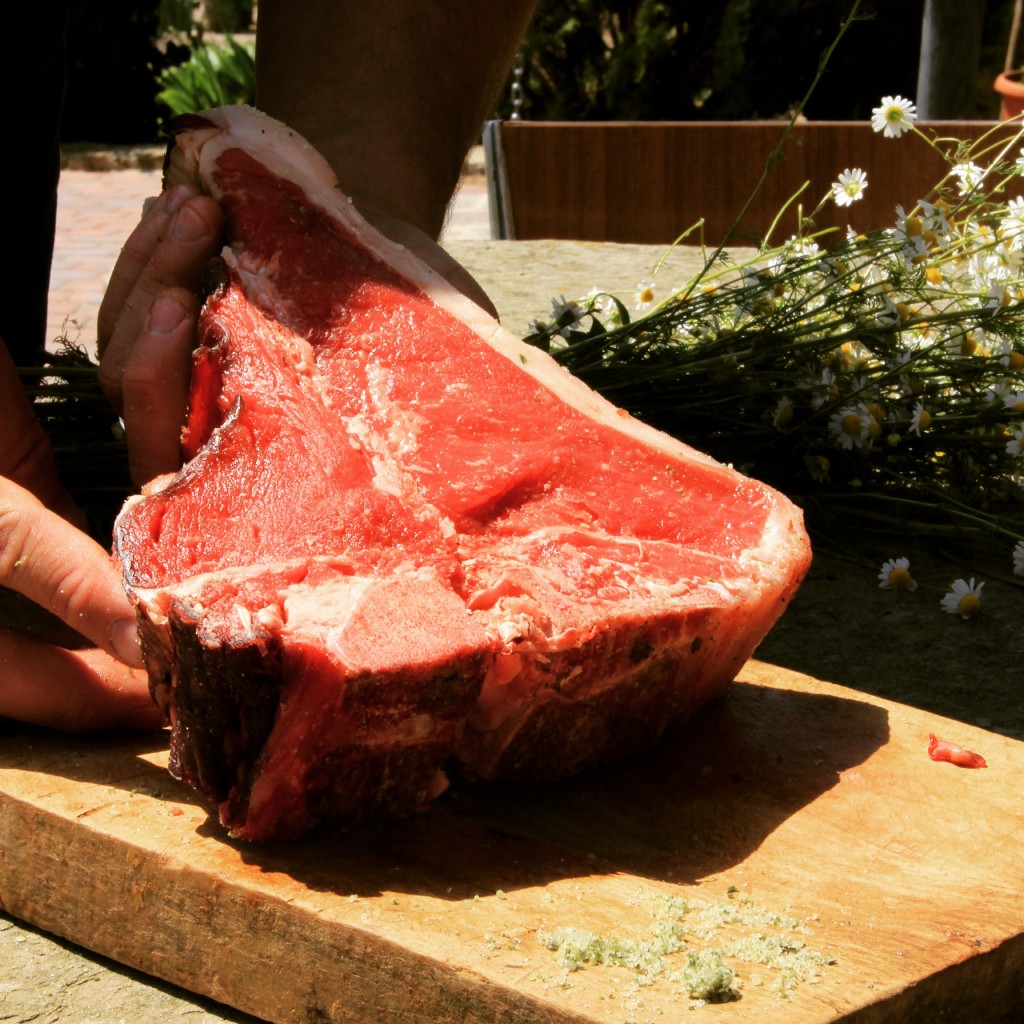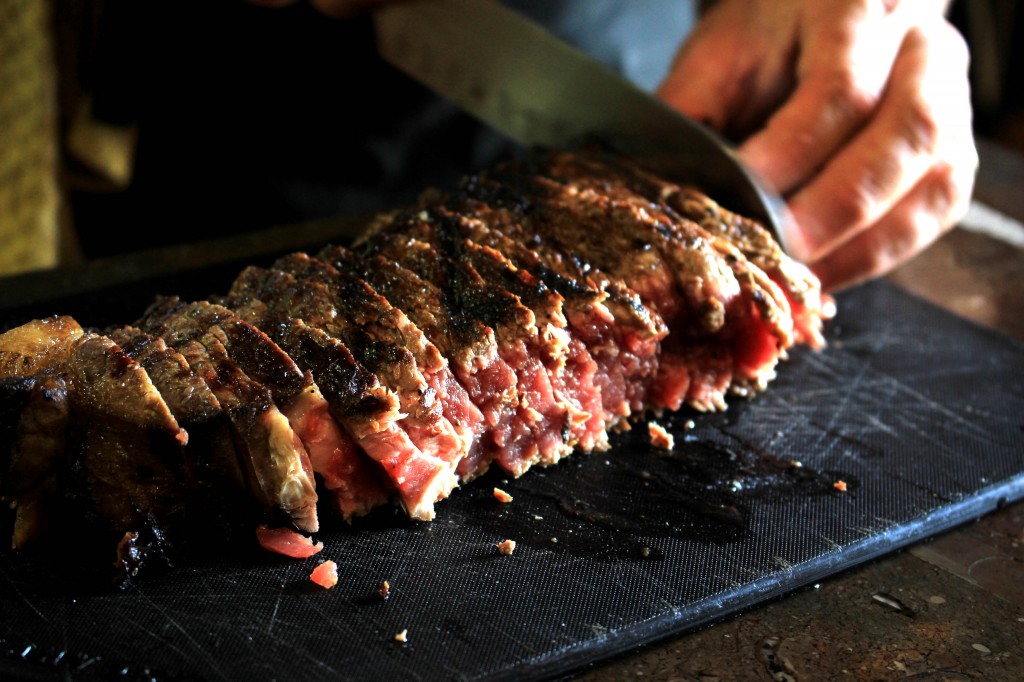 It was commonly used by the Etruscans and Romans for its white blanket in triumphal processions and sacrifices to the gods. The meat produced is bright red in colour and boasts high protein and iron levels and a low fat content.
The best-quality Tuscan steak comes from the famous Chianina breed of cattle. In fact, the Chianina has become famous around the world also for the "Bistecca alla Fiorentina": a sizable cut of steak taken from the loin, which has a "T" shaped bone (in English it is called T-bone steak and has the fillet one side and the sirloin on the other).
But what's the best way to cook this big steak? For this special task I travelled to the Cortona countryside (a few km from the famous Bramasole Villa where Under the Tuscan Sun was filmed) to meet Ryan Hanley, an American chef who's been living in Tuscany for the last 10 years. "I came from California for few months to learn more about Tuscan cuisine, then I met my beautiful Italian wife and now we are raising a Tuscan-American family in beautiful Valdichiana". Ryan welcomes guests of all ages for cooking classes with lunches (here your kids are welcome in the kitchen too!) from antipasto to dessert.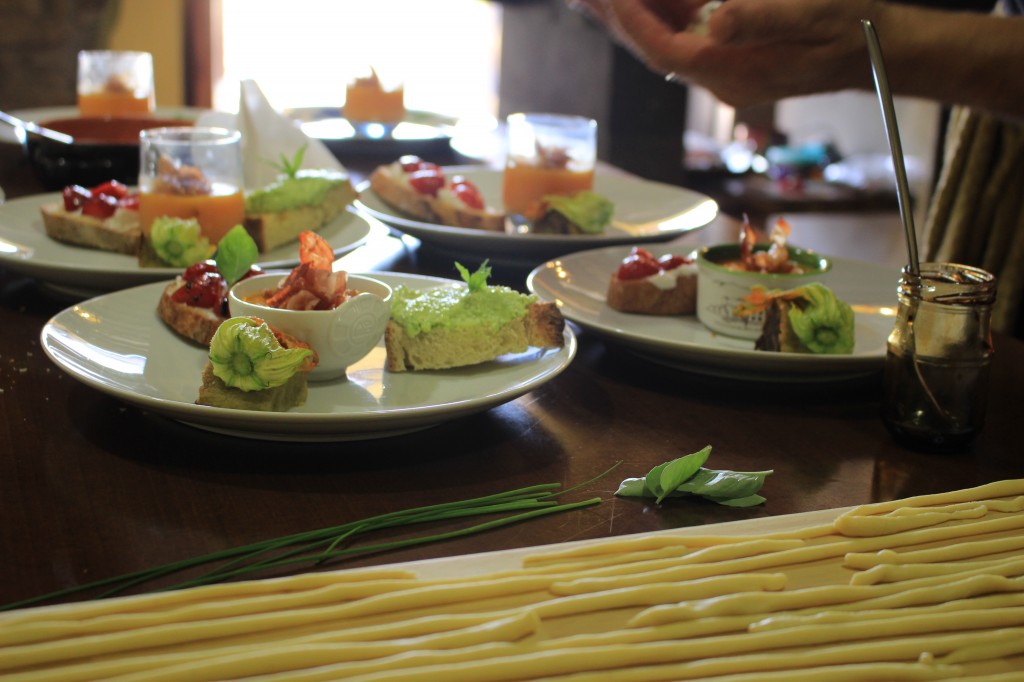 "One of the best ways to taste Chianina is as a grilled steak. You can have the whole 1- to 2-kg bistecca or the tagliata, which means cut (the meat is grilled and then sliced after it has been cooked). You can have Tagliata with arugula and parmigiano on top or served with a pepper corn and olive-oil essence. I like to mix both versions in the same dish. You can cook the meat as much as you want but the best way to taste it is rare, almost raw (in Italian "al sangue")."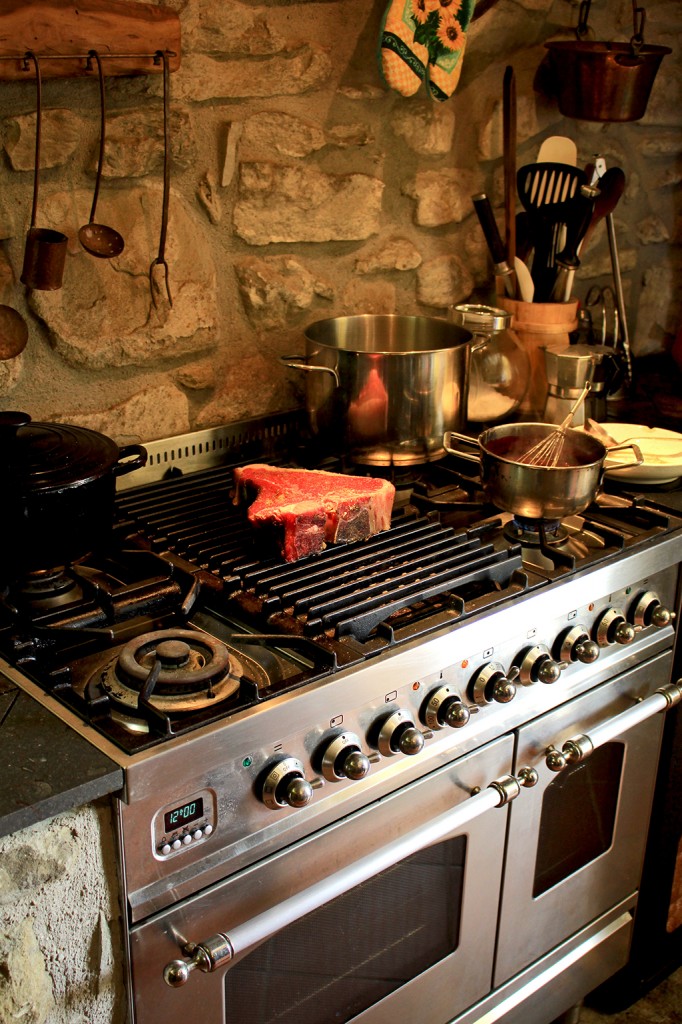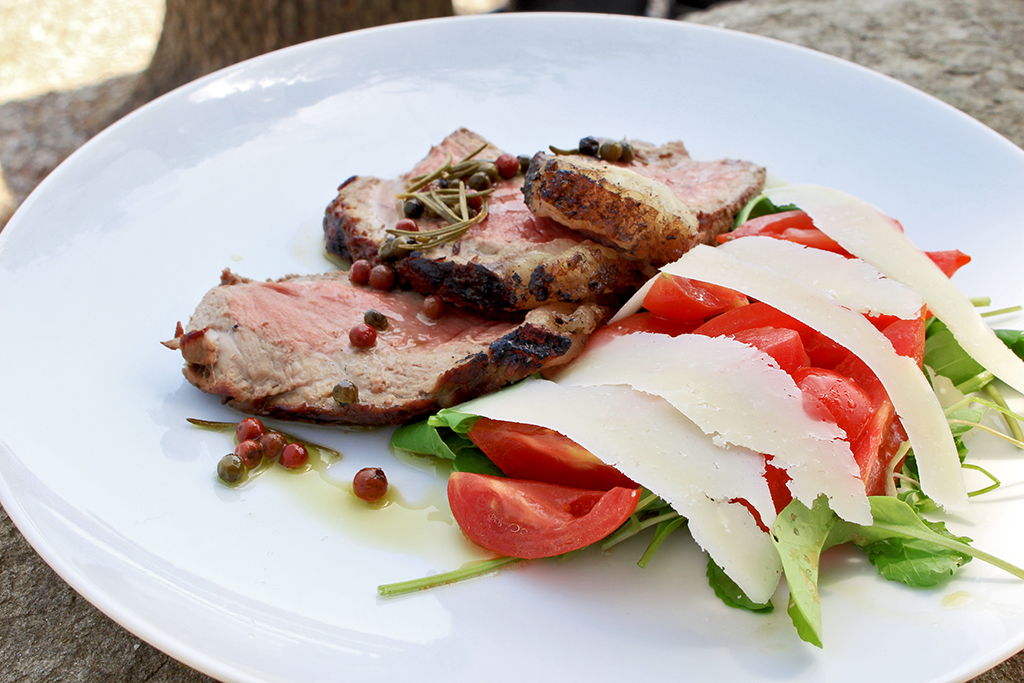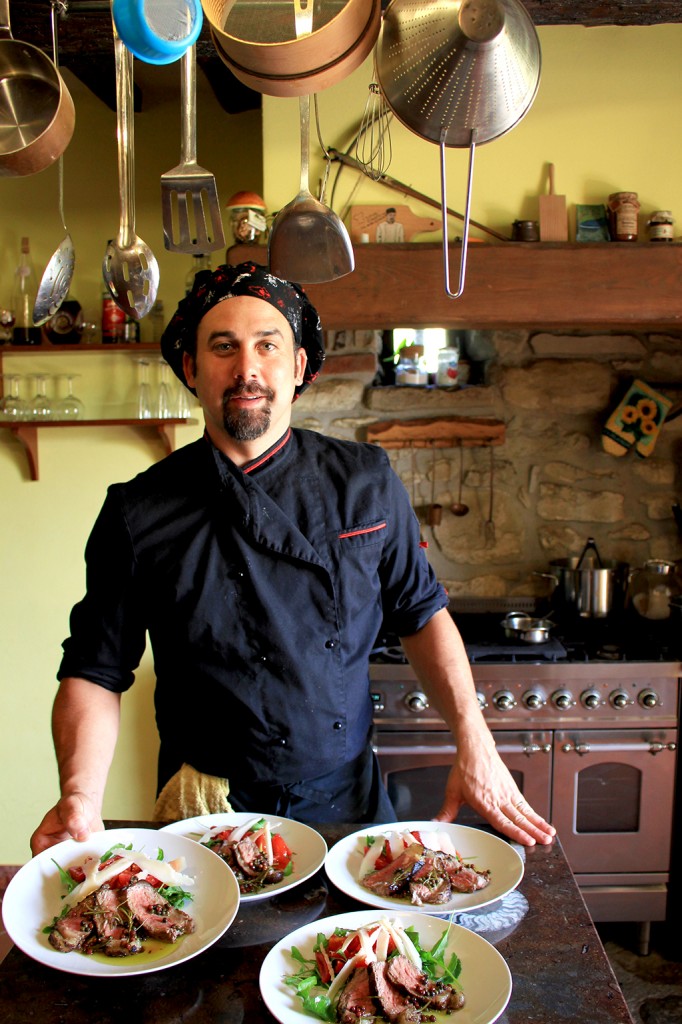 For a perfect Tuscan taste, Ryan recommends using a mix of rosemary, sage and garlic, that is, its "magic salt"!.
If you are dreaming about a perfect steak Tuscan style, follow Ryan's recipe:
Tagliata with arugula, grana, tomato, fresh red and green peppercorns
4 PEOPLE
Ingredients
- 1 1kg T-bone steak - Magic salt (rosemary, sage and garlic) - 4 Small handfuls of arugula - 15 cherry tomatoes (chopped) - 2 Tbs red pepper corns - 1 Tbs green pepper corns - Clove of garlic - Rosemary - 8 Tbs olive oil - 20 Big shavings of Grana cheese
Method
- Rub the steak with magic salt - Grill the steak about 4 min on each side - Let it sit for 10 min before cutting it - Heat the oil with the peppercorns, some rosemary and a clove of garlic (but make sure you don't burn them) - Slice the steak - Put a handful of arugula on the upper part of the plate - Then 3 of the chopped tomatoes and 5 big shavings of the grana cheese over the arugula - Place the sliced steak on half of the arugula and half on the plate - Then spoon 2 Tbs of the oil with the peppercorns over the other half of the steak
Magic salt
Ingredients
- 1 Handful of sage - 1 Handful of rosemary - 4 Large garlic cloves - 1/2 Kg Rock salt
Method
- Put all the sage, rosemary & garlic in a blender with about 5 Tbs of the salt and blend well - Once it is blended well, add the rest of the salt slowly with the blender on until the rock salt turns to fine salt
Photo Credits: Flavia Cori, Tuscany Social Media Team
You might also be interested in