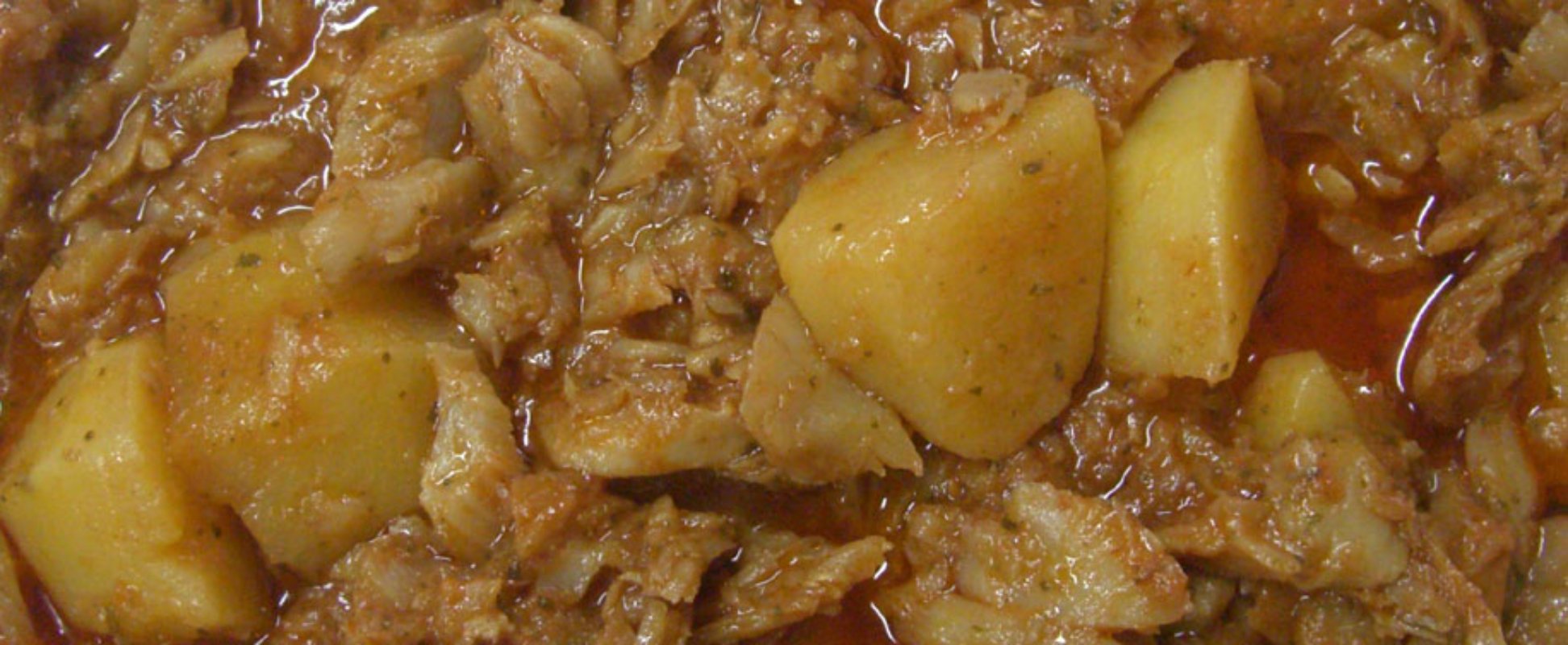 Main courses
A recipe from Elba island, Stockfish with potato
Elba's cuisine is a mix of dishes, which include garden vegetables and fish. It is also the result of the migration and influences of different people that arrived from other lands and that had a common background in different types of manual labour (mining, fishing, and agriculture).
Stoccafisso, Sburrita, Gaspaccio: there are some good examples of the Spanish influence in Elba's cuisine. Spaniards dominated part of the island for a century and a half from 1603. Gaspaccio is a sort of ratatouille (called Gurguglione in Elba) but it has additional ingredients. Sburrita, which was often eaten by miners and fishermen at breakfast, it is a soup made from the leftovers of codfish.
The stockfish in Elba (from the German Stock fisch - meaning fish stick) is dried cod, a relative of the codfish, which is instead preserved in salt. Natural drying is an old method of food preservation that is also suitable for other species of fish with white meat.
Here is a traditional recipe of stock fish with potatoes from Elba
2 onions
4 garlic cloves
1 bunch of parsley
1 kg of boneless stock fish cut into large chunks (because stockfish is dried, it needs to be soaked in water overnight before cooking to soften the meat. Once done, clean the previously soaked stockfish, squeezing out any excess water.)
½ kg of potatoes cut into large pieces 2 tablespoons of olive oil
tomato paste
hot pepper
Heat 2 tablespoons of olive oil in a saucepan and add the onion, garlic and parsley and cook until they have softened.
Add the fish and sprinkle with white wine, then leave it to evaporate.
Add the hot pepper and tomato paste, mixed with water or broth.
Add salt and, finally add the potatoes.
Once the potatoes are cooked, the stockfish can be served.

Credits: Recipe and stockfish photo by Giulia Marasti, Il Viandante (Capoliveri – Island of Elba)
You might also be interested in