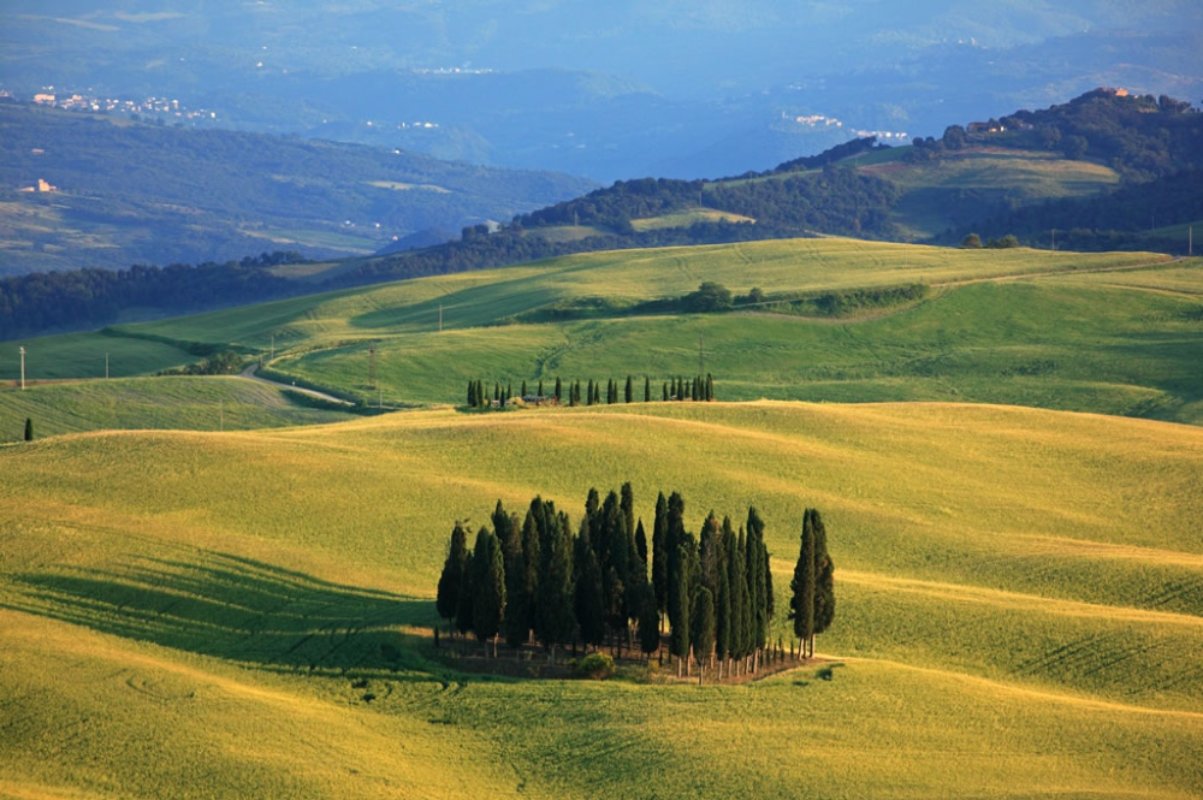 Travelling the Via Lauretana on Motorcyle
Quintessential Tuscany
The route dictated by the Via Lauretana is a perfect one: there are great views, hills, climbs, descents, everything surrounded by top-notch scenery. The road that goes through the Crete Senesi is perfect for photographers who want to capture that which is quintessentially Tuscan: all from the seat of your bike.

From/to: Taverne d'Arbia - Sinalunga
Distance: 40km
Duration: 1 day
Landscape: hilly
Province: Siena

Set your GPS: Taverne d'Arbia, Vescona, Asciano, Casabianca, Sinalunga

The word Tuscany conjures up the vision of soft, rolling fields, an isolated farmhouse, a long road leading to it with cypress trees lined up like soldiers. The area of the Crete Senesi is exactly this way: the clayey soil is due to the fact that it once was covered with water. Towns that are part of this area include: Asciano, Buonconvento, Monteroni d'Arbia, Rapolano Terme and San Giovanni d'Asso. And there's no better way of exploring Tuscany than down Via Lauretana. Leave the E78, head down to Arbia and enjoy the road. Between driving and looking around there's endless pleasure to be had. At almost regular intervals there are dirt roads that lead off towards distant farmhouses.

Near Staffoli, on the right, there's a wonderful view of cypress trees winding their way through the landscape; on the right there's a sign for the Castle of Leonina. A perfect watercolor. There's not enough adjectives to describe this road. Passing beyond Vescona from km 9 there's a change: downhill curves lead you all the way towards Pievina, with its country church. At an intersection take the turn for Badia a Rofena, a poetic destination that's somewhat rundown. Between vineyards and houses, you'll see the bridge over the Ombrone, just before Asciano.

There will be signs that lead to Abbazia di Monte Oliveto Maggiore; to the left you can enjoy a view of Monte Sante Marie; drive into Asicano and park in Piazza Marconi. The center of town is rich with churches and monuments including Palazzo Corboli with its Civic Architecture museum.

Heading back on the road, take the first turn off for the town of Trequanda. The itinerary continues on SP438 with lots of signs towards Rapolano and its spas. Then the road changes name: the SP10/a is still fun, but the scenery is totally different. In Casabianca you can get local products for all your friends, while the DOCG vines nearby offer you one more breathtaking view... Sinalunga brings the journey to an end as you say to yourself, "what a fabulous trip it has been."
You might also be interested in