Pedalling the Valico del Paretaio
Explore the lesser-known areas of the Mugello
The Valico del Paretaio is a lesser-known mountain pass in the Mugello, yet it is no less spectacular. Indeed, it crosses a rather unspoilt area that offers an even more beautiful uphill route leading to one of the Mugello's most fascinating peaks.
The route begins in the fraction of Coniale (307m above sea level), which is located about 11 km from the centre of Firenzuola, in the direction of Imola and in the beautiful valley of the Santerno river. The uphill route is difficult right away and you'll need light gears. After less than a kilometre, you'll pass a small source of fresh water and the path will start climb at a considerable inclination (7-8%), along the Poggio di Stignano. This first trajectory is characterized by a series of hairpin bends that lead to a crossroads; take the road toward the small town of Tirli (3.1km; 512m above sea level). After this part, the inclination is easier (3-5%) and the path becomes more linear. This part of the route is shaded for about 2.5km and passes through the towns of Albignano and Stignano.
After Stignano (5.5km; 621m above sea level), the road begins again to climb uphill with a considerable inclination (6-7%). This trajectory is likely the most difficult climb of the entire route because the inclination remains constant for about 4km. Moreover, because this area is characterized by open fields and valleys, it is very windy, making the climb more difficult; on the other hand, the panorama extends for miles and offers great views of this part of the Apennine mountain chain.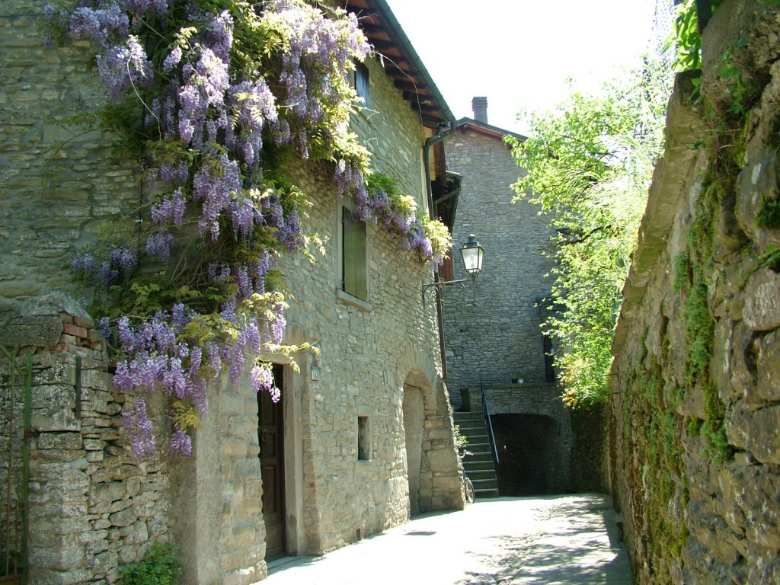 As you get closer to the mountain pass, tall vegetation disappears and leave space for lower-lying brush. Here, the heat can make the ride more difficult, especially in summer. Just a kilometre before the reaching the pass, the difficulty subsides and a lighter inclination begins, until you reach the mountain pass (10.2km; 880m above sea level). From here, a harsher downhill route begins for about 8 kilometres that leads to the town of Palazzuolo sul Senio.
On the return, cyclists can travel from Palazzuolo to Casola Valsenio and return to the Santerno a Fontanelice valley, and from there go to Firenzuola (83km). Otherwise, cyclists can continue the more difficult excursion and pedal to the Sambuca Pass and the Giogo Pass (95km).
You might also be interested in