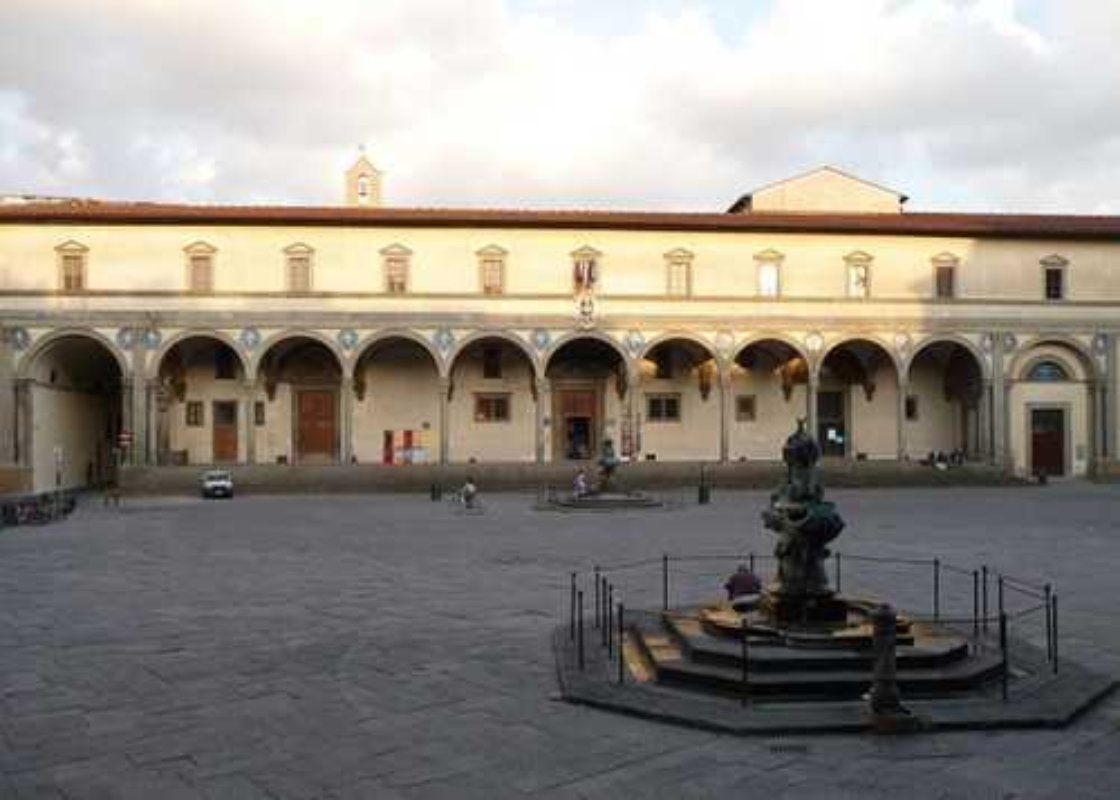 Itinerary: Mary's Motherhood
Visit SS. Annunziata, Spedale degli Innocenti and more
S.S. ANNUNZIATA
Santissima Annunziata,
the largest shrine to Mary in Florence
, was founded because of an initiative by seven noble Florentines (founders of the Order of the Servants of Mary), who in 1233 chose a life of service to God and their neighbours in devotion to the Virgin.
In the beginning there was only a small chapel outside the city walls: Santa Maria in Cafaggio. The devotion of the people and the deep faith of those who saw in the maternal presence of Mary, the mother of Christ, the best way to experience the presence of Jesus in everyday life, led to many works of charity in the sanctuary and the enlargement and decoration of the church, thanks to donations from wealthy families.
Immediately on the left as you enter the church is an image of the Annunciation (1252) surrounded by a sumptuous shrine.
It is said that the painter, Bartolommeo, depicting the Madonna's face, was taken by shock and fell unconscious. When he woke up he found the figure beautifully completed.
SPEDALE DEGLI INNOCENTI
Of the three logge which surround the piazza,
the first to be built was that of the Spedale degli Innocenti in 1419
. A merchant from Prato, Francesco Datini, gave a large sum towards the construction of a shelter for orphans. The city government then acquired land adjacent to the Oratory of the Servants of Mary and commissioned the Silk Guild to build and manage the construction.
The construction was commissioned Brunelleschi, who was already working on the dome of the cathedral.
Under the porch a window is still visible (now walled up) with a 'wheel' where children were left by their mothers, to be taken into the care of the hospital.
SANTA MARIA MADDALENA DE' PAZZI
The church was built in 1256 in the gothic style. At the end of the 1400s the Cistercians built the chapel and the twelve side chapels. The monastery was enlarged along the designs of Giuliano da Sangallo.
In 1628 it was taken over by Carmelite nuns, who counted among their numbers Maria Maddalena de' Pazzi, who was canonised in 1669.OSPIZIO DELL'ORBATELLO
The first part of this complex, now the seat of a university library, was built in the second half of the 1300s, in a grassy area near the Spedale degli Innocenti and the sanctuary of SS. Annunziata.
The wealthy Florentine Jacopo degli Alberti constructed a chapel and an asylum for widows and virgins without a dowry. It was dedicated to the Annunciation
, as evidenced by one of the few remaining original works on site (Annunciation, dated 1485, in the lunette above the entrance).
DUOMO
, "PORTA DELLA MANDORLA"
The north entrance of the Duomo is called the 'Porta della Mandorla' (Almond Door), so called because of the r
elief of inlaid marble in which Mary is depicted in an almond shaped frame suggesting heavenly glory
. The work was carried out between 1391 and 1422, by
Nanni di Banco
among others.
You might also be interested in