Wine, olive oil and honey
Miele di spiaggia from Migliarino-San Rossore Nature Reserve
Made solely along the coastline of the Migliarino di S. Rossore Massaciuccoli nature reserve
Category
Wine, olive oil and honey
Origin
Parco di Migliarino-San Rossore
Miele di spiaggia del Parco di Migliarino-San Rossore boasts unique aromas and flavours reminiscent of the smell of the sea. The bees, which live in wooden hives, are scattered along the beach, protected by a natural dune in an environment resplendent with wild Mediterranean vegetation. It's often used on bread or paired with sheep ricotta or other young or mature cheeses. It's also served with an unusual starter: Cold farro salad with slices of turkey, balsamic vinegar and miele di spiaggia. Sold in small quantities, it can only be found directly from producers or traditional local stores.
You might also be interested in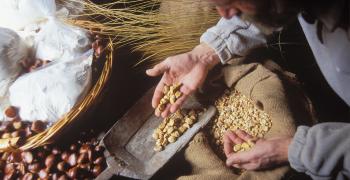 Learn more
Food and Wine
Olive oil, wine, truffle and other culinary delights make up the excellence of Tuscan gastronomy.
continue...