Hamlets, districts and squares
The Village of San Gusmè
A village in the Chianti countryside, near Castelnuovo Berardenga
San Gusmè is a characteristic Tuscan village located in the municipality of Castelnuovo Berardenga, in the Chianti region. Its name comes from Saint Cosmas, whose namesake church was mentioned as early as 867. In 1201, San Gusmè was a non-fortified village of modest dimensions, where the Berardenga abbey was being developed considerably. In 1370, following mercenary raids, the townspeople decided, with Siena's help, to fortify the village with a defense wall. Between 1477 and 1479, it was fortified even further.
Today, San Gusmè represents a perfect example of a fortified village, boasting a large circular shape and bordered by a wall that still partly exists. The wall, whose outline can be seen clearly in a late-16th-century blueprint of the town, is conserved in some stretches, with rectangular bastions that were mostly incorporated into the surrounding houses. Two gates, restored extensively, led to the castle. Porta Senese is topped by a rectangular marble stone with Siena's coat of arms between two leaves. In 1939, a third door was added, Porta Nuova, which is located near the Church of Santi Cosma e Damiano. Inside the village, visitors can also find the Church of SS. Annunziata.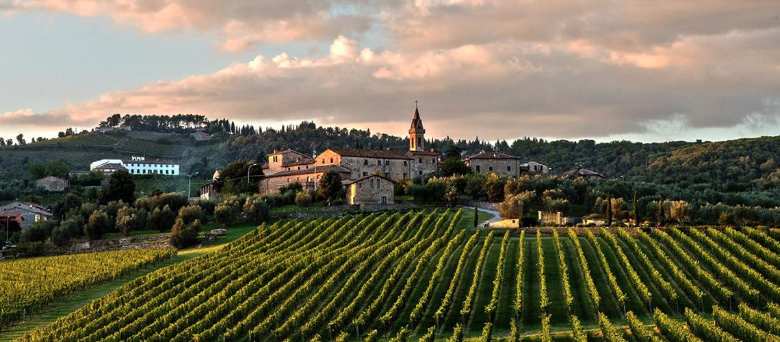 A particular characteristic of San Gusmè is the statue dedicated to Luca Cava, made in 1888 for an entirely unique reason. The small statue served to indicate to people the place for collecting fertilizers for their vegetable gardens.
The statue was destroyed in the 1940s and later remade following a design by Emilio Giannelli, the famous illustrator. Since then, there's been a festival in honour of Luca Cava every year during the first two weekends in September.
Castelnuovo Berardenga
Charming hills, Romanesque churches and a sea of castles in the Chianti area
Nestled among the blossoming Chianti hills and the incredible landscape of the Crete Senesi, the charming area of Castelnuovo Berardenga is found just outside Siena, on the hills separating the first part of the Ombrone valley from the Arbia stream. ...
Morekeyboard_backspace