spaRelax and wellness
Uliveto Thermal Baths
A natural spa setting and its therapeutic waters, just a short journey from Pisa
Immersed in the evocative natural landscape of Monte Pisano, the Uliveto Thermal Baths, in the municipality of Vicopisano, owes its fame to the presence of thermal hot springs, well-known as far back as when Frederick I and his troops came through the town as they travelled the road to Bientina.
Even the scholar and priest Ludovico Antonio Muratori, a renown historian from the 1700s, recognized the importance of Uliveto after finding a document from the year 1000. The effects of the waters coming from the Bagno Antico spring, as it was called, were known even in those times as not just being refreshing but healthy as well.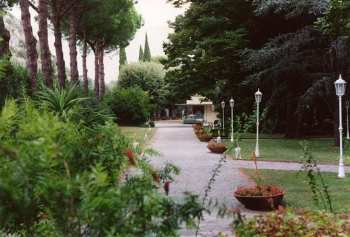 Having observed the health benefits of these waters rich in bicarbonate, alkaline and iron, in 1910, the first industrial bottling system was built. The bicarbonate-alkaline waters loaded with electrolytes and ion are particularly effective in treating hepatobiliary and gastrointestinal illnesses and are excellent for restoring the hydro-saline balance after physical activity.
The Uliveto Thermal Baths are essentially aimed at treatments that involve drinking the waters, with rehabilitation therapies focused on treating the gastrointestinal tract and ad hoc solutions for alleviating the main problems of the liver, stomach, intestines and kidneys.
Information: www.vicopisanoturismo.it
Vicopisano
The medieval village fortified by Brunelleschi, between the Arno river and the slopes of Monte Pisano.
Vicopisano is a magnificent medieval village, which every day has a tale to tell about its fascinating, millennia-old history. The town enjoys a strategic position in the province of Pisa, lying as it does between the river Arno and Monte Pisano. ...
Morekeyboard_backspace