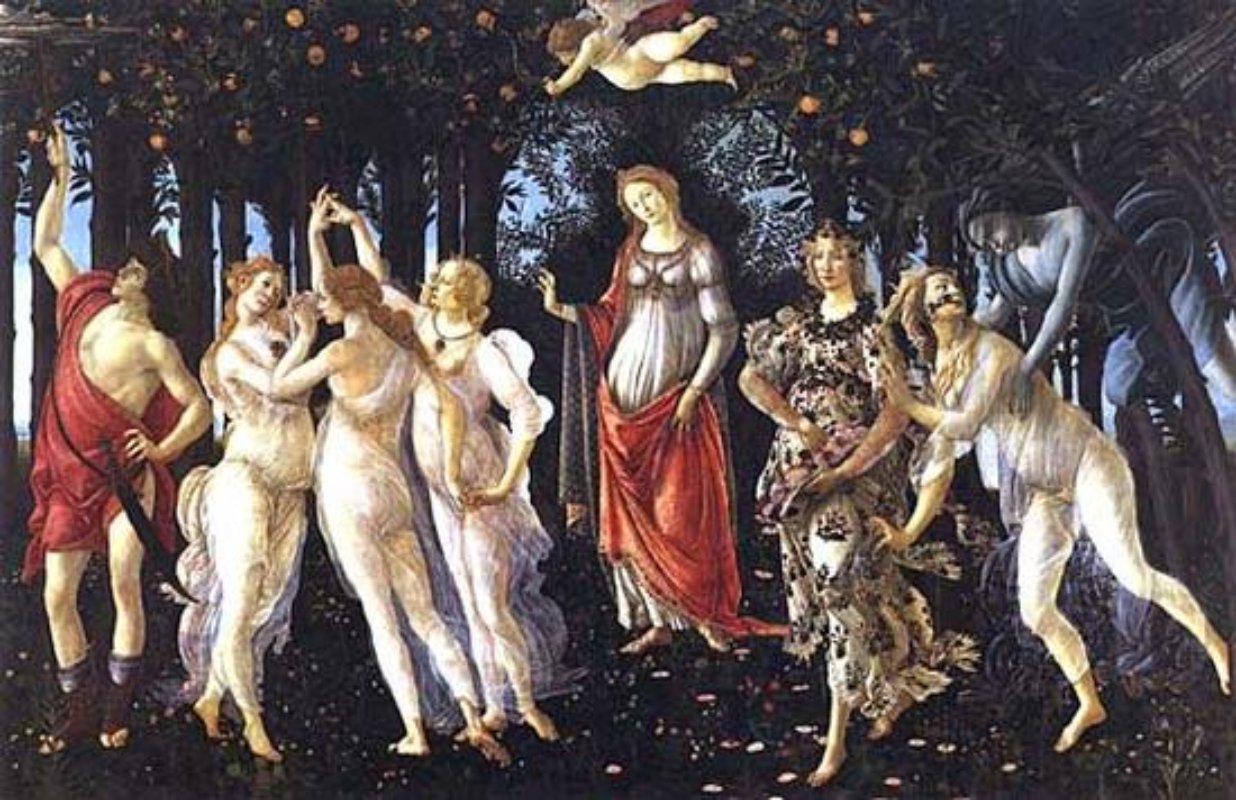 crop_originalArtworks
Uffizi, Botticelli, La Primavera
One of the most mysterious paintings in the history of art
One can read the painting and its images in several different ways, but one can also easily arrive at the main meaning of the painting: the exaltation of beauty, something that can put love in motion, something as intense as the re-birth of nature and life.
The figures are all identifiable: there is Zephyr on the right, representing the wind of spring, who is holding the nymph Cloris; and the figure of Flora, whose clothing is richly decorated in flowers. At the centre of the painting, and a bit further behind the others, is Venus; on top of her there is Cupid, who is shooting the arrows of love; then there are the three Graces; and the last figure, Mercury, who is sweeping away the clouds with his cane.
The painting is widely considered one of the most representative paintings of the Italian Renaissance, even though Botticelli seems to be influenced by the late-gothic and not the early-Renaissance style.
The special construction is without any real depth, and the figures seem suspended in mid-air, without gravity or shadows. Botticelli's stark attention to nature is also characteristic of the late-gothic style. The scene is made up of textural lines just like in miniaturist paintings. The spirit of the painting is definitely Renaissance-inspired, even just for the secular theme chosen; it is also imbued with humanistic elements.
Botticelli seems to introduce a strange mix, demonstrating that classifications in art are never that simple. It also proves that the form and content of an artwork do not necessary need to be confluent.
Florence
An astonishing city of art, fashion and tradition
If you are visiting Tuscany you cannot miss Florence. The Renaissance city is a treasure trove of art with an astonishing contemporary vibe. Beyond the extraordinary artistic heritage, a testimony to its centuries of civilization, the best way to enjoy Florence is to stroll along the riverside avenues at sunset, or to get lost among the city's myriad alleyways of the bohemian Oltrarno or the ...
Morekeyboard_backspace
You might also be interested in