natureNaturalistic attractions
The Peschiera of Santa Fiora
The beautiful Peschiera in the village of water: a charming place you will love
There is a true treasure in Santa Fiora on the slopes of Monte Amiata, nestled in the splendid and refreshing nature, ideal for a city escape, you can find the Peschiera of Santa Fiora.
La Peschiera is a reservoir created initially for the breeding of trout in medieval times during the rule of the Aldobrandeschi counts. Towards the middle of the 15th century, it was part of a noble garden with the arrival of the Sforza family, it was then transformed in the nineteenth century into the structure that has the appearance of a pleasant English park.
Currently, pines, silver firs, cypresses, magnolias, holm oaks, oaks, cedars and chestnuts grow there, making the park cool and shady, filled with many different species of flowers.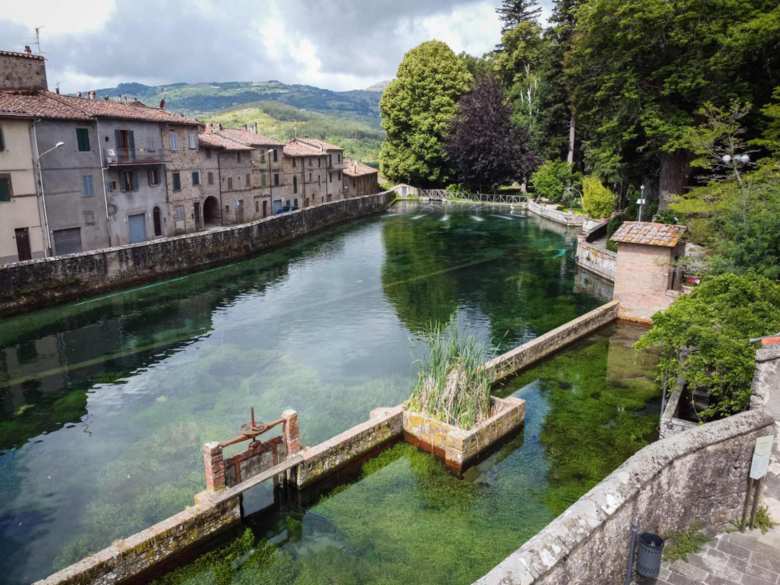 The Aldobrandesco castle and the Sforza palaces surround the Peschiera mirror-like water as if they were a frame surrounding a painting. The picture perfect views are memories you will hold forever, and ideal for photographs. Santa Fiora holds an extraordinary environmental, landscape and historical heritage in the monumental park, in the Orto del Custode and in the public park of Peschiera, basing its strength on a wonderful element: water.
Known as the "A water village", Santa Fiora not only collects the waters of the Fiora river, but also reaches its sources. Also known as the "church of the swimming pool" due to its proximity to the Peschiera, the Church of the Madonna della Neve is rich in frescoes, but its most unique characteristic is within the flooring: during some restoration works, a paved road was discovered which in ancient times probably connected buildings that relied on the use of water such as potters 'or dyers' workshops, as the sources of the Fiora river passed right here. All this is visible thanks to the glass on the floor of the church, which grants us a glimps of the ancient world below our feet, made up of archaeological finds of great interest, such as the base of a bridge and a series of hydraulic networks for the regulation of spring waters.
Santa Fiora is a refuge in which to get lost, it's a magical corner made of nature and history, a place to experience small, large, relaxing adventures.
Santa Fiora
An Amiata village rich with secrets starring water features
Perched on a trachyte cliff that towers over the Fiora River on the slopes of Monte Calvo rises the village of Santa Fiora, with a history unlike any of the other towns in the Amiata region. The town surprisingly wasn't subject to the control of the Abbey of the Holy Savior but quickly became the Aldobrandeschi family's most important possession on the mountain, successfully resisting the ...
Morekeyboard_backspace