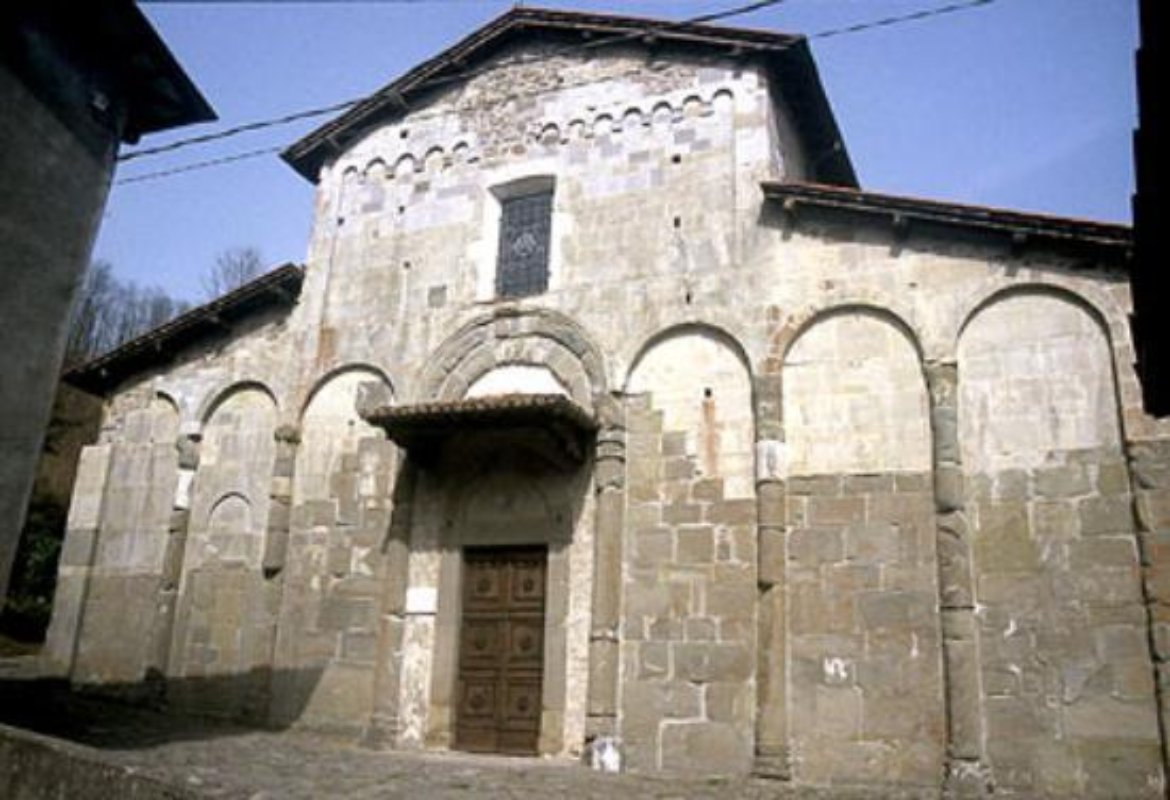 Places of worship
The parish church of Santa Maria di Loppia
Among Barga's oldest and most important monuments
The church of Santa Maria di Loppia was mentioned for the first time in the X century A.D. It lies along the road linking Fornaci to Barga, in a sparsely settled area. The building has preserved its XII century Romanesque forms with lesenes along the walls which are of two-tone stone. Its only decorated elements are the sandstone capitals on the façade, which have been seriously damaged by atmospheric agents.

During the Early Middle Ages the parish church of Santa Maria di Loppia was under the influence of the Rolandinghi, one of the most important clans in the Serchio valley; this family collected the Church's tithes. The area controlled by the parish church was very large; in 1260, it included almost thirty religious structures. Around the end of the XIII century, it passed under the control of Guglielmo di Guidone Bizzani.

The oldest part of the building is located under the bell tower; only the north-east corner that rests against the church has been preserved. The parish church was entirely rebuilt in the XII century with a Latin-cross plan, three aisles, a transept and a semicircular apse. Today, the building shows basically the same structure. On the façade there are two portals with architraves and round arches; a second entrance is located on the west side of the southern transept. We can see a series of mullioned windows on the sides of the aisles, in the transepts and in the apse.

The church was renovated between the XVI and XVII centuries when the bell tower and the apse were practically built anew; the aisles and transepts were raised and large windows were opened in place of the mullioned windows. During a recent restoration, which is clearly visible in all parts of the building, the Medieval mullioned windows were reopened, while the windows added in modern times were closed. Additionally, a number of ashlars were replaced, together with the main portal—of which only the left jamb remains. Today, the church of Santa Maria di Loppia preserves the majority of its XII century Romanesque walls.
Barga
CHARMING MEDIEVAL VILLAGE SITUATED BETWEEN THE TUSCAN-EMILIAN APPENINES AND THE APUAN ALPS
Barga is a small town with ancient traditions going back as far as the Langobardic era of the Early Middle Ages (6th – 8th century) and was established in an evocative position between the sloping hills of the Tuscan-Emilian Apennines and the majestic amphitheatre known as the Apuan Alps. ...
Morekeyboard_backspace
You might also be interested in