location_cityArchitecture
Ponte della Maddalena (or the Devil's Bridge)
Form its suggestive shape many legends were born
The bridge at Borgo a Mozzano, called "The Devil's Bridge" or the "Maddalena Bridge" is certainly the most beautiful bridge in the province of Lucca, and one of the most suggestive in Italy. Many legends were born from its myterious construction and its singular design, with one large arch flanked by three smaller ones, inspired the works of many artists. The bridge's slimming profile, which continues to strike its admirers, must have been even more impressive in the past before a dam was built, in the years after the Second World War, which raised the level of the water in the surrounding area.

According to legend, the bridge was built by Saint Julian who, unable to complete it hard project, asked the Devil for help, offering him in return the soul of the first living being who would have crossed the finished bridge. Once the bridge was finished, Saint Julian threw a piece of bread onto the bridge, luring a dog to cross it, cheating the Devil.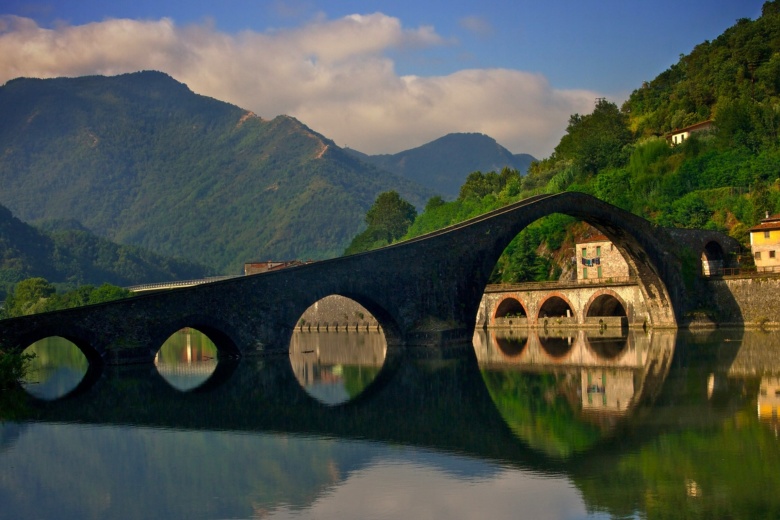 There is little historical information about the building of the bridge. Nicolau Tegrimi, in the biography of Castruccio Castracani, attributes the bridge to Matilde di Canossa (1046-1125) and mentions a restoration made by Castruccio Castracani (1281-1328.) According to the hypothesis of Massimo Betti, during the Castruccio government the minor arches were constructed in stone, replacing previous structure in wood. This would explain the difference between the major arch and the minor ones.
In the 16th century the Hermitage of Maddalena was built on the left bank, providing a name for the bridge. In the following centuries the right bank was built up with factories. In 1889 the structure of the bridge, on the Borgo a Mozzano side, was modified to allow the passage of the train line which runs from Lucca to Aulla. A part of the bridge was demolished and a ramp was built over the train tracks.
Cover image credit: Photo Graphic Studio
Borgo a Mozzano
Splendid village on the bank of the Serchio after the Devil's Bridge
Borgo a Mozzano is the first town of the Serchio Valley and is found just before the Magdalene Bridge, an incredible and magnificent medieval structure, the Valley's true symbol, also known as the Devil's Bridge for the legendary tale of its origins. Rocca di Mozzano is first mentioned in documents from 1180, as a property of the Soffredinghi - feudal lords. ...
Morekeyboard_backspace
You might also be interested in