account_balanceMuseums
Diocesan Museum of Sacred Art in San Miniato
A collection of sacred objects and paintings coming from the cathedral
The Diocesan Museum of Sacred Art in San Miniato is housed in the rooms next to the cathedral that were once the sacristies, and aims to conserve and valorize the sculptures, paintings and works of the minor arts coming from various parishes in the diocese.
The main parts of the collection comes from the cathedral, the Church and Convent of San Francesco, the Church of San Jacopo e Lucia and the Church of Santo Stefano. The 17th-century paintings were bequeathed in 1910 to the rectory in Montecastelli by the cardinal Alessandro Sanminiatelli.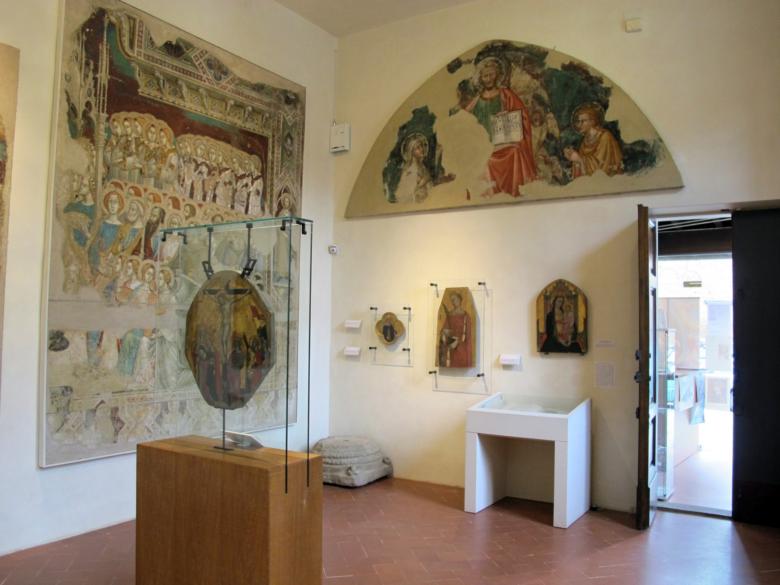 Some of the paintings on display here that are worth noting include a St. Catherine of Alexandria attributed to Jacopo di Cione (1370), two works by the Florentine Neri di Bicci (1418-1492), two beautiful scenes from the Passion of Christ by an unknown Flemish master from the late 1500s and a Dying St. Francis attributed to Giovanni Bilivert (1585-1644). Of the sculptures in the museum, there are the Ambons from the cathedral made by Giroldo di Jacopo da Como (1274) and the terracotta bust of The Redeemer, previously attributed to Verrocchio but now thought to be by his student Agnolo di Polo. Some works of the minor arts include a group of 31 ceramic basins made in north Africa at the end of the 12th century, removed from the façade of the cathedral.
San Miniato
Famous for its prized white truffles, this town is packed with churches worth visiting
San Miniato is a charming town perched on a hill, just a short distance from the Arno. Halfway between Florence and Pisa, it was (not surprisingly) contested territory for the two cities through the centuries. Famous for its exquisite white truffles, which are native to the area, San Miniato's origins go back to the Etruscan-Roman age. ...
Morekeyboard_backspace
You might also be interested in