Monuments
Forte Dei Marmi's ancient pier
From Michelangelo to modern day surf champions
Take a moment to look out from the limit of the pier, towards the open sea. The waves break onto the sandy beach a dozen of metres away. A surfer with its board races to the water of the Tyrrhenian Sea, ready to catch the next wave.

Once upon a time this was the place where huge blocks of marble coming from the Apuan Alps used to be shipped, destined to become statues in the hands of Michelangelo Buonarroti. Now it's where the athletes from all over Italy and Europe compete.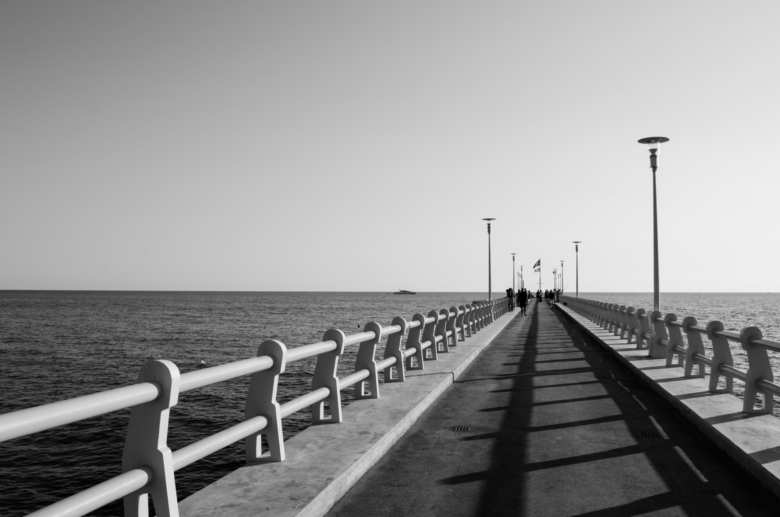 The pier at Forte dei Marmi was built mainly to carry the marble used for statues and works of art. Then, between 1876 and 1877 (thanks to the design of Giovanni Costantini) the carriage of large marble blocks on boats was simplified. The dock was used until the mid-twentieth century when, during the Second World War, it was destroyed by the Nazis. What we see today (a jetty 275 meters long) is therefore a reconstruction of the postwar period.
At sunset, when surfers swim back to the shore, slipping over the red colored water, it still offers the most beautiful view of the Marble Riviera.
Forte Dei Marmi
The most exclusive location in Versilia, located between the famous pier and the Appenines
Forte dei Marmi is one of the most exclusive and elegant tourist locations in all of Versilia, and is a small jewel that has been a true style icon since the 1960s. Established in Roman times, Forte dei Marmi began to heavily expand in the 16th century due to the opening of the quarries in the mountains behind it. ...
Morekeyboard_backspace