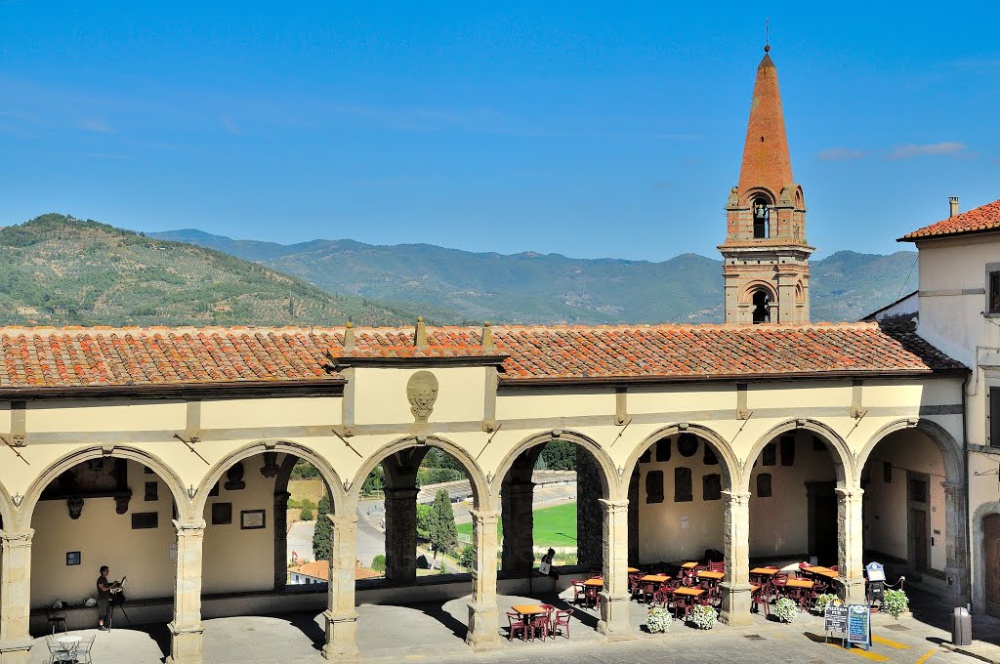 Places of worship
Collegiata dei Santi Michele e Giuliano
This impressive neoclassical church contains important works of art
Situated in the piazza of the same name, the Collegiata dei Santi Michele e Giuliano in Castiglion Fiorentino stands out by its neoclassical structure and loggia with impressive columns that stand on travertine bases.
The area now occupied by the Collegiata di San Giuliano has undergone complex transformations over the centuries. In the second half of the fourteenth century, the Pieve di San Giuliano was a small building with a central nave and two aisles, which went on to be rebuilt and extended in 1452. With the building of the new collegiate next to the church, the edifice became known as the "Pieve vecchia" (old church); now only the apsal part remains. Since 2006, the Pieve di San Giuliano has been home to a vast collection of religious art that vaunts more than 100 artefacts from various local places of worship: Museo della Pieve di San Giuliano.

In 1836, a fire caused by a thunderbolt wrecked the Pieve di San Giuliano and the decision was made to build a new church, the Collegiata di San Giuliano, which was positioned at right angles to the previous place of worship, the façade facing south. Inside, there's a Latin cross plan with a nave and two aisles, plus a barrel-vaulted roof, divided by columns with stucco capitals. Above the altar, there's a large dome featuring stucco decorations.

The interior of the collegiate stands out with its twelve altars, each of which bears a devotional work: the multicoloured terracotta by the Della Robbia workshop depicting Sant'Antonio Abate benedicente (1525); the masterpiece by Bartolomeo della Gatta, Madonna in trono con il Figlio e i Santi Pietro, Paolo Giuliano e Michele (1486); L'Adorazione by Lorenzo di Credi, a Florentine artist who was schooled by Verrocchio; a beautiful Maestà by Segna di Bonaventura, the Sienese painter who was born in the second half of the thirteenth century.
The loggia was completed in 1860, the dome in 1867 and the bell tower in 1930. The painted cross is of considerable value, recently positioned above the main altar, by an unknown artist and dating to the twelfth century.
Castiglion Fiorentino
A medieval village and Etruscan centre in the Val di Chiana
Castiglion Fiorentino is a historical village in the province of Arezzo and overlooking the Val di Chiana. The town's ancient origins date back to the Etruscans, who assiduously first inhabited it, and then to Roman times. Archaeological excavations in the village's square have uncovered a sacred area dating back to the 5th century BC. ...
Morekeyboard_backspace