Places of worship
Cathedral of Santa Maria Assunta e San Genesio
The cathedral in San Miniato was the victim of a bombing in 1944
The Cathedral of Santa Maria Assunta e San Genesio, the cathedral of San Miniato, was built in the 12th century,possibly on the ruins of an older chapel. Originally dedicated to the Virgin Mary, it was mentioned for the first time in 1195 in a note from Pope Celestine III. When the Lombardic town which stretched to the foot of San Miniato was destroyed in 1248, Santa Maria acquired the baptismal font and the title of San Genesio. When the building was renovated,the façade was decorated with ceramic basins– like those in the finest buildings in Pisa. In the 15th century the church was expanded and the large bell tower was built, known as the Torre di Matilde, because according to legend Matilde di Canossa was born in the adjacent Palazzo del Vicari.
The façade is prominentwith a brick masonry wall, inside which there are 26 decorated ceramic basins, outstanding for their elegance and originality. In the lower part, there are three 16th-century sandstone portals.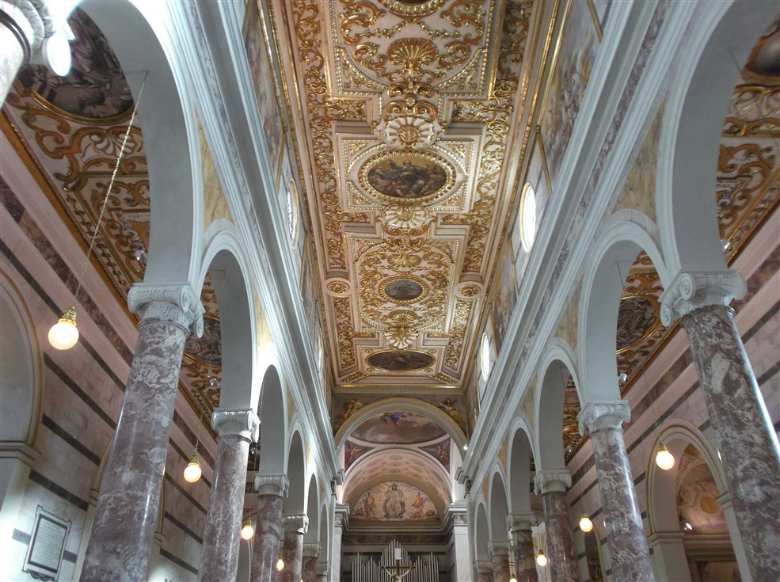 The interior has a neo-renaissance architectural appearancewith Baroque-style decorations, the result of Pietro Bernardini's 19th-century work. The three naves are separated by two series of arches resting on polychrome ionic columns made of fake marble and covered by a carved and gilded ceiling, from the 17th century.
On the 22 July 1944, an artillery bullet from the United States military went through the churchvia the rose window on the southern side of the transept, and exploded in the right aisle, killing 55 people. The cathedral was full of citizens who had been gathered in the churchyard by the Germans.
This incident inspired one of the Taviani brothers' most famous films The Night of San Lorenzo.
San Miniato
A Tuscan countryside village, known for its delicious white truffle
The village of San Miniato is perched on a hill, a short distance from the Arno and halfway between Florence and Pisa, both of which have fought over it for centuries. The origins of the center, famous for the region's typical, delicious white truffle, date back to the Etruscan-Roman era. Many important figures such as Frederick Barbarossa and Pope Gregory V. ...
Morekeyboard_backspace