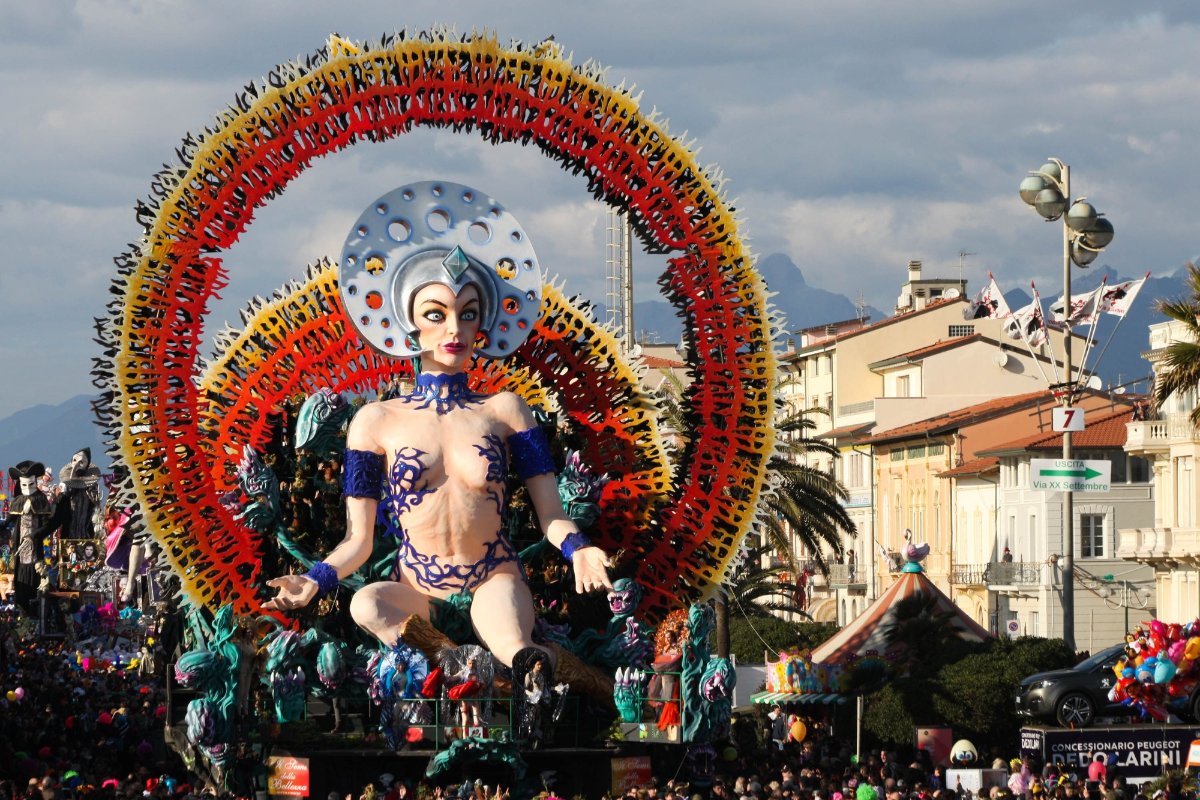 It was February of 1873 when, gathered around the tables of the Caffè del Casinò, Viareggio's young folks began "floating" around the idea of an open-air parade of floats to celebrate Carnival, out in the squares among the people. Viareggio Carnival came about this way: since then, each year thousands of passionate visitors from all over Italy have come to the Versilia town for the festivities. The undisputed stars of the show are the allegorical papier-mâché floats. The world's largest, they're able to move via ingenious mechanisms and are always animated with music and dancing by hundreds of masked figures.
The floats feature caricatured depictions of figures from the political, cultural and entertainment spheres. Using satire and humor, Viareggio Carnival confronts some of the most hot-button contemporary issues head-on – while managing to laugh at them, too. No Italian public figure escapes unscathed from the teasing hands of the Viareggio "carristi" (float designers).
For a series of Sundays plus Fat Tuesday and a grand finale, the floats will parade through the masked masses along the seaside promenade: stretch just a little over 3 kilometers that winds between the beach and magnificent Liberty-style buildings.

But Carnival fever spreads to the whole city—it's hardly limited to the Sunday parades. On weekend nights (and beyond), the neighborhoods of Viareggio (historically the "rioni") host major open-air parties: music, dancing and masks will fill the closed-to-traffic streets until the early hours. Open-air restaurants will offer fresh fish-based Viareggio specialties; stages for bands and DJs will be set up on street corners; and everyone, will of course, don masks.
Once the main parties are over, night owls who want to stay up 'til sunrise will be spoiled for choice: discos and various locales throughout the Versilia all strive to host the coolest masquerade balls with music and dancing until the morning hours.
Organization
Fondazione Carnevale di Viareggio
Tel. 0584580755
Social & Web
Find out what they say about us, and tell us about your Tuscany!
Viareggio
From a small fishing village to one of the most popular seaside destinations in Tuscany, this is the city of CARNEVALE
The sea on one side, the white peaks of the Apuan Alps on the other, who hasn't seen the classic snap-shot of Viareggio? Stroll along the city center's charming streets, eat a gelato on the Passeggiata or in the shade of the pine forest, look out to sea on the Darsena or, further out, toward the even more uninhabited beach, the Lecciona, near Torre del Lago; eat fish in one of the typical ...
Morekeyboard_backspace