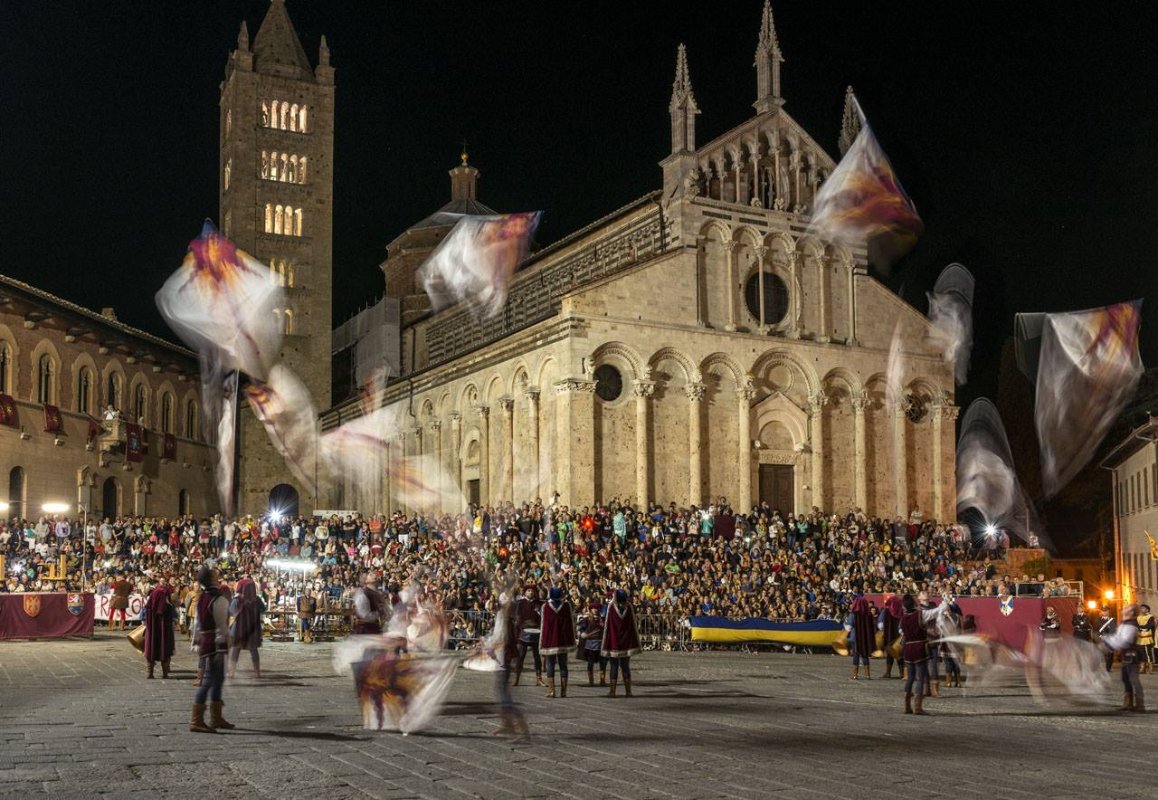 Photo ©Società dei Terzieri Massetani
One of the best-known medieval re-enactments in Tuscany is the Balestro del Girifalco, which takes place in Massa Marittima twice a year: the fourth Sunday of May and the 14th of August.
This festival consists in an archery competition played out according to the old rules of wartime games. Competing for the "palio", the huge silk banner, handpainted each year by a different artist, are the 3 terzieri (historic districts) of the city: Cittanuova, Cittavecchia and Borgo. Each terziere is represented by 8 archers, so a total of 24 take part.
In the lead up to the battle, a historic procession made up of 150 figures dressed in medieval garb takes place. Joining with musicians and dames is the Compagnia degli Sbandieratori of Massa Marittima, a flag-throwing squad pulling off high-impact twirling and choreography.
The parade processes through the city streets and participants arrive by foot in the 14th century Cathedral di San Cerbone, Massa's cathedral (Duomo), the outstanding setting for the competition.
In May, the Balestro takes place in the afternoon, beginning at 5.30pm, while the August edition takes place at night beginning at 9pm. After the parade, the first archer takes his spot on the range and shoots his arrow toward the target, known as the "corniolo" or "tasso".
Set up at a 36-meter distance, the corniolo is located at the center of the target; the arrows are shot using a centuries-old Italian-style crossbow, a reproduction of the ones used during the 1400s. The archer who manages to land his or her arrow closest to the bullseye can claim victory for his or her terziere. As a prize, the winning archer gets a golden arrow, while his or her neighborhood gets to keep the famous palio.
Organization
Società dei Terzieri Massetani
Tel. 0566.903908
Massa Marittima
Medieval village on the Metalliferous hills in the Grosseto hinterland
Nestled on a high and isolated hill at 380 meters above sea level, the historic center of Massa Marittima stands enclosed within a well-preserved city wall. The town has received the Orange Flag from the Touring Club and features many remnants of its medieval past, even if its origins are probably Etruscan. ...
Morekeyboard_backspace