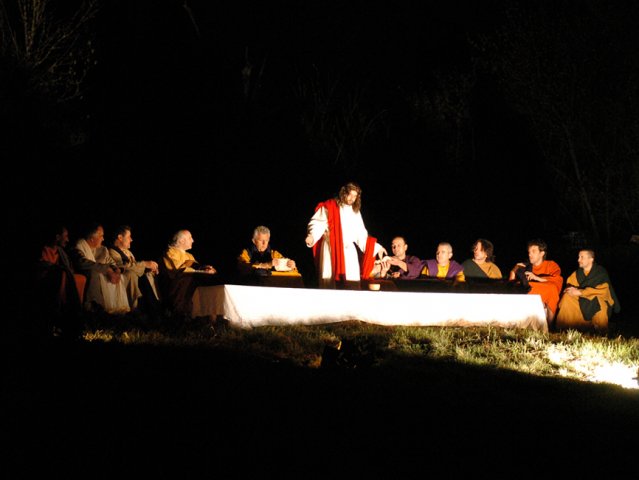 Folklore
Reenactment of the Passion of Christ in Grassina
On Good Friday, 500 costumed figures re-enact the life and passion of Jesus
A well-documented folk tradition, the Historic Reenactment of Good Friday in Grassina has origins dating back to the first decades of the XVII century. Back then, though, it was an exclusively religious ritual, and took place in many parts of central and southern Europe, more as an act of worship and a way of thanking God for liberation from the torments of war and the black plague.

With the passage of time, this spiritual demonstration also took on more of a performative quality, with strong psychological elements and a natural setting of rare intrigue. Put on hold during the war, the Reenactment was reinstated and further enriched in 1950, and continued until 1966, the year of the disastrous Florence flood. After 17 years, a group of Grassina volunteers brought the event back using completely new texts and music.

The event is made up of 2 main elements that take place simultaneously. The historic court processes through the town streets: around 500 figures in period costume participate. Next up are scenes from the life and passion of Jesus on Calvary, performed by about 100 actors.
The costumed figures that make up the historic court bring one of the most important moments of the evening to life. Weak-looking figures, powerful soldiers and centurions, glamorous Roman women, a leader of a bandit squad, and majestic horses all surround the suffering Christ during the 90-minute procession down Via Crucis. The procession's closing in on "Calvary" is the prelude to the fusion of two events that were theretofore separate (the court and the theatre): each year, well-coordinated management pulls off the combination seamlessly and with showmanship.
In the evening, against the lights and backdrop of the magnificent Grassina hills, the 100 figures and actors move like shadows on the natural stage, carved out against narrow streets, town walls, broom plants, and olive groves. It's a landscape long beloved and valorized by men and women in the Italian entertainment and art industries: film director Franco Zeffirelli, Giorgio Albertazzi, "dancing queen" Carla Fracci and director Beppe Menegatti all come to mind.
It's just a few theatrical tricks of a natural stage set that create that incredible harmony of colors, sounds and lights. This combination amazes first-time spectators, but it also continues to impress longtime visitors.
Dialogues and text are loosely based on the gospels of Matthew, Luke and John. The music is by Dvorak, Orff, Handel, Grieg, Bach, Wagner, Verdi, Stravinskij, Beethoven, Faure, Malher and Albinoni.
Info: catgrassina.org
people
What's the buzz about?